The country that unites Europe and Asia, with her glorious past that lasted for centuries: Turkey. The land of many cultures, decorated with the most impressive historical ruins and monuments of these glorious ages and epochs, has been the cradle of many outstanding civilisations.
---

All you may need to know travelling Turkey
Turkey in brief
Preparation for your trip
How to come to turkey
Frontier formalities
How to travel in turkey
Suggested itineraries
Hotels - camps-restaurants
Youth and student travel
Recreation
Turkish traditions
Other useful information
Useful addresses

---
Location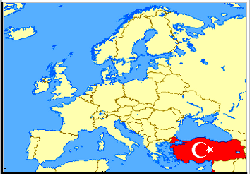 Click here to see the location of Turkey on a dynamic map
Space Maps of Turkey by Erkan Alemdar
---
TRAVEL AROUND
Search Turkish Related Sites
---
Cities, regions
Ankara : The Capital Out of Steppe
Istanbul: The Only City in the World Built on Two Continents
Izmir : A Special Glossary for a Special City
Van: The lake diminishing the fever of Nemrut
Giresun : The city which gave cherries their name by Ferhat Cakrak
Ayvalik: A town of great nature and interesting history by Cinar Gercek
Southeast: Red hot sun, still time
Ihlara Valley: Deep wall quite water
---
Holiday
---
Travel Agencies - Tours
---
Hotels
Turkey Hotel and Travel Agencies Guide
---
History
Aphrodisias : Birth place of the Goddess of Love
Ephesus : Let's Meet at The House of Mary by Belkis Balak
---
Culture
Turkish Theatre by Volkan Hatem
Karagoz - Turkish Shadow Theater by Vedat Guclu Diker
Turkish Cinema by Nezih Erdogan
---
Turkish Language
Turkish for Travellers by Michael C. Martin
Turkish Natural Language Processing Initiative Home Page
---
Picture Gallery
Turkey In Pictures by Ege University
---
Poetry
Turkish Poetry Home Page by Sibel Adali (sibel@cs.umd.edu)
---
Turkish Music
The Turkish Music Home Page by Jaideep Ray (jaray@vizlab.rutgers.edu)
Sezen Aksu Home Page from DOMI (in Turkish)
Digerleri: A local Turkish Band from Michigan
---
Scouting
---
Sports
Interested in skiing? Here are the ski centers in Turkey
---
Humor
---
Turkish Cuisine
Turkish Cuisine by Suleyman Sahin
Turkish Cuisine by Eser Kandogan
---
Money
Daily Exchange Rates by Turkish Ministry of Foreign Affairs
This week's exchange rates by David Koblas
---
Weather
Weather Forecast (in degrees celcius) by Turkish Ministry of Foreign Affairs
---
Economy
Turkish Economy by Turkish Ministry of Foreign Affairs
---
Books
---
Turkish World
Turkish Republic of Northern Cyprus by Y.Yasar Senturk
Turkish Republics and Communities by Süleyman Sahin and Kevin Brooks
SOTA - TURKISH WORLD PAGE Research Centre for Turkestan and Azerbaijan
Welcome to Eurasia Development Associates Homepage
---
Also Starring

(in no particular order)
The Republic of Turkey Home Page
Tourism by Turkish Ministry of Foreign Affairs
soc.culture.turkish Frequently Answered Questions (FAQ) by Egemen Metin TURAN
Pointers to Turkey Related WWW Pages Ege University, Izmir.
Turkey in Articles by Süleyman Sahin
Turkish Home Page by Omer Koker
Friends of Turkey Association by Eser Kandogan
Information about Turkey by Yusuf Pisan
Turkish Homepage by A. Koksal Hocaoglu
Turkey "The key" by Focus Multimedia
Turkey Home Page by Osman E. Moral
---
Guest stars
An Archaeological Tour of Turkey The Australian National University
Information Technology in Turkey by Ramez Ghazzaoui
---
For travelers
---
Miscellaneous
---
US Mirror Arangements :
Süleyman Sahin
ssahin@bornova.ege.edu.tr
Send Your Comments to:
Melih Özbek
melih@knidos.cc.metu.edu.tr