SOUTHEAST
Red-Hot sun, still time Urfa Mardin, Harran, Hasankeyf, Malabadi, Nemrut..legends, clay roofs, prophets and god in the land besieged by fear is waiting not only for foreign tourists but also for guests from Anatolia.
Southeastern Anatolia is Turkey's lively, and special region with its history, geographical chracteristics, architectural structure, legends Kayahisar, cave houses, clay roofs, Flrat and Dicle. Urfa mentioned as probhet's city, Harran with its day, cubic houses, cave-city, Hasankeyf living with the fear of being flooded by water and Nemrut; God's mountain constitute our journey route.
Our first stop is Urfa set on the routes connecting Anatolian and Arab peninsulas. Having settled on the driest part of the region, Urfa is expecting GAP (South Eastern Anatolian Project) to bring radical solutions for the problem. The reason for Urfa to be mentioned as the city of prophets is the fact that many prophets -Prophet Ibrahim, Eyup, Suayip and Yakup- had lived in the region.
After having a short rest, we head towards the castle. On our way we stop by the old, traditional, mysterical bazaar. You can capture the best views of the sunset from the castle. You may photograph the panoramic view of the city in a golden veil. From the castle we watch and listen the legends of Halil-ul Rahman and Anzilha lakes. The legend is about the immortality of Prophet Ibrahim and the miracles the God works for him. Urfa museum and ancient stone houses are also among the places to see.
Our next destination is Harran. It's architecture reminds us of a bee hive and looks like as if it is made of soil. Because the houses are not independent of the land but rather an extension of the land they are settled on. Harran is known for its university where the seeds of Arabian thought system and philosophy were planted.
After leaving Harran we drop by Mardin to visit Deyru'z zafaran monastry and to make a picnic in ''eyvan". In some seasons Syriacs visit this monastry both to see it and to worship. In the evening of the some day we set out for Hasankeyf.
Hasankeyf had been the capital city of Artukogullan between the years 1101 and 1231. The castle of the city is built on a high hill in the south of Dicle. Imam Abdullah dervish lodge, Zeynel Bey tomb, Hasankeyf palace and bridge are among the structures to stand still.
Lastly we visit Nemrut mt. In the early morning hours Nemrut looks more striking, tender and quite. It's forbidden to climb it after 2.100 meters because it is supposed that Kommagene King Antiokhos's grave lies there. We visit Karadut village settled in the skirts of Nemrut. All of the villages in this region have special chracteristics, colours, and smell unique to themselves.
---
Source: Sevil Uzrek, Atlas Travel Magazine, August 1993.
---
Back to home page
---
Send your comments to: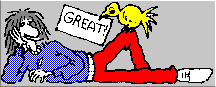 Melih Özbek
melih@knidos.cc.metu.edu.tr