ISTANBUL
Istanbul, the only city in the world built on two continents, stands on the shores of the Istanbul Bogazi (Bosphorus) where the waters of the Black Sea mingle with those of the Sea of Marmara and the Golden Horn. Here on this splendid site Istanbul guards the precious relics of the three empires of which she has been capital; a unique link between East and West, past and present.
However, Istanbul is not only historic, it is a magnificent city fascinating and vividly alive. Beneath the unchanging skyline of her domes and minarets there is the continual bustle and movement of the crowd, the rumbling of vehicles along the ancient cobbled streets, the incessant coming and going and the cries of street sellers mingling with the sounds of shipping in the busy port.
Istanbul has infinite variety: museums, ancient churches, palaces great mosques, bazaars and the Istanbul Bogazi (Bosphorus). However long you stay, just a few days or longer, your time will be wonderfully filled in this unforgettable city.
---
---
HOW TO COME
There are flights from almost every capital and major city in the world to Istanbul's Ataturk Airport. From any part of Europe there are train connections to Sirkeci Station and from the Middle East and Asia to Haydarpasa Station. The E80 highway trom Europe enters Turkey from the Bulgarian Kapikule frontier.
---
Thank you for browsing this page. You are the visitor #
since November 21, 1995, 12:23 am
---
Source: Ministry of Tourism, Republic of Turkey
---
Return to home page
---
Send your comments to: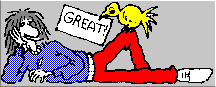 Melih Özbek
melih@knidos.cc.metu.edu.tr