This page is by the crew and friends of the USCGC Taney (4 Bells)


It is currently 04:37, October the 3rd, 2023 , 39834 People have
viewed my pages - Last changed on March 2003



4 BELLS Stories submitted by crewmen




Please send stories to webmaster Garret E. Conklin
2525 Crist St
Alameda, CA 94501-4623
510-523-1878 garretc@earthlink.net
or vern@armory.com
or mail them to Vern Toler 12015 Marine Dr. PMB#99 Marysville,
WA 98271-9308



Plese check this copy of an unknown publication, by Henry Berry ? provided by Homer Compton a TANEY Pearl Harbor Survivor. I feel that it is important and should be part of the USCGC Taney History. it will be linked under"2 Bells"
"Why The Pacific War?" Page 20 to 26 by Henry Berry



THE ROGER B.
The History of the USCGC TANEY (WHEC-37) by LTJG Brian J. Whetstine, USCGR
Taylor Publishing Company, Dallas TX
Lt. Whetstine, a Coast Guard Historian attended several of our reunions reunions and interviewed crew members for the book "ROGER B." The book contains the history and many pictures from the TANEY. I hope you can obtain a copy of this book for the stories on this web page is not copied from the book. The book is well written and has many stories not available on their web page. I was in Tillamook, OR when I read about the loss of Lt. Whetstine.
From Coast Guard Club web page:
CDR. John H. Matlock, USN(Ret.), 45, of Tillamook, Ore. LTJG Whetstine was
the author of The Roger B.: The History of the USCGC Taney (WHEC-37) published
in 1993 and two articles on the USCG and Army posthumously published in the Navy
Times (Nov. 18, 1996). A CG Reservist since July 1991, he also served in the U.S.
Army from 1980-1984, and was a member of the Group Astoria, Ore. Operations
department, where he served as a SAR Mission Controller and Group Duty Officer.
He is survived by his wife, Tamara May of Springfield; his parents, James Whetstine & Martha
Thomas; brothers Mike and Chris Whetstine; a sister, Rebecca Whetstine. A memorial service was
held at Buell Chapel in Springfield, Ore. on Sunday, Oct. 20, 1996.

LTJG Brian J. Whetstine, USCGR, 36, of Springfield, Ore. passed away Oct. 11, 1996.
Born in Eugene, Ore., he was a freelance writer researching a story on airshows when the
two-seat Czechoslovakian "L 19" Dolfin jet trainer in which he was a passenger crashed in a
field west of Tillamook Airport, Ore. The plane was practicing for an airshow scheduled for
the following day. Also killed in the crash was the pilot, CDR John H. Matlock, USN(Ret.),
45, of Tillamook, Ore. LTJG Whetstine was the author of The Roger B.: The History of the
USCGC Taney (WHEC-37) published in 1993 and two articles on the USCG and Army
posthumously published in the Navy Times (Nov. 18, 1996). A CG Reservist since July 1991,
he also served in the U.S. Army from 1980-1984, and was a member of the Group Astoria,
Ore. Operations department, where he served as a SAR Mission Controller and Group Duty
Officer. He is survived by his wife, Tamara May of Springfield; his parents, James Whetstine
& Martha Thomas; brothers Mike and Chris Whetstine; a sister, Rebecca Whetstine. A
memorial service was held at Buell Chapel in Springfield, Ore. on Sunday, Oct. 20, 1996.





(Below is a story by Warren Hartman. He has written many of the articles in the TANEY web page and some I have copied and places in other chapters. his book contained several xerox pictures and an old restraint menu with prices.) s/vern)
Reunion 1996
Ahoy: I'm Warren Hartman and I wrote the first book complete with mistakes!!
U. S. TANEY., W37, keel laid in 1936 with 6 sister ships.
She was decommissioned in 1986 with 50 years of service.
She was assigned to the Hawaiian Sea Frontier in 1937.
During Taney's career, she steamed near 1 million miles.
She served in WW2, Korea, and Viet Nam earning 11 battle stars.
Also served as Flagship in Pacific Theater, Okinawa 1945.
Took hits from Luftwaffe in North Africa 1944.
Also served as Flagship in Pacific Theater, Okinawa 1945.,
Took hits, shore batteries, Viet Nam.
She was at at start and finish of WW2.
Was awarded the Bib "E" in 1943
Received praise letters and commendations from two Admirals.
She was termed "Lucky Lady" - I believe "Blessed".
"Praise the Lord and Pass the Ammunition" was our theme song.
US Coast Guard enlistment's soared to near 300,000 by 1945.
TANEY performed many varied duties.
Interdiction and boarding parties in war and peace time.
Search and rescue in war and peace time.
Served as A.P.D. landing assault ship.
Served as Flag ship in both theaters of war.
Gunfire support with 3rd fleet.
Convoy and Picket duties both theaters of war.
Weather ship - peacetime.
Bearing Sea patrols - peacetime.
Salvage assistance - peacetime.
Ocean station VICTOR - Peacetime.
Drug abatement surveillance - Peacetime.
TANEY is now a National Landmark at the Baltimore Maritime Museum.
A ship is only as efficient as its crew. Are there any "Plank Owner's" aboard?
God Almighty - we thank You for protecting our ship and guiding her crews throughout the years. In Jesus' name AMEN.
ALOHA



BRIEF HISTORY OF U.S.. COAST GUARD


During World War 2 our personnel grew to near 300,000 and we manned some fifteen hundred
ships and stations in all theaters of war. The types of ships varied from 30,000 ton attack transports
to 5 ton assault crafts requiring many new skills to learn.
Our major duties included are:
1. "Ocean Stations" maintaining an assigned sea area usually consisting of a 200 square mile
block to patrol and aid in the rescue of ships of aircraft in distress.
2.: Law Enforcement" this includes all federal steatites prohibiting entrance of illegal aliens and
narcotics.
3. Search and Rescue Stations" search and rescue stations were manned 24 hours a day by ships
and aircraft in the Pacific, the Atlantic, the Arctic and the Caribbean.
4. Merchant Marine Inspections" this was for hazards, the licensing of ships and officers, and for
determine sea worthiness.
5. Coast Guard Auxiliary" This included training of some 17,900 civilian volunteers for motor
boat inspections covering all 50- states and also including inland waters.
6. "Port Security" Included the protection of harbors, vessels, and docks and also the inspection
of hazardous cargo.
7. "Aids to Navigation" the maintenance of lighthouses, buoys and LORAN stations.
8. "Military Readiness" involves drills, gunnery, seamanship, land regulations.
9. "Ice Breaking" included keeping the sea lanes open and iceberg surveillance in shipping lanes:
also the export of expeditions.
10. "Oceanography" the enforcement of water pollution laws and the gathering of ocean data.
During World War 2, we crewed 350 major and minor vessels of the Navy, including
destroyer escorts, landing crafts, tankers, troop transports, repair and cargo ships, gun boats
and tenders. Other vessels included 288 Army ships and tugs along with over 600
Coast Guard cutters, fire boats and patrol craft.
During the Normandy invasion, sixty of our 83' picket boasts saved over 600 lives. On
December 7, 1941 we had about 400 personnel covering the Hawaiian Sea frontier along with
one major cutter, two large tenders, two rescue vessels, five patrol boats and one fire tug. Our
peace time surveillance covered an area west to Midway , south to Samoa, and the Society
group on the line islands covering 5800 sea miles.
In 1942 we started establishing Search and Rescue stations on land and on the sea. LORAN
stations (Long Range Navigation Signal) also were installed and by 1945-46 stations were in
service. They covered Johnson, Midway, Ulithi, Iwo Jima and Yap Islands. By 1960, the
LORAN chain had stretched to Iceland, Ireland, Gibraltar, Grand Banks, and Japan. This low
frequency transmitter sends out a homing signal up to 800 miles by night and 1,600 miles by
day. This was twice the distance and accuracy of previous systems and was a highly guarded
secret. Only allied ships and planes had special equipment to receive this signal and was a real
blessing for navigation in bad weather.
Reflecting back to 1790. Alexander Hamilton officially established the "Revenue Cutter
Service" hoping to halt the slaves, pirates and law breakers, This was the start of today's
Coast Guard, but the real beginning started in England in the year 1711 when they developed
fast sailing cutters for law enforcement, these were privately lowed and manned by civilians.
This often led to bloody combat against law breakers. Historically we copied their uniform,
terminology and customs.
By 1792, our American armed cutters had well trained uniformed crews and a growing
deterrent against pirates who plundered American merchant ships. By 1830, our U.S. Cutter
Service had a large fleet of ships of up to 170 feet and well gunned, serving the wars of 1812
to the present.
By 1776, our U.S. Navy was officially born through Congress and around 1802 had a fleet of
49 vessels including the "USS Constitution" with 36 guns that greatly aided in the control of the
seas. In 1915, Congress renamed the U.S. Coast Guard" and we took over the U.S.
Lighthouse Service and the ships that had been established 50 years previously.
Hundreds of civilian yachts and crafts were loaned to us for the duration of the war, which we
armed and manned. Some 11,000 women enlisted (named S.P.A.R.'s.) During the 40's
serving in many capacities and women now are still a permanent part of this service.
Beach patrols saw horse mounted armed Coast Guard personnel with K-9 dogs
encompassing America's shores during WW , Iceberg surveillance by cutters were replaced
by satellite in the 70's and manned lighthouse keepers were replaced by automation.
Lifeboat surf stations have gradually been replaced since the 50'd, by air bases. The Air Wing
of the Coast Guard had increased ten-fold since the 50's , having pioneered helicopter
rescues. Their fixed wing fleets are invaluable with the inset of drug abatement.
We have seen duty and many coast of the world since 1790
S/Warren



Oct. 11 1994 Pear Harbor Survivors Association, Inc. Page 3
WARREN HARTMAN SHARES REMEMBRANCES:
RECALLING the 1940's
No gum or wooden matches aboard ship -- Only the Boson's whistle -- Steaming moon-less
nights trailing a florescent wake. A 4" swastika painted on the bow while chipping the anchor
-- Holy stoning the teakwood decks at 6 a.m. Sleeping on deck hot nights -- White glove and
sea bag inspections -- Pressing our uniforms under G.I. mattresses -- Surf landings in a 22'
whale boat -- Gooney birds so thick on atolls walking was difficult --0 Blueberry Hill, " You
are my Sunshine, Jersey Bounce, San Antonio Rose" on all the jukeboxes -- Dungaree and
Aloha shirt liberties -- Sick Bay's APC cure-all pills-- Sea stores cigarettes at $1.00 a carton.
A most bewildering experience was putting a chipping hammer through the hull, requiring
dry-dock.
A most embarrassing experience was when our port gangway was rusted solid, requiring the
black gang to free it up, on my duty station. (Note: "black gang" refers boiler room men who
use to shovel coal.)
My most feared duty was our boarding party of four on a Japanese patrol boat on fire.
My happiest memory was returning to Bremerton, Navy Yard in 1943 and seeing my dad.
My most humbling memories were sunrises and sunsets in the South Pacific of crimson and
gold.
My most inspiring experience was Church Call on #3 hatch, when nearly 1000 G.I's would
attend.
A favorite old sailors' adage, "Red sky at night, sailors' delight, Red in the morning, sailors'
warring." Often proved true.
Ships proudest moment was being awarded the "Big E."
I'LL NEVER FORGET
The "Dawn Phase" alarm at 0400 hours: Ships most vulnerable.
Losing our motor whaleboat in the surf.
Offloading food to a starving leper colony.
Dropping depth charges before our RI.M's were up.
Throwing a gunners mate striker overboard for washing the coffee pot.
Sighting a floating mine while rigging our paravancs.
Sighting an inbound torpedo wake.
Running aground at night on an atoll.
Hitting a submerged object and sinking our 40' picket boat.
Seeing a B-17 shot down by friendly fire.
The terrifying experience of a typhoon.
Seeing 16" rounds passing overhead during island bombardments.
My cousin dying on Luzon.
Our Chinese cook trying to interrogate a Japanese prisoner.
"Praise the Lord and Pass the Ammunition" our ships song.
Daily chow of powdered potatoes, eggs, milk and Spam.
The good smell of approaching land.
Graceful albatross and porpoises following the ship.
Fireballs dancing on yardarms during an electrical storm.
Baloney and cheese sandwiches during rough weather.
Four-hour gun watches that seemed endless.
Sudden refreshing rain squalls in the South Pacific.
Our 38 year old skipper we called "The Old Man"
Our chief's famous saying, "Run she might, but shine she must."
After a storm, our deck was littered by flying fish.
=Warren=
CONVOY


2 Jan. 1943 At this time USS TANEY CG had steamed ¼ million miles in the Pacific theater,
since launch in 1936 and working convoy picket duty on the outer ring. This was an uneasy
station and had alerted three general quarters calls within twenty-four hours.
21 Feb. Our sister ships SPENCER % CAMPBELL had sunk two subs in the Atlantic &
with the historically bad weather; we termed it "hard duty". We continued convoys in Central
Pacific. (The Hamilton sank earlier in the Atlantic.)
20 Aug. We arrived at Alameda shipyard for modification, noting that the mascot SOOGIE
had been aboard for 5 years. Thirty-day leaves were granted!
4 Mar 1944 We cleared the Panama locks on the Atlantic side with our progress reduced to 8
knots while escorting a damaged D. E. to Boston. TANEY continued drills and shakedown of
our new fire control system.
13 April We were now "FLAGSHIP" and assigned to Task Group 66 after having a combat
information center installed at Boston. Scuttlebutt reached us that the Azores Islands were a
sanctuary and refueling depot for enemy "U. BOATS", also an interception point for our
convoys to Africa.
Liberators & P. B. Y.'s flew relentless convoy patrols (weather permitting). The Maderian
Island area, some 300 miles south of our convoy, lane to Giberaler was termed a "spring
board" for WOLF PACKS which had sunk 1,000,000 tons of shipping in 1942. Japans "I
boats" assisted the German Navy, from Africa's west coast through the Indian Ocean
campaigns.
All this threatening news was hi lighted by the Luftwaffe offensive vectoring out from Algeria
bases on night attacks.
20 Apr. Too soon the fears were realized when our UGS38 convoy of 85 ships consisting of
3 British subs, 17 destroyers & D. E.'s was attacked by German night fighters from Algeria
bases, dropping torpedoes, sinking and damaging 6 ships. The subs took the heaviest toll.
23 Apr. We were relieved by British escorts & the total cost was 1,100 dead and 150
wounded. FLAGSHIP TANEY was once again "lucky" with only superstructure damage & 4
wounded. Our convoy loss was below 16% we heard!
In forward areas our chaplain served communion upon request, stabilizing fears, giving strength
to those who thirsted.
WARREN


OKINAWA

10 Feb. 1945 USS TANEY CG proceeded with 4 other destroyers from Boston to Pearl for
repairs & new communication gear.
24 March We arrived Ulithiatol with Admiral Cobb aboard and now teamed "Flagship
Amphibious Force".
11 April We arrived at Okinawa with task force 51 proceeding to Hagushi landing beaches.
An air alert existed causing total confusion to our groups.
16 April Strong enemy attacks continued by air & our combined gunfire downed many
Kamikazes.
25 April Minor attacks now continued but destroyers on radar picket duty (outer duty)
received the heaviest punishment. On the 26th (weather clearing) we received a creditable
amount of flack but our command station was supported by Corvettes, D.E.'' & L.S.T.''.
28 April Task Force 51 was bombarding shore installations & Japanese suicide boats had
been reported in our area, submarines were a constant menace to us.
8 May V.E. Day, as war in Europe was nearly over our theme song was "Praise the Lord and
Pass the Ammunition" – luck was still holding!
26 May Suicide plane attacks increased and a torpedo launched at us, cleared our stern,
hitting a L.C.I. During the preceding 45 days TANEY went to G.Q. 119 times and standing at
battle stations as long as 9 hours at a stretch. Scuttlebutt has it that sister ships INGHAM,
BIBB, & SPENCER had arrived with the 5th fleet off Corregidor!
22 July From April through July attacks continued & it sunk 34 vessels, damaged 368, &
upwards of 9,940 casualties.
Ships mechanical problems could more easily be repaired then personnel problems which
caused arguments from battle fatigue. Records showed that 66% of the crew had 26 months
of "hard duty" time!
24 July We moved along side of sunken Japanese ship with only superstructure showing. The
stench of oil, fire, & of death was revolting.
1 Aug. TANEY led task unit 95 to sea to avoid a tropical storm, returning to Bucker Bay on
the 3rd. This year was bad for storms. (named after Simon Bolivar Bunker - killed in action at Okinawa) (correction submitted by Steven J. Kaiser for D. Thurow SC1c)
4 Aug. Both anchors were extended to 80 fathoms, and creeping power was maintained
through the storm.


14 Aug. THE WAR IS OVER!!!!
11 Sept. We arrived at Wakayama through mine fields. We anchored in 18 fathoms.
Engineering reports stated that the boiler tubes were leaking. A typhoon hit us on the 18th and
3 ships sunk, 139 planes destroyed & 780 men were missing. We only lost one anchor and
chain – Many believe we are blessed. Vice Admiral W. Bringle, Commander 7th Fleet,
wrote, "TANEY's exemplary performance while on Market Time was indicative of the
dedication, flexibility and professionalism of her fine crew".
KOREA 1950
June President Truman directed 6 heavy endurance Cutters to duty in Korea. TANEY's
previous cold weather expeditions proved invaluable, and again her armament was upgraded.
16 Aug. Arrived, Inchon, Korea, for duty with the 7th Fleet in the Formosa Straits, consisting
of one carrier, one cruiser, and seven destroyers.
20 Aug. W37 assigned special duty patrols (S&R) between Guam and Japan, also station 2
off Okhatsk Peninsula.
The Korean Coast covers over four thousand miles of rugged mountains, encompassing
hundreds of islands, containing numerous inlets, harbors and straits: From a Naval stand point,
navigation and landing assaults were of high risk due to 25 foot rip tides on the Eastern shores.
During January in the Northern latitudes, average air temps are 17 degrees causing shipboard
icing problems, with sea water recordings at 34 degrees.
Picket duties for W37 continued through winter and into next fall on Station 2.
7 Oct. Wosan Harbor, North Korea.
Path cleared through heavy mine fields by sweepers from Task Force 96, Japan.
Nov. Frogman and Commandos were off-loaded by H.E.C.'s, converted to A.P.D.'s,
supporting beachhead assaults on enemy installations in less than 3 fathoms.
Dec. 100,000 Americans and Allies established beachhead at Wosan against devastating rip
tides, and currents. New LORAN chains were established about Japan, Formosa, Korea, and
the Philippines, along with stations from WW2. Large, self contained trailers housed this
equipment, eliminating construction and expediting commissioning.
1951
4 July Statement at the 38th parallel.
TANEY continued a support role at her assigned stations, with occasional R&R in Yakosuka.
This meant 5 days in port for re-supply, and 23 days at sea, each patrol. Other S.A.R.
stations were established in sea blocks, with 4. H.E.C.'s patrolling Formosa, Philippines,
Guam, and Wake to name a few, rescuing some 26 downed pilots, during the campaign, No
declaration of War existed in this police action, Generating frustration among G.I's
1952
Jan. Winter icing, gale winds, and snow flurries complicated "Special Duties", in the Northern
Latitudes of the Sea of Japan. Constant storms made shipboard life difficult.
Downed pilots had only minutes of survival time. Guns and deck machinery required constant
maintenance. Records of rescue were above expectancy.
Feb. The U.S. NAVY is still off station of North Korea Coast, pounding inshore installations,
with big guns. H.E.C.'s continue coastal shelling and interdiction of enemy naval assault forces,
throughout the ensuring 18 months.
1953
July Truce signed – Navigator sets course stateside for de-arm.
WARREN


1969
VIETNAM

March TANEY MARU departed for Vietnam to be home ported at Subic Bay, Philippines,
and assisted in operation "Market Time". Although, once again no declaration of War existed,
her assignment was assisting the Navy in this police action for next year, with the 7th Fleet.
April The assigned M.E. and H.E.C.'s were deployed to Asiatic patrols, dispelling landings of
men and arms, supplying the Vietcong guerrillas.
May The Monsoon season being on schedule and originating in Burma, bore torrential rains
and winds, sweeping across the South China Seas to Darwin.
TANEY recorded several 56 degree rolls causing damage to radar screen and helo blades.
An accompanying escort vessel rolled upwards of 60 degrees, near capsizing, and taking sea
water down its stack, thus aborting, due to power failure.
All ships in the South China theater of operations were classified "un-operational" by naval Sea
Command, since sustaining life aboard ship was imperative and at times doubtful!
Maintaining the barrier patrols consisted of inspecting over 1000 craft, and physically boarding
131 craft in search of enemy and contraband.
July TANEY fired 5,302 rounds during this tour, in support of South Vietnamese and allied
forces, with one mission sustaining 5 hours of gunfire with other Squadron 3, H.E.C.'s
inflecting heavy damage on shore installations.
August. TANEY performing A.P.D. duties but grounded in heavy fog while off-loading
Frogmen and Commandoes for assault on land installations.
After backing down for near 1 hour she floated free of the incoming tide, once again no hull
damage was encountered, but received fragments hits from coastal mountain batteries.
TANEY's Log, documents that medical assistance was given to over 1200 South Vietnamese
by her Doctor and Medic's, being heloded ashore in many situations under enemy harassment,
or fowl weather, or fowl weather, being termed "Operation Madcap", a timely name!
The village of Hoe Lac was a major treatment center receiving, 6 trips by TANEY's Medical
Team, via copter, within a 9 day period.
Sept. TANEY continued A.P.D. missions off-loading demo. Teams, under harassment, on
Northern Vietnam installations throughout the year.
1970
Feb. W37 is reassigned stateside duty.
WARREN




See additionial stories relating to the war by WARREN under "2 Bells"




THE USS ARIZONA IS THE ONLY SHIP STILL IN COMMISSION FROM THE
PEARL HARBOR ATTACK.
THE USS TANEY CG IS THE ONLY FIGHTING SHIP STILL AFLOAT AND
DOCKED AT THE NATIONAL HISTORICAL MUSEUM AT BALTIMORE, MD.
KNOWN AS W37 SHE CRUISED NEAR ¾ MILLION MILES EARNING 11 BATTLE
STARS FROM WW2, KOREA AND VIETNAM, SURPASSED ONLY BY THE
CARRIER USS ENTERPRISE, THAT CRUISED THE MILLION MILES AND WAS
ENGAGED IN EVERY MAJOR ASSAULT.
IN MID 1942 USS TANEY CG WAS IN PEARL NAVY YARD FOR A NEW MAST
AND RADAR ANTENNAE. SIGNALMAN 2ND, WILLIS PARTRIDGE (NOW
COMMANDER U.S.C.G. RETIRED) WAS APPROACHED BY OUR NEW
COMMUNICATIONS ENSIGN WHO CALLED HIM ASIDE AND SAID,
"PARTRIDGE, WE ARE GETTING A NEW MAST TODAY AND SAILING AT
DAWNS LIGHT, SO GET YOUR HALYARDS RIGGED AND READY FOR SEA" I
ASKED "WHERE AM I GOING TO GET THEM AT THIS LATE DATE?" A SHORT
PAUSE THEN, "AYE AYE SIR."
IN THE COMPANY OF QUARTERMASTER 1ST WE SET OUT TO FIND A SET OF
SIGNAL BLOCKS AND DISCOVERED A LARGE BARGE LOADED WITH TRI POD
MASTS AND FIGHTING TOPS OFF THE ARIZONA, HEADED FOR THE SCRAP
YARD. I CHECKED WITH THE CIVILIAN IN CHARGE AND HE LET US HAVE
NEAR A DOZEN BLOCKS WITH SISTER HOOKS.
MY ASSIGNMENT COMPLETED, THE TANEY WAS NOW EQUIPPED WITH
PART OF THE ARIZONA, HIGH ALOFT ON THE YARD ARM.
I LEFT THE SHIP IN 1943 BUT WAS ALWAYS PROUD TO FEEL WE HELPED
PART OF THE ARIZONA RETURN TO FIGHT.

COMMANDER WILLIS PARATRIDGE USCG RETIRED



RECOLLECTIONS OF THE USCGC TANEY, 1956-1957
By John A. Stone, Former ET2 April 13 1993
The Coast Guard in the Mid-1950's My Road to the TANEY


My time on the CGC TANEY was a 19-month period in 1956 and 1957. It was peacetime,
not a period of high drama or national crisis. There was a Cold War going on with the USSR,
but this seemed to have little effect on the Coast Guard, which had settled ;in to normal and
routine operations following the Korean Conflict. The Coast Guard was part of the U.S.
Treasury Department in those days, but we looked a lot like the U. S. Navy.
Our uniforms were Navy uniforms with; the addition of insignia to designate us as Coast
Guard. Enlisted men, E-6 and below, wore the familiar "sailor suit", and white hat -- while
chiefs (E-7 was the only grade of chief) wore a tunic coat, trousers, and cap, much like the
officers' uniforms but without the gold braid. Everybody possessed both a navy-blue and white
dress uniform, but the chiefs and officers also had an often- worn khaki version.
Many of the Coast Guard's vessels were converted Navy ships (but not the TANEY). Much
of the installed equipment aboard all of our cutters was standard Navy issue. Close
cooperation between the Coast Guard and the Navy was a fact of life, particularly in matters
of supply.
Another fact of life for young men in those days was the Draft. For most men this meant that
the odds were great of being required to spend two years in the military. Most accepted this
as their fate and patriotic duty -- but few tried to get out of it altogether -- but there was
nothing wrong with being "smart" and trying to arrange the best possible "deal" for oneself. For
most there was a desire to influence the timing of the inevitable entry into active duty, and to
choose the branch of military service. The Reserves were a popular option for achieving these
goals. For me, The Coast Guard Reserve was my way of "beating the Draft" -- that is, of
avoiding service in the Army at a possibly inconvenient time, by serving in the Coast Guard at
a time of my choosing.
An indication that this was Indeed peacetime occurred in January 1955. The government
decreed this as a cutoff date for Veterans Benefits ("GI Bill") eligibility. Those on active duty
before the cutoff would get full benefits; those enlisting afterwards would not get these benefits.
Needless to say, this led to a stampede of young men attempting to enlist in all branches of the
Armed Forces before January 31, 1955. In my own case, Veterans Benefits were less of
motivation than finishing school, so I delayed going on active duty until July 1955. Ironically,
much, much latter, in the 1960's Congress in its wisdom restored Veterans benefits to those of
us who had missed out on them, ;but not retroactively. Thus, I never received any education
benefits after my service in the Coast Guard. But I did receive one good benefit that didn't
cost the government a penny: I bought my first house in 1968 with a VA mortgage loan -- this
meant no down payment and a favorable interest rate.
I joined the Coast Guard Reserve at age 17, in February 1953 when the Korean Conflict was
still going on (although newly-elected President Eisenhower had promised to soon put an end
to it). Coast Guard recruiters were still anxious to fill up reserve units with new recruits. My
particular "deal" was an 8-year enlistment, to include at least two years of active duty. So I
found myself going to weekly reserve meetings in Louisville, Kentucky, where I was living at
the time. Meeting attendance and summer training keep up for more that two years, until I
decided to fulfill my Draft and Reserve obligations by going on active duty in July 1955.
I received orders to report to 12th District in San Francisco for future assignment. After
several weeks in California, I got my wish for electronics school and was shipped back across
the country to the USCG Training Center, at that time in Groton, Connecticut. ET school was
six months long, and I came out a newly minted ET3 on my way back to 12th District.
I had to wait a while, with some anxiety, as a transient at Base Alameda, to learn what my
permanent duty assignment would be. Eventually orders came through to report to CGC
TANEY! But I had to wait some more, because in early April 1956, TANEY, was
somewhere at sea. She returned to Base on April 18, 1956, and that's when I reported
aboard to began a very gratifying experience as a crew member of the TANEY

The TANEY in 1956-1957

In 1956-57 the TANEY was based at Government Island (now called Coast Guard Island),
Alameda, California. Her primary mission was Weather Station duty, which was rotated
among the major cutters on the West Coast. I recall about a half-dozen Ocean Station
NOVEMBER patrols during my tour of duty. The TANEY was always on standby for
search-and -rescue or law enforcement missions, but I don't recall any such operations in this
time period. Other operations included a month of Refresher Training with the Navy at San
Diego and a two-week Reserve Training Cruise to Mazatlan, Mexico. There were two
periods spent in shipyards around the Bay Area, including one of extensive maintenance in
dry-dock. In those days, the TANEY had boilers and ran off of steam. For most of this
period, the CO was Capt. James A. Alger, Jr., and the XO was Cdr. Morrell. I remember
that Capt. Alger was a low-key individual, well-liked by the crew, and a superb leader- of
men. He had a younger brother who also was a Coast Guard officer and who commanded a
smaller cutter in the Bay Area -- I had the honor of serving under both of them at different
times. The TANEY had a change of command in mid-1957, and Capt. Alger was transferred
to the Coast Guard Academy. I can't recall the name of his successor as the CO of the
TANEY.
A disclaimer -- I find that while I can recall the faces and personalities of the crew members,
with only a; few exceptions their names are totally forgotten. Furthermore, I can't place events
in chronological order or even say for a sure in which year they occurred. But everything I
related did occur in 1956-1957.
I perceive moral on the TANEY to be quite high -- the officers treated us well, the chow was
decant, and we spent at least two-thirds of our time in port. At sea, the ship rode well,
everyone stayed quite busy, and most evenings there were movies on the fantail.
I worked in the electronics department, which consisted of a chief and two junior ET's,
reporting to the electronics officer, who was Ens. Lynch. ETC Munson reported aboard in
mid-1956, and I worked for him for most of my tour. He was tough, but we got along well. I
worked with ET3 Jerry Starr until he was transferred and replaced by ET3 Walter Adams.
I remember that Starr helped me buy my first automobile (most of the crew had cars at Base
Alameda). Adams was married and had a family, so when the ship was in port he naturally
wanted to spend as much time at home as possible; I often would standby for him when his
section had the duty. -- I was single and lived on the ship, so it was no great hardship for me
to do that. Walter was extremely talented as an electronics troubleshooter, much better than I
was, and he sometimes got me out of jams when I was stumped trying to fix something. On
one occasion, Chief Munson asked Adams and me to collaborate on a practical project of
considerable difficulty, which we accomplished. This turned out to be a test for advancement,
and both Adams and I were promoted to ET2 at the same time. In those days ET was an
open rate, and promotions were made in the field.
The electronics Shop was a cubbyhole located on the second deck (same deck as the crew's
mess and the wardroom), outboard on the port side just aft of the engine room spaces. We
also had a stockroom located on a sub-deck only four feet high -- I spent a lot of time there,
crawling around and sorting out spare parts We had responsibility for maintaining most of the
electronic equipment on the ship -- radar's, fathometer, voice radio receivers and transmitters,
radio-beacon -- with the notable exception of the high-powered main radio transmitters and
receivers, which the RM,s wouldn't let us touch. One of the most interesting jobs was climbing
the mainmast to work on a radar antenna -- I recall we had to do this once at sea, in a storm!
In those days before solid state electronics, the equipment was full of vacuum tubes, and
maintenance usually consisted of identifying which tube had burned out, and replacing it.
Life on Ocean Station NOVEMBER


Ocean Station NOVEMBER was a point in the Pacific Ocean halfway between San
Francisco and Honolulu, about 1200 miles from either city. The U.S. Coast Guard was
responsible for having a ship on station at all times. The principal mission of cutters assigned to
Ocean Station NOVEMBER patrol were to provide weather observations, a checkpoint for
airline traffic, and, if needed, search and rescue capability.
Patrols at Ocean Station NOVEMBER were rotated among the for or five cutters from the
11th, 12th, and 13th Districts -- The West Coast. From Alameda, TANEY and GRESHAM
pulled these patrols. Each patrol was about one month long: three weeks on station and about
one week for the round-trip two and from mainland.
Arrival of the relief ship was always a; welcome sight for a crew that had keep their own ship
running and on station for 21 days. The two ships always had a high-line drill, and mail was
passed to the ship being relieved. Ocean Station duty was not highly exciting, and crew
members regarded it as a job that must be done. The crew spent long hours working or
watch-standing. Morale measures included a ship's newspaper while at sea, movies in the
evening ("The Barefoot Contessa" was a favorite)' and on one occasion a swim call. Other
off-duty activities included studying for advancement, writing letters, playing card games, or
just socializing.
I recall that in some half-dozen NOVEMBER patrols we had swim call only once. I suppose
swim call was infrequent because weather, ocean, or operational conditions were seldom right,
but also because the command may have been somewhat reluctant to have the crew engaged
in an activity perceived as dangerous. On the one opportunity to go swimming, I thoroughly
enjoyed bobbing around in the Pacific Ocean for a half hour, but I also recall looking up at the
ship and seeing several gunner's mates with rifles standing on the flying bridge on the lookout
for sharks.
The weather observation mission was performed by two or three civilian weathermen who
accompanied each patrol. They lived with the officers and had their own agenda, separated
from the rest of the ship. From time to time one would see a weatherman releasing large,
helium-filled balloons from their shop on the "Weather deck", to study winds aloft. Their
observations were relayed by radio back to the mainland to become an important part of the
Weather Bureau's data for weather prediction in those days before satellites.
In the course of roaming the ship to perform electronics maintenance, I came to realize that the
only real excitement of a NOVEMBER patrol took place in CIC. Here, the CIC
watchstanders (radiomen and sonarmen) manned the air-search radar, plotting contacts, and
had voice radio communication with every passing aircraft. The CIC gang could plot and
calculate the course, speed, and position of each plane, and relay the information to the pilot.
In those days, air travel between the West Coast and Hawaii was a long trip in a four-engine
propeller plane such as the DC-7. Commercial pilots always had a cheerful greeting for Ocean
Station NOVEMBER, and many expressed gratitude that the Coast Guard was down there. I
considered it fun to observe all this CIC activity and thus spent many of my off-duty hours
huddled in some out-of-the-way corner of C"IC. My presence was tolerated by the
watch-standers because I might be needed to repair something, but actually I shouldn't have
been there -- quarters were tight in CIC, and extraneous personnel were not permitted.
The value of Ocean Station NOVEMBER was confirmed on October 1956 in a much
publicized incident -- a Pan Am Clipper in trouble had to ditch at NOVEMBER, and the
on-station cutter PONTCHARTRAIN saved all hands. The PONTCHARATRAIN
immediately abandoned NOVEMBER to return within the survivors to San Francisco and
well-deserved; glory. In this rare event, NOVEMBER was unattended for several days, until a
relief ship could get there. I think I recall that TANEY was that relief ship, but I'm not sure. I
am certain that the order of rotation and length of patrols were altered for a while after this
event, and of course, nothing like it happened again while I was on the TANEY.
Cruise to Mazatlan, Mexico
One summer, TANEY was assigned to perform a two-week training cruise for about 150
reservists, with a port-of-call at Mazatlan, Mexico. Conditions were tough, because the ship
was crowded, the cruise speed was intentionally slow, and the weather around the Baja was
hot! We were scheduled for a two-day weekend visit, with liberty, at Mazatlan.
The crew was divided into port and starboard sections with one section to have liberty on
Saturday and the other on Sunday. So when we docked at Mazatlan on Saturday, half the
crew was turned loose to interact with the unsuspecting citizens of Mazatlan. I was among the
Saturday liberty party and can testify that the TANEY's sailors behaved as sailors traditionally
do in a foreign port. There was some damage to motel rooms, which was paid when the
manager presented a bill to the ship.
Liberty lasted all night, and throughout the night sailors straggled back to the ship -- sick!
Virtually the entire liberty party came dawn with "Montezuma's revenge" The Sunday liberty
party went ashore, and in spite of precautions, the same thing happened to them! With some
90% of the crew down, the command asked a local M.D. to come aboard to help -- which he
did with great amusement -- the doctor provided the right medicines to relieve the symptoms.
AI personally did not come down with the sickness, no doubt because of my terrific
constitution and random chance, for I ate and drank just like my shipmates. After a night of
standard debauchery, I came staggering back to the ship around dawn an Sunday, and turned
in, expecting to sleep all morning. No such luck. About an hour latter, I was rudely awakened
by, "Stone!" "Get up! You have to go out on Shore Patrol duty. Everyone else is too sick to
go." So I performed this unexpected duty. An officer and I walked the hot, dusty streets of old
Mazatlan all day long, while I suffered in silence. Bit I didn't get sick, just a memorable
headache.
The TANEY departed Mazatlan with a crew that was sadder but wiser ( and greatly
weakened). Our return cruise was somewhat swifter than the trip south. When we got back,
the TANEY was immediately placed under medical quarantine, at anchor in the middle of San
Francisco Bay. After about a half-day, the authorities were satisfied, and TANEY was freed
to return to Base Alameda and disembark the reservists.
A Memorial Day Embarrassment.
On Memorial Day, the TANEY was assigned to proceed to a location just outside the Golden
Gate for a ceremony honoring those wartime sailors who died at sea. Two groups of civilian
dignitaries and guest came aboard at Alameda and at San Francisco to take part in the
ceremony. After a very moving ceremony on the fantail, TANEY retracted its route and
disembarked the passengers. It might have been a successful day, except that a not-so-funny
thing happened on the way, on the outbound leg.
As TANEY approached the pier at San Francisco to pick up the second group of passengers,
a treacherous, unpredictable current caught up the ship and control was lost. As the Alameda
passengers strolled around the fantail and the San Francisco passengers watched from the
pier, a cry rang out: "Brace yourselves! We're going to hit!" And hit we did -- the ship
slammed into the pier hard ! Fortunately, no one got hurt, but the ship was clearly damaged on
the starboard side, well above the water line. The decision was made to go ahead with the
mission and take care of the damage latter.
The damage consisted of hull plates shoved in with a 10-foot-long gash in the vicinity of the
wardroom. As soon as it could be arranged, TANEY went into a small local shipyard for
repairs. I think we were in that yard for five weeks. We came out as good as new, but more
than a little embarrassed.
Refresher training at San Diego
I was aboard when the TANEY had one month of Refresher Training with the Navy at San
Diego -- I think it was February 1957. This was another period of hard work and long days,
in which TANEY performed various exercises with other vessels. Teams of Navy experts
roamed around the ship to test and evaluate all aspects of crew performance. I remember it as
a time for the ship to practice gunnery skills, particularly with the 5-inch gun, which otherwise
was rarely fired. Also, in those days, TANEY carried depth charges and got to shoot off some
of them in anti-submarine exercises -- very spectacular.


In addition to their normal duties, ET's stood general-quarters stations for many hours, and
also had surprise test by the evaluators. A favorite evaluator trick was to simulate an
equipment failure by removing a fuse, then call in an ET and watch him struggle to identify and
fix the problem. In another test, an evaluator in CIC would demand to see some obscure
spare part; he would follow the ET from the bridge to the electronics shop (this while the ship
was at GQ), watch as the ET quickly looked up the part in catalogs keep in the shop, then go
to the between-decks electronics storeroom and actually lay hands on the desired item among
the thousands keep there. We passed this test by having the storeroom well organized and
maintained.


Another surprise drill we participated in was called "emergency antenna drill" The idea was to
simulate failure of the main radio transmitter antenna, which was a cable strung from mainmast
to forepeak. The drill was to rig the emergency antenna ( a length of wire rope kept for this
purpose) from the radio-room to an upper-deck railing, then mate it electrically to the main
transmitter by re-tuning, and finally demonstrated that it worked by sending out a message.
This was a drill for the junior RM's and ET's. Before TANEY left for San Diego, we
somehow heard that we would be surprised by an emergency antenna drill, so we decided to
be exceptionally well prepared for it. We got together with the RM's and choreographed
every move, then practiced it. So when one day while training off of San Diego, word was
passed "simulate main antenna failure" we were ready. We did the entire drill in record time --
I seem to recall about three minutes -- and left the evaluator speechless. TANEY got high
marks for that drill.
One side benefit for the crew's hard work on week days was the opportunity for liberty in San
Diego on the weekends. A tradition for liberty in San Diego was to take the short trip across
the border to Tijuana, for whatever might await there. Tijuana was a most astounding place for
a young sailor who ad never been there before. So far as I know, TANEY crew members
never got into any serious trouble there, and it was considered good R&R. Among the milder
entertainment's in Tijuana were the jai-alai games and the dog races.
Life aboard the TANEY -- and Thereafter.
The following are odds and ends recalled from TANEY having a home port in the San
Francisco Bay area in 1956 - 57.
At Government Island, TANEY always docked in the last berth, just behind the GRESHAM.
USCGC GRESHAM was a converted Navy ship, about the same size as TANEY and with
the same mission.
TANEY kept a storeroom in a warehouse building on Government Island. However, a later
CO got rid of this storeroom, on the principle that anything worth keeping should be on the
ship at all times.
The only bridge off Government Island led not to Alameda, but to Oakland. In fact, except for
a mailing address, TANEY and crew had virtually no interest in Alameda. Oakland was the
most popular local area for liberty.
In those days, civilian clothes were absolutely forbidden on the ship and on the base, for
sailors E-6 and below. Sailors going on liberty had to wear dress blues, year around, and had
to undergo a rigorous personnel inspection before going ashore. However, the uniform was
not popular ashore, and downtown businesses called "locker clubs" catered to the desire of
sailors to have a place to keep "civvies" and change into them. Thus was liberty in Oakland.


Once, an all-hands picnic was organized by the TANEY crew. It was held in a park in the
hills east of Oakland. There were kegs of beer, much picnic-style food, and family members in
attendance. This was a real moral booster, and everyone enjoyed it.
In these same Oakland hills was a rifle range, where from time to time groups of crew
members were required to practice their marksmanship. This firing range was also used by the
FBI, who apparently wanted to remain anonymous, because we were cautioned not to look at
them.
In the latter part of 1957, a professional photographer came aboard TANEY to make a
group picture of the crew. I'm in that picture, but have never seen it, because I left the
TANEY shortly thereafter.
For a short while, TANEY had a mascot named "Sinbad" a beautiful young dog of the boxer
breed. Someone had given Sinbad to the CO, who made him ship's mascot. Sinbad was well
behaved and liked by all the crew. He went on at least one patrol with the ship.
I experienced an earthquake while on the TANEY. Fortunately, it was a minor one == it
shook buildings in San Francisco and Oakland, but no one got hurt. The ship was docked at
Government Island, and I was working on the bridge of the ship when I felt strong vibrations
for about a minute. It felt exactly as if the engines were starting up. I was puzzled, because I
knew we weren't scheduled to get underway, but when the vibrations ceased I thought no
more about it. Only later did I learn that it was an earthquake and that I should have been
scared.
TANEY interacted with various naval and military installations around the Bay Area. Treasure
Island had a movie locker from which we borrowed all the movies for patrols; kit also had a
fire-fighting school that most of the crew had attended. The Oakland Naval Supply Depot was
frequently visited to walk through high-priority orders. TANEY would take on fuel at the
naval facility at Richmond, which is on the Bay north of Oakland. Also near Richmond was an
army magazine called Port Chicago, that we used from time to time to offload and on-load
ammunition. I had a wisdom tooth extracted at the dental clinic of the Presidio in San
Francisco.
Although I was scheduled to be released from active duty in November of 1957, by
September I had accumulated 60 days leave, which I decided to take in the Bay Area. So
effectively my job on the TANEY ended in September 1957, even though I did return for a
few days in November to be processed out.
I remained in the Bay Area for several years after that, going to school in Berkeley at the
University of California. During this period I encountered an ex-shipmate, QM2 Krell, who
talked me into joining his CG Reserve unit, which met one weekend a month at Stockton,
California. In February 1961 my eight-year enlistment was up, and I received an honorable
discharge from the Coast Guard Reserve.
After 1957. Life moved on, and I had little reason to think much about the TANEY. I got
married, had a son, and by the strangest of coincidences, that son decided to join the Coast
Guard in 1981 and made a career of it. In 1982, my son SK3 Philip Stone was serving on the
USCGC CHASE when he first encountered USCGC TANEY. It seems that both CHASE
and TANEY were assigned to participate for a few days in the 1982 summer festival at
Baltimore's Inner Harbor. Each ship held open house for the public, and Philip made a point of
taking the TANEY tour. He has continued from time to time to provide me with information
about the TANEY.
Last summer, I visited Patriots Point Naval and Maritime Museum near Charleston, South
Carolina, whose largest attraction is the decommissioned carrier YORKTOWN. To my
surprise, also there was the decommissioned USCGC INGHAM, the only remaining sister
ship of the TANEY, the ships being so nearly identical. I'm now looking forward to visiting the
decommissioned TANEY, maybe this year.
END copied by Vern TOLER October 1998



The following information copied from Taney Shipmates Association pamphlet given
out during the 1987 reunion in Baltimore, Maryland. Copied by Vern TOLER 1998
ROGER BROOKE TANEY (1777-1864)
Borne March 17, 1777, the son of a prosperous tobacco grower in Calvert County,
Maryland, Taney for whom the Coast Guard Cutter is named, was admitted to the bar at
Annapolis in 1799, He served in the Maryland House of Delegates before settling down to
practice law in Frederick, Maryland. In 1806, he married Anne Key, sister of Frances Scott
Key. In 1827, he was appointed Attorney General of Maryland. Andrew Jackson named him
Attorney General of the United States in 1831, In 1833, Jackson nominated him as Secretary
of the Treasury, where he served as Acting Secretary until Congress rejected his appointment
in 1834. He was then nominated by Jackson as an Associate Justice of the U.S. Supreme
Court. Chief Justice John Marshall died in 1835, and Jackson nominated Taney to succeed
him as Chief Justice. He was sworn in as the fifth Chief Justice of the U.S. in March 1836.
Most remembered for his majority decision in the Dred Scott case, his thinking however,
wren counter to the dominant historical trends of his time and he had enduring influence on the
substance and evolution of American Constitutional law. He died in Washington D.C. on
October 12, 1864, and is buried in Frederick, Maryland where his home, "Taney House", is a
state landmark.
UNITED STATES COAST GUARD CUTTER TANEY (WHEC 37) history
TANEY was one of seven Secretary Class cutters designed to meet the changing needs of the
Coast Guard as the country emerged from Prohibition. Named after Secretary of the Treasury
and Chief Justice of the Supreme Court Roger B. Taney, she was constructed at the
Philadelphia Naval Shipyard and commissioned on October 24, 1936.
At the time, TANEY and her sister ships were the Coast Guard's largest ships of the line.
Their early days were spent controlling the flow of contraband, mostly opium, up through
passages in; the Caribbean. Their economical design gave them the advantages of extended
patrol time plus an improved platform for search and rescue operations.
One of the more memorable periods in TANEY's history began at 7:55 am, on the quiet
Sunday morning of December 7, 1941. It was on this day that a swarm of Japanese bombers
reduced the pride of American naval might into a smoldering mass of burning metal. Of the
101 vessels present in Pearl Harbor that day, only two remain commissioned: the USS
ARIZONA, as a memorial, and the USCGC TANEY.
In the course of the battle, TANEY was credited with fighting off a force of five enemy
aircraft, apparently intent on destroying the Honolulu Power Plant.
TANEY went on to serve in both the Atlantic and Pacific Theaters during World War 2. In
1944, TANEY was assigned convoy duty, protecting the merchant fleet as the crossed the
U-boat INFESTED North Atlantic. It was here that the Secretary Class cutters won addition
praise for their design, which provided an excellent platform for gunfire support and boat
operations. Their hotel accommodations, superior to those of destroyers, allowed more room
survivors of those ships unfortunate enough to fall victim to a U-boat attack.

After the war, TANEY resumed her peacetime duties, to include manning Ocean Stations
November and Victor in the Pacific. This continued until TANEY was called to serve her
country by supplying communications and meteorological support to U.S. forces in Korea.
In the fall of 1969, TANEY was assigned to Coast Guard Squadron Three, headquarters in
Subic Bay, Philippines. She served a 10-month tour of duty on 'Operation Marketime', once
again providing gunfire support and boarding the many junks and sampans which plied the
Republic and Vietnam coast daily. TANEY returned from the Philippines and left Alameda,
California in 1972 for her present homeport.
TANEY's peacetime duties involved law enforcement, search and rescue, and training for
Academy cadets' and Officer Candidates. Her law enforcement activities included enforcing
the Magnuson Fisheries Conservation Management Act (better known as the "200-mile limit")
and patrolling the Caribbean passages, intercepting contraband before it reached the United
States. One of her more recent patrols included the seizure of the M/V SEA MAID 1, which
when boarded, was towing a barge loaded with 80-tons of marijuana.
Gunfire support…weather observation…search and rescue…law enforcement…training
platform…TANEY has been called upon to perform a number of different missions since her
commissioning fifty years ago. In each of these cases, TANEY has remained ready to perform
those task assigned. TANEY has remained ready to perform those task assigned. TANEY
has been, in the true spirit of the phrase -- Semper Paratus (Always Ready)


"TANEY was the flagship for Task Force 66 in the Escort for Convoy USG-38 IN THE
Mediterranean in April of 1944 when the USS FECHTELER DE-157 and USS LANDSALE
DD-426 were sub sunk by German submarine and air attacks. TANEY did some fast
footwork herself to side step some torpedoes which sizzled close."
Article from "Pacific Shield" Honolulu, HI Magazine December 1991
A TANEY Man Can't forget Sunday December 7, 1941
"At 7:55 a.m. the alarm went off sounding general quarters and I started cursing because we
had been having so many drills" recalled Chuck Sellentin, who was a 17 year old fireman
aboard the TANEY Dec. 7, 1941, He had left his parent's small farm in Belden, Neb., less
than a year earlier. Sellentin recalled a shipmate who came sliding down the railing into the
engine room and yelled "This drill is for real. The Oklahoma is turning over! You can see the
smoke coming from Pearl Harbor"
Sellentin ran up the ladder to his general quarters station which was on the main deck below
the bridge. "I could hear all the excitement, and about that time I saw Japanese planes flying
high overhead" said Sellentin.
"The next thing I heard was the shooting of our guns. That particular moment still stands out in
my mind because the reverberation shattered all the glass windows in the nearby warehouse,"
he said . "some of it came tinkling down on the ship". Latter that morning while manning his
general quarters station, Sellentin saw Japanese planes coming toward the ship. "One of those
planes came in so low I thought I saw the pilot waving," recalls Selletin.
This was just one of many recollections that 16 former TANEY and retold to each other, and
to active duty Coast Guard members and the media during the TANEY reunion held in
Honolulu Oct 24-28.
A special highlight of the reunion took place Oct 25 when the former crew members and their
wives were honored guest at the dedication of a TANEY historical marker. The marker,
which includes a painting depicting the TANEY docked at Pier 6 as its crewmen fired on
enemy aircraft, will serve to commemorate her actions on Dec 7, 1941.
The 16 Pearl Harbor survivors were joined by approximately 50 other former crew members
who served aboard TANEY at various times during the cutter's 50-year career.
During the dedication ceremony, principal speaker and Pearl Harbor survivor Willis
Partridge gave a stirring account of what happened when enemy planes appeared that
morning. "At about 9 a.m., we could see planes very high and we could see they were
Japanese. They were out of range of our guns although we fired at them. I think we broke up
their formation," Partridge said.
Partridge was n 18-year-old signalman third class at the time. Pointing to the west, he said
"five Japanese planes came toward us from that direction. They looked like they were coming
in for a glide-bombing run on our ship or the power plant just to the northeast of Pier 6. Our
gun crews fired everything we had at them including coffee cups." We didn't see didn't see
how any of them got through our barrage. But the Japanese pilots must have concurred
because they skedaddled and never came back," Partridge added.
Launched in 1936, TANEY was one of 101 ships stationed near Pearl Harbor on Dec. 7,
1941, when the US fleet was attacked without warning by the Empire of Japan. Until she was
decommissioned Dec. 7, 1986, the TANEY was the last of those 101 ships still in active
service. The battleship USS Arizona, resting on the floor of the harbor, however, still remains
on record as "commissioned" as a memorial to the men who died.
In addition to attending the historical marker dedication, the reunion members and their wives
were treated to a cruise and buffet lunch aboard the modernized 378 -foot Coast Guard
Cutter Rush. After the ceremony they toured the Hawaii Maritime Center, and the Arizona
Memorial.
Earlier in the week, 12 reunion crewmen paid a visit to Honolulu Mayor Frank Fas's office
where he issued a proclamation declaring Oct. 25, 1991, as "Coast Guard Taney Day" in
Honolulu.

Several years latter the plaque was moved to the Maritime Museum because of vandalism.
The rededication ceremony was attended by Vern Toler and two other ex TANEY crewmen
on Sunday the 7th of December 1986




Webmaster Vern Toler Coast Guard adventures:
Since pre school I always wanted to be a Doctor, Dr Davis my role model, but I never
realized I would never have the !smarts! to be one. With the help of my brother Ira Toler, my
hobby was photography, still and movie, which included processing our own film. My dream
of adventure was to be a newsreel photographer and I would often go down town to visit the
newsreel theaters. I enjoyed High School ROTC and wanted to enter the Army. The films of
the German Airborne impressed me. I felt that America should be isolationist and we should
build up our own military equipment since the two oceans would prevent any enemy coming
here, after Pearl Harbor my views changed.
1943 My last year of High School, I was working as a "para-medic" on a ambulance with my
friend Skyler Hixson, we both were afraid that the war would end before we graduated so we
both went down town to enlist in the Army, there I saw a poster showing Coast Guardsmen
rescuing wounded so I figured as an "ambulance attendant" they wanted me, also I figured it
would be easier to get my mother to sign my papers if I mentioned Coast Guard. Skyler
figured I was nuts, he joined the Army I joined The Coast Guard.
Boot Camp was at Government Island, Alameda, California. Two Movie stars were in my
class, Ford and Gig Young. To my surprise I found out the Coast Guard did not have a
Medical Service and their Doctors belonged to the Public Health Service, they didn't need my
past experience and to my humiliation I was assigned to Guard Duty at Fisherman's Warf in
San Francisco, California.
Finally after much begging I was assigned to "Sea Duty" The Cutter TANEY entered the
shipyard to be retrofitted with 5"38 guns. I was assigned to a welder for "fire watch" duty, so
I watched the welder and became painfully blind for several days after.
I will not attempt to use time periods on my TANEY story since my memory is week and I
have found conflicts with other stories on this web page. It was a beautiful day when we left
San Francisco and as soon as we left the bay we ran into the infamous "Potato Patch" where
all of the "first time sailors" got sea sick. We headed for the Panama Canal and receive a lot
of needed training along the way. The trip through the canal was impressive. The waters of
the Atlantic and Caribbean were impressive. The waters were so clear and inviting I had a
hard time resisting the urge to dive in to swim, the porpoises would swim with the ship and it
seemed like they enjoyed our presence. At night the wake of our ship was phosphorescent to
the extent you could read a book. One night while on watch a crewman approached me
acting strange, after I started talking to him he woke up, He was sleepwalking, he knew he
was a sleepwalker and he begged me not to tell anyone for he did not want to be put ashore.
At another time in the Caribbean we ran into a storm, where many were seasick and topside.
Many times a wave would come over and crewmen would be washed across the deck, but
luckily no one went overboard. We reached Norfolk VA, where I went ashore as a Veteran
with the Atlantic Service ribbon.
We left Norfolk and picked up the largest convoy ever assembled; this sure dispelled my
earlier views that the two oceans protected us from any possible enemy. The first part of our
trip we were covered by PBY aircraft, but soon we were our of range and on our own. One
evening while on watch I saw what looked like smoke and flame on the horizon, finally my
wartime adventure began, I quickly reported it to the bridge, and of course everyone else on
watch heard my report, After a short pause the bridge informed me that what I saw was the
moon rising through some clouds. Through the rest of the night someone would call through the
intercom and say,"Hay Toler, how is that fire doing floating over head." As the command
ship our ship would skirt through the convoy giving instructions to the merchant ships, we
would instruct neutral ships encountered to get out of the convey path. Refueling at sea was
quite an interesting feet. Our ships Doctor would board other ships by breaches bowie to take
care of the sick, often he would get dunked. One time We picked up a merchant seaman
from a troop ship and performed an emergency operation, When he was well enough we
returned him to his ship, sadly a couple days latter he and seven hundred others pareshsed when
a torpedo hit his ship, Our ships photographer caught the explosion on film , But the best picture was taken by
Art Green on the USS MENGES the picture was published in "Time Magazine".
I was able to become a hospital striker so my duties were in sick bay but general quarters was
down below in the magazine, so when we had our action I again was disappointed since I
could not see anything. Others have tolled the story better than I have.
One night I was called to the bridge to stand watch on the helm, two sailors on the bridge
were drunk and smelled like shaving lotion. At their trial I refused to testify, I falsely thought
that sailors should not testify against other sailors, for that I was introduced to cleaning the
bilge's, I regret my actions for their behavior not only endangered thousands of sailors but the
war effort as well, ironically I never smoked or drank and I still don't.
I would correspond with a High School friend of mine, Nicholas Villa, who I knew, was in the
Airborne and was in Italy at the time. One day at Mail Call I noticed a strange look on the
Mail Orderly face, he then handed me the last letter I wrote to Nick, on it was stamped
"Killed in Action" along with a verification stamp.
Once we performed an operation on a man's Piles, this was a stinking, painful operation and
the next day I had to change his dressing, I said what I thought was proper, I said "this won't
hurt" he quickly yelled back at me and stated "Don't tell me it won't hurt, I am an Officer."
Our Doctor, Keep Dowdy, U.S. Public Health Service" was a Cherokee Indian, who
worked his way through Medical School as a Boxer and Butcher. He was very intelligent,
friendly and well liked. One evening while returning to the ship on an Officer Launch one of
the Navy Officers was making bad remarks about Coast Guardsmen, Dr Dowdy went over
and knocked him over board. The officer reported him as a Merchant Seaman boarding the
Coast Guard Ship; it seems he did not know what the USPHS insignia was. No one blamed Dr.
Dowdy, especially since the day before he had boarded the Coast Guard manned DE, which
lost its bow to a torpedo to care for her wounded. Many years later I contacted Dr Dowdy by
phone, he still had a lot of salt left in him since he stated he had to go to surgery to burn off
some barnacles from an old man, (The lasts time I went to a Doctor, that is what she did to
me.) Dr Dowdy died a few months after that.
Chief Pharmacist Mate Quarles was quite an artist, He left the ship when it was in Boston due
to problems with kidney stones. Several years later I obtained his address and wrote to him,
his wife wrote back to me stating he had passed away.
Pharmacist Mate Scott was a professional piano player, one time in Boston at a USO I asked
him to play something for me, reluctantly he went to the piano, and played a concert hall
rendition of "Tea for Two" the quality stunned me and everyone in the USO, he then quietly
walked away, and for ten minutes the USO was silent, I have often wondered what the others
in the USO thought. One day while I was in the Navy in Santa Barbara a lady approached
me and tolled me about a medical sailor who wrote her about her wounded son, she said the
story was heartwarming and that his name was Scott from the Coast Guard Cuter Taney,
what caused our paths to cross I will never know, it is just that I was in uniform and had a red
cross on my sleeve. One of our shipmates said he saw Scott playing in a Bar in Oakland
California, but out side of that no one has ever heard from him.
We made three convoy trips to Tunisia, others have tolled the story better than I could. The
ship photographer did not return so I took over his "Speed Graphic" and took many pictures,
since they were unofficial I would pass them out to shipmates, sadly I did not record names,
but I still have hundreds of 4x5 negatives, I also took movies with my own 16mm camera but
most of the footage has faded. The ship was sent to Boston for its Pacific retrofit. The new
doctor wanted only trained Pharmacist Mates and he ordered me to attend school, it was a
difficult decision for me for I wanted to stay with the ship.
While working in a dispensary in Boston, a man was brought in by the Shore Patrol, he turned
out to be a former TANEY man who bower $50.00 from me in San Francisco to visit his
sick mother, he then deserted, when I reminded him about the $50.00 he got angry.
Pharmacist Mates school was good and I learned a lot. While there one of our class mates
became a hero when he took care of injured when a plain crashed into the Empire State
Building, Many doubted much of his story but the newspapers latched on to it, it sure helped
him since he was AWOL at the time. The war ended while I was at school, and since I was a
veteran I was given first choice of my next station , I chose Chicago but another man gave me
a sad story so I traded with him and headed for Savanna Georgia.
While at Coxsper Island Separation Station I worked as an x-ray technician, and again I took
over the Station "Speed Graphic" I took flying lessons and often would fly over the station solo
with the speed graphic at about 50 feet, to take pictures if the FAA knew my wings would be
clipped. The First International Monetary convergence was held in Savanna, GA, as the
Coast Guard was part of the Treasury Department we were in charge of its security, I took
the Speed Graphic there, and obtained a press pass from the local news paper since I
provided them with many pictures from the base, that combination gave me free run of the
Conference and many of my pictures were published world wide. The Chief photographer of
the Coast Guard arrived later and saw what I was unofficially doing, he liked my worked and
stated that he was retiring and that if I would reenlist I could have his job along with two
promotions, since I still thought I could become a Doctor I declined, an action that I regretted
for the rest of my life.
One day the TANEY docked at our station on its way to San Francisco, I was permitted to
join it with my motorcycle and went to San Diego where I was discharged.
After failing college I entered the Navy then Army to finish my military career as a Biomedical
Equipment Technician. Which included four years in Vietnam with the State Department.
While stationed in Fresno California a man read my name in the paper and contacted me
stating he served with me on the TANEY.
After my first wife passed Palmita (Gonzalez) Toler away estalgia began to take hold and I spotted a TANEY reunion in
the VFW magazine. Latter I was able to attend the decommissioning of the TANEY, tears
began to roll down my cheeks and I was embarrassed, until I saw a Chief and other crewmen
with tears flowing as they departed the TANEY officially for the last time.
At a coast Guard Party at Kitchens house I was surprised to find that the chief security officer
for the VA hospital I worked, was at the party and he was former shipmate.



USS TANEY CG 1943-1944
The following is from a pamphlet by Homer T. Compton, copied by Vern Toler Nov. 1998
The R.B. Taney
The R. B. Taney was a sexy gal
Her spar-painted masts so slim and tall
Helped her to be most admired by all.
Dressed in white down to her thighs,
Made her attractive to most of the guys.
We scraped her bottom, rusty or not,
Just to help her make an extra knot.
We watched over her at nigh, and scrubbed her each day,
We slept with and loved her
For all that she gave.
December 7, 1941
It was a long day for this Hawaiian cop. That evening, after a long, tiring and frustrating day,
he headed for home. He stopped by his Japanese neighbor's house, knocked on the door, and
shot him between the eyes. We never knew what happened to that cop. But considering the
mood everyone was in by the end of that day, they probably gave him a medal.
(Web master note. Although the above is shocking, to leave it out would be rewriting history,
but the fear of that happening is part of infamous interment of the Japanese. S/vern)
Big Stoop
While patrolling off the entry of Pearl and Honolulu harbor, one of our 90 day wonders
thought he would do a little fishing while on bridge watch. So he took a couple of heaving
lines and with hook and bate, he threw it over the stern. The crew wasn't going to let him get
away with that. So, they pulled in his line and tied a swab to it. Coming off watch, Big Stoop
sees all this splashing at the end of his line, and he starts pulling it in. (He really thought he had
something.) Pulling the swab up on deck, he sort of looked dumb-founded. But he came out
of it, and as he walked off, we could hear him say, "Well, I guess it was a pretty good joke at
that!"
Gilje on Watch
While on the 12 to 4 depth charge watch, headphones and all, Gilje remained alert. Big Stoop
thought he would make the rounds, to see if anyone on watch was asleep. Arriving at the
depth charges, he saw Gilje standing his watch. Big Stoop came in close, to see if Gilje's eyes
were open. Failing at that, he stood out in front of Gilje and started waving his arms up and
down. Gilje just looked at him for a minute, and then he said, "What are you trying to do, take
off"
Making Captain
In 1941, rating for advancement came only when a vacancy occurred. We had this young
fellow on the deck force, and he hated it. He really wanted to get into the carpenter shop.
One day, he went to the section leader and asked if he couldn't be captain. Sure enough, the
next day, he was made captain. He did such a good job that he got to stay for two months. I
always thought it was good that the Taney had two captains, or we might have been in trouble.
Stopped at Night
One night, while cursing at about 10 knots. We; were coming from around Hollard Island,
headed for Canton Island. All of a sudden, the Taney stopped, just as suddenly as if it had hit
an island. Several of the men got rolled out of their bunks from the sudden stop. There were a
couple of surges, with the rigging snapping back and forth, then we were off and going. There
was no scraping of metal as if we had hit a sub, or coral, or rocks, nothing. But we must have
hit something pretty solid to stop a ship the size of the Taney. At Pearl, we were able to put in
to dry dock to check the hull. No marks. No scratched paint. Nothing. What could we have
hit? Maybe---a whale?? The mystery remains unsolved.
On Guard
On guard at the entry to the pier where the Taney was moored, our sentry carelessly leaned
his rifle up against a piling. A slight bump and the rifle fell into about a 35 feet of water. Talk
about a worried sentry! No need to worry. Two men coming back from liberty heard his
story. They stripped down and dove after it, retrieving the rifle on the third dive. The result? A
Happy sentry who had to account for his rifle at the end of his watch.
All Secure
December 7, 1941. The first section was giving orders to get a machine gun from the armory,
so that they could go out and secure a perimeter around the Taney. After about 3 hours, it
was decided this wasn't necessary. In the meantime, the army had came by and placed a
sentry at the head of each dock, with orders not to let anyone on the pier. As the first section
came back to the pier, the sentry ordered them to halt and state their business. Getting back
aboard wasn't going to be easy. But, after 15 minutes with our machine gun to back us up. We
were able to convince the sentry it really was our ship.
Shipboard Romance
On our Alaskan cruise, the wife and I met a young lady, about 25-30 years old. She told us
she was aboard hoping to find a good-looking man, about 30 years old, with a good job, etc.
She said she had found one, but she wanted to check him out a little more, so we wished her
lick. The last day, we happened to meet her again, and we asked her how she had made out.
She said he checked out OK, he had a good job and income. The only catch was they were
both looking for the same thing. A good-looking man, about 30, with a good job….
When the Lord
When the Lord was passing out sex, he gave man 20 years of time to sex. Man complained
that he needed more time. But the Lord wouldn't relent. Then, the Lord gave the monkey 20
years. The monkey said he only needed 10 years, so man took the other 10. Then the Lord
gave the Lion 20 years. The Lion said he only needed 10 years, so man took the other 10.
Then the donkey got 20 years, but he said he only needed 10 years, so man took the other
10. And that's why man has 20 years of sex, 10 years of monkeying around, 10 years of lion
about it, and 10 years of making a jackass of himself.
Aunt Harriet
Aunt Harriet asked her mom one day, "how old do you have to be before you stop thinking
about sex?" Her mom, who was about 104 year old said, "I don't know, you better ask your
grandmother"
Some of these stories are true. Others????? ----- Homer Compton
A SHIP'S DREAM
Old sailors come from far to see the U.S.S. Taney.
All in white is she, close by for all to see
and learn about her great history.
As she rises and falls with each tide,
You can see she still has lots of pride.
Old sailors moving around the ward
still talk about their years aboard.
Then she tugs and pulls against her lines, as if to say
I've made up my mind
to take these old sailors back in time.
With the wind at my bow and wake at my stern
we could sail to places and not return.
Not too fast and not too slow
we still have places we could go.
But as the chatter of these sailors cease
the Taney settles down as if at peace.
Oh the crews were great that sailed with me
helping to serve this great country.
For getting old is not all it should be
but I happy being moored here by the sea.
BM1/c 1941-42-43
HOMER T COMPTON



The following "Stories by HOMER T. COMPTON no 1. Copied by Vern TOLER
Nov. 1998.
Homer Compton tells how he joined the Navy.
In 1940 things were heating up in Europe and having put 3 years in the Washington National
Guard I decided I would rather do convoy duty on the Atlantis. So I joined the U.S.C.G. and
did my boot camp time in Port Towsend, WA. As my time came to ship out, we were offered
several places to go. Believe me Hawaii sounded a lot warmer than the Atlantic in February
and so I was assigned to the U.S.S. TANEY. A few trips to check on some of the equatorial
islands and we were sent to Mare Island for refitting. Two 5" guns, four 3" I guns and depth
charges were installed and we sailed again for Hawaii. Everything was peaceful so we
thought. July 16, 1941 the Navy says "guess what -- you're in the Navy" and will get your
orders from the 14th Naval District. And that's where we stayed for the rest of the war.
In 1942 we were in Pearl Harbor for some work and I was in need of two turnbuckles to
repair a lifeline around the boat deck. Having heard the Signalmen had got some signal pulleys
from a salvage dump, I headed out to the dump. There was a pile of burned out turnbuckles -
picked out two and the yardman sand blasted them; to a nice bronze color. As he handed
them to me he said: these are off the Arizona. The Taney is at Baltimore Maritime Museum.
We have an on Board reunion in September 1995. So I'm going to have a look to see if she
still carries two turnbuckles off the USS Arizona. Homer Compton (They were gone.)
`2 HOURS OF HELL
Oahu was enjoying a peaceful Sunday morning December 7, 1941 when Japan started its air
attract on the ships and planes at Pearl Harbor. As the bombs came raining down the ships at
Pearl soon came alive. Then a bomb plunged through the deck of the Arizona to the magazine
below. The explosion that followed shook the island of Oahu and the world. Fire and smoke
filled the air and was seen for miles. In the wake of the attract 5 battle Wagons lay on the
bottom.
The USS TANEY, moored at Pear 6 Honolulu, joined others in repelling their attract. With
fire control selecting targets the TANEY keep up a continuos fire. Her guns became hot and
smoke filled the air.
Hickam and Wheeler field were a mass of destroyed planes and hangers, some 150 planes
were destroyed. Still the Japanese came in bombing and strafing then would bank against the
rising sun for another attack.
Five planes coming in from the north started there attract on the Taney. With all our guns
blazing away at them they soon turned seaward with one plane reported smoking.
With ready boxes running low, the magazines were opened and all the boxes were soon filled.
Clearing the deck of empty casings was soon completed.
Then we were under another attack. 3 Japanese planes came roaring up the channel so close
you could see a big smile on their faces, happy with success. Our 50 caliber guns opened up
with some hits reported. They soon disappeared.
With rifles and 30 caliber machine guns from below, The TANEY was ready for more
attracts.
Eighteen ships were sunk or damaged, some 150 planes damaged or destroyed and over
2,500 men dead. -- it was over. But it wasn't. This was the start of a war they would last over
3 1/2 years -- from Pearl Harbor, Midway, and Africa to the Philippines, Okinawa to
Hiroshima. The USS TANEY was there all the way.
Homer T. Compton, BM1c




U.S.S. TANEY

Orders 0400 December 8, 1941
Search and destroy all enemy subs in the area of Honolulu and Pearl Harbor channels.
So after being at G.Q. all day the 7th and all night we moved out to help 2 destroyers already
working the area.
Any sound or contact made; we laid down a pattern of depth charges. By midmorning there
must have been 150 depth charges rolled off the stern by the ships working the area.
About 1000 hours a heavy cruiser coming out of Pearl Harbor channel signaled the USS
TANEY "Torpedo headed for your port beam". The signalman repeated the message to the
occupation. Captain Olsen says "Could that be for us?" A young quartermaster on watch
says " Captain let's not wait to find out, let's get the hell out of here" Captain ordered "Right full
rudder, full speed ahead" So we did. It was and it missed. Homer T. Comptom

U.S.S. TANEY
Some months after the bombing of Pearl Harbor we were ordered to Midway to convoy a
repair ship back to Pearl. As we left Pearl harbor we had to pass through a submarine
protected. This area was for our subs to practice dives and practice their torpedo shots with
our own ships as targets. The practice torpedoes, of course, were not armed and were set to
go beneath the target ship. As we passed through the area on our starboard side about 25 feet
out we could see this periscope eye balling us. Calling Pearl Harbor we asked if we had any
subs in this area. The answer was negative. Now as we had passed by we had thrown an !
Egg Crate ! over to mark the spot. So returned to hunt the sub but by the time we got it
cleared from Pearl Harbor and returned we could not find it. The Japanese must have thought
this was some new kind of weapon and got the hell out of there. So we proclaimed to be one
of the first ships in the Pacific to depth charge an enemy sub with an egg crate. Homer T.
Compton
A LUCKY LADY
July of 1943 the U.S. was making plans to take control of the Gilbert Islands. The U.S. S.
TANEY was to take a 2 man survey party aboard and proceed to Baker Island and check it
out for use as a possible emergency landing site for our aircraft.
We arrived at Baker about two hours before sunset. The 5" gun crew aft was to make up the
landing party (not knowing if the island was occupied by the Japanese) Rifles and grenades
were issued. The power launch would tow the landing boat to the surf and then wait for their
return. My 5" gun crew forward would take charge of lowering and hoisting the boats as they
departed and arrived.
We were soon spotted by a Mavis Japanese bomber. Needless to say at this point the landing
was delayed. As our 3" guns put up a great amount of flak, the Mavis lined up for an aft to
forward run. Unable to get us in their bombsights they circled for another run. We made
ready our guns and soon they were blazing away. Then the vapor streams and bombs away.
With full steam ahead and left full rudder we knew it was a matter of seconds. Everyone that
wasn't on a gun hit the deck. One 500-lb. bomb splashed close on the port side. Another hit
about 10feet off the starboard, close to my battle station. The bomber circled and moved on.
Expecting more enemy planes we steamed for Palmyra Island. Two days later we returned
with 3 Army Ventura planes for air support. (No Japanese were found on the Island)
Assignment complete we headed for Honolulu. The Taney again was a Lucky Lady. Homer
T. Compton.

MAN OVERBOARD
The USS TANEY was under orders to convoy the USS WRIGHT AV-1 to Midway. The
Wright was a sub tender.
About two days out we received the news that a huge naval battle was under way at Midway
__ June 4, 1942.
Our laundry was running about 24 hours a day - hot - a regular steam bath. About 2200
hours Johnson stepped out of the laundry for a breath of fresh air, taking a short stroll to the
weather break and as he leaned against the roll, his shoes being wet, he slipped and went over
the side. Keeping his cool he was able to get his feet against the ship and with a big push he
was out far enough to clear the propellers. He was sucked under and then the wake was
something to stay afloat in. No one on the TANEY knew of the accident. Kicking off his
shoes and shorts he could see the TANEY disappear in the darkness. Conforming to Navy
rules we were running a zig zag course and the chances of the Wright passing close enough to
be heard was one in a thousand. But it came about 500 feet from Johnson. Johnson a nice
quiet fellow could see this was his last chance. So he began to yell and cry for help.
The bow lookout aboard the Wright heard and reported it to the bridge. Minutes later the
Wright lowered a motor lifeboat, it went in the direction of the cry for help. The first pass the
boat went by but Johnson kept yelling and splashing water. As the boat came close Johnson
grabbed the gunned and swung aboard. About 1/2 hour later the TANEY received a call.
"Have you a C. K. JOHNSON aboard." The TANEY's answer was affirmative. "Well we
have him now and you can have him at Midway."
The executive officer aboard the WRIGHT gave Johnson some clothes. The TANEY gave
the bow lookout a War Bond. Johnson was a Pearl Harbor survivor, passed away a couple of
years ago (1993) but this experience he never forgot. Homer T. Compton.
U.S.C.G. TANEY AND THE PACIFIC
Much has been said about the Service men lying on the beach; and playing in the Hawaiian
sunshine but that wasn't said about the men on the TANEY.
Early in 1941 on my second day aboard, we were on our way to Baker, Canton and Palmyra
Islands which were about as near the equator as you can get. Canton is some 300 miles South
of the equator, with watches to stand and a ship to clean, we were kept busy (one thing I soon
learned was at sea our ship was expected to be spotless), a hard task to accomplish in port
with stores coming aboard and liberty parties ashore it didn't leave a lot of time for doing the
things necessary for a spotless inspection.
The TANEY deck was white teak, so Holy -stoning and scrubbing the deck was a daily
thing. At sea we wore white shorts and shirts. We sat on the teak to watch the eight o'clock
movies. A spotless deck was the word.
Coxswain Soares, a Hawaiian boy, was my Section Leader. On night watches we would
watch for the Southern Cross and test our skills of navigation by locating the star's positions
and telling time by the position of the handle in the Big Dipper. Being a Hawaiian boy he must
have inherited some natural skills in navigating by the stars, for often he was real close when
checked wilt the ship's navigator.
Supplying these small coral islands was a challenge to say the least. Two or three men were
on each island. There job was to send the weather conditions to Honolulu each week; this was
done by the use of a hand-cranked generator. No fuel for the fires so all their food was
canned and buried in the sand to keep cool. Fresh water was put in 50 gallon barrels and
floated ashore by lifeboats over the long breaking surf. Their only shelter was a dugout in the
sand and covered by whatever material they could find that had washed ashore - and there
wasn't much of that in that part of the world. Most of these jobs were given to Hawaiian men.
Three to six months was as long as they were allowed to stay at one time. After supplying the
islands and exchanging men we returned to Hawaii for next assignment.
We were sent to Vallejo, California for refitting - two 5" and four 3" guns were added plus six
50 caliber machine guns and depth charge racks on the stern plus sound gear and radar. We
began to look like a battleship. With all this done, on July 16, 1941 we became part of the
Navy. Gone was our beautiful all white ship and our white teak deck, all now painted a
battleship blue.
We left Vallejo with a ship that I thought was a dirty mess. But before we reached Pearl
Harbor she began to look livable. With all hands working around the clock she began to look
somewhat like a ship we knew.
Soojie, our ship mascot, a small dog of undetermined origin, was one of the first SPARS of
the Coast Guard. She had been aboard the TANEY for several years and had achieved the
rate of BM1/C before the days of the SPARS. Brought aboard by a seaman on shore leave,
she soon earned the respect of all hands. Even though she was just a pup at the time, she soon
acquired the routine of the ship and earned the rating of Seaman First. She could run up and
down the ship ladders faster than most of the crew.
Early in 1941 the TANEY was laying off the entry of Pearl Harbor. Some official business
was to be delivered to the 14th Naval Commander, so the TANEY lowered the power
launch. With an Officer and 3-man crew we set off for the Pearl Harbor boat dock. Soojie
had gone along as a lookout. While the boat crew waited at the dock, Soojie went ashore in
search of another canine (looking for adventure). When the Officer returned, the motor launch
was off to the TANEY. It was soon discovered after arriving at the ship that Soojie had
missed the boat. The Skipper immediately ordered the launch to return to Pearl Harbor in
search of the only lady of the TANEY CREW. Everyone was apprehensive. But arriving at
the boat dock Soojie was waiting for her ride back to the ship. She was put on report for
missing the boat. At a 'Captains mast she was restricted to the ship for 3o days. One of
Soojie's happiest times was when the ship was allowed swimming parties. She liked to be first
in and the last out. Swimming was one of her better accomplishments.
After the Pearl Harbor attract, the firing of the guns and the depth charges made so much
noise and vibrations on the ship that Soojie became a victim of battle fatigue and was
transferred for shore duty. She returned to the TANEY however and retired as Chief BM in
1948. She spent her last years in a little white dog house overlooking Diamond Head and the
harbors of Olahu.
As a bow hook on the Captain's motor launch I soon discovered this may not be an easy task
for on the foresheet there was nothing to hold on to. Once upon unhooking the hoisting block I
looked up to see this 6 foot wave coming down the starboard side of the ship and with nothing
to hang on to I grabbed for the hoisting block. As the wave hit I did the swan dive of the year.
I was ordered aboard for dry clothes. Everyone was laughing and having a good time at my
embarrassment. Captain Olsen laughed and asked how it happened, explaining he had missed
it all. But then he asked seriously "You can swim can't you?" Trying to sound somewhat
normal I answered with a "yes Sir".
One time while moored in Honolulu harbor the Coast Guard little patrol boat came by
checking the docks and one of the men threw an apple core onto the TANEY deck. Believe
me a big mistake. The word spread among the deck force of the TANEY. I was B.M. of the
deck but some how they kept it from me. But all the crew had made a trip to the spud locker
and as the patrol came by again all the deck force was lined up and let go with the spuds from
the spud locker. The boat windshield was broken out and messed up the boat good. The
Captain got a call from the boat basin. Captain Olsen had to investigate. I never knew how
much he knew about the apple core and spuds bus as B.M. of the deck he called me to his
quarters. I thought, Boy, What now. He says, "You know about the throwing of the
potatoes?" Me. "Yes Sir." Now could you name anyone of the crew that threw them?"
Answer "No Sir. I saw the spuds fly but to name any one person, I couldn't." Believe me no
more spuds were thrown that day. Captain Olsen was considered one of the best skippers
that I served under.
In late 1941 when we were checking on some of the equatorial islands, and much to the
elation of the crew, we dropped anchor in Pago Pago lagoon (Samoa). This was a whole new
culture and tradition, far from anything we had encountered. Peaceful and friendly. They
seemed to enjoy life with very little to do. Most of the grass shacks or huts had no sides and a
roof made of palm branches. Beds were hand woven mates from grass laid over a fine bed of
very small pebbles and a 4"round log with the bark removed was used as a pillow. Fish,
bananas, coconuts and poi seemed their normal diet. Sometimes a pig for special celebrations.
Elephantiasis was a common ailment o most of the older natives. They kept busy, however,
making rings, mats, hula skirts, and beads from seashells. These they would sell or trade to the
sailors on the ships passing by. A small canteen and open air tavern was available with canned
meats from Argentina, knives and most things needed for this way of life. Some of the women
were bare to the waist with sarongs covering their lower body to near their ankles. Most could
play guitars or ukuleles and do the hula or some native dance. Most didn't speak English but
did very well with hand signals and facial expressions. Most all the crew came back aboard
with a wide assortment of things they had bought or traded for. Soon we hoisted anchor and
left this beautiful island. Swains Island was occupied by English people and a few Polynesians
and a grove that seemed to be bananas or coconuts. Due to the shallow water and long surf
we could only get within about a mile of shore, but that that didn't stop these island people.
With canoes and outriggers they came out to meet us with shell beads and all sorts of things to
trade. They would trade for most any kind of clothing. Dungarees were the hot item. They
would cut the legs off and make shorts of them and, of course, any news of any thing that was
news outside the island. Soon we had to say Aloha (farewell).
Palmyra Island, with a small lagoon and narrow channel just north of the equator, was being
fortified by the Army. With two Officers, myself and Soares as Coxswain, we headed for this
small lagoon. As we neared the island we looked out on the surface of the water where we
saw a school of mantra rays all stretched out enjoying the tropical sun. Looking again there
appeared to be about 20 of them with the largest being about 25 feet across. I motioned to
Soares and he slowed his speed. This must have been a Sunday meeting for we soon noticed
several tiger sharks (6 to 8 feet long) escorting us down the channel. I thought at the time any
of these mammals of the deep could capsize our launch if provoked and then as we came to
what I thought was the danger point these huge mammals, as if by magic, disappeared into the
deep. With a quite "Thank you, Lord" we entered the lagoon.
Some 100 nautical miles NW of 'Baker Island, while on lookout from the Crows Nest I
spotted this small cyclone about 5 miles to the South. It appeared to be 200 feet across and
reached some 3 miles into the air. As we neared it seemed that that water was being pulled up
into this mess of whirling air. Some 200 feet up a fine spray would break from this whirling air
and fall to the sea. Then the sun shining into this fine spray created one of the most beautiful
rainbows I had ever seen. After several minutes it just disappeared.
As temperatures reached 120 degrees sleeping below decks even with the blowers going
became an impossibility. Nights found sailors sleeping on the main deck. Hard, yes, but with a
little sea breeze you could catch a few hours sleep. hosing down the deck with sea water was
a great help but a very temporary solution.
As the aircraft carrier Enterprise moved out of Pearl Harbor escorted by the TANEY and
several of its own planes, we heard one of the planes engine sputter and conk out - with the
plane diving into the sea. The pilot ejected. We lowered a lifeboat and rowed to the man
floating in the water with his life jacket inflated and parachute bellowing in the breeze. Lifting
him into the boat was not easy but by cutting the shrouds on hi parachute we were able to lift
him into the boat. Trying to pump water from him was difficult as we moved to the TANEY
for hoisting.. Then artificial respiration began, with no apparent injury he still did response. So
after 3 hours the doctor pronounced him dead. The percentage of pilots who lived was small
as most went down with their planes.
While patrolling around the entry to Pearl Harbor on a very dark night, Pearl Harbor radioed
us that a ship on the East Side of Olaha was all blacked out and we were to proceed and
identify it. Some thoughts were that it might be an enemy ship putting men on the beach. As
we came within the 1500-yard range, barely visible on the eastern horizon, was all blacked out
ghosts looking ship. Our signalmen started their blinkers and radio. But no answer. After
several tries, our gun, No. 3, opened fire. Our elevation was a little low and I am sure those
people aboard heard these shells as they passed over them. Ass the shells exploded we saw
silhouetted against the light the Stars and Stripes flying high. It didn't take long for signalmen to
get busy identifying themselves. With their engines repaired we escorted them to Honolulu
harbor.
The war with Japan was under way and we still had 3 weathermen on Baker Island. Two
men on Canton had been removed by a destroyer in the area abut Baker had the most
treacherous surf so the TANEY was assigned the job of removing them. We got under were
and arrived at Baker Island. We soon made ready for launching. With the powerboat we
would tow the lifeboat out; to the surf. Then with 10 men on the oars and a coxswain on the
tiller they would wait for the smallest breaker and then row to ride it in. This sounds easy, and
as long as the stern of the boat is on the crest of the wave and you are running true with the
wave everything is fine. But if you don't read the wave right and get a little sideways then your
life jacket is the only thing left to save you. This is what happened. Luckily all men got to the
beach and went about saving the boat and all oars and gear aboard. Now we had 13 men on
the beach with no food or water. Prior to our arrival one man had been killed when a
Japanese sub opened fire and they had no place to hide. We patrolled around the beach all
night. The next day the surf was too high and risky. We decided to send another boat with
water and food. We towed another boat out to the surf and shot a line in to the beach. With
this line made fast to one end of the boat and another to the motor launch they could pull the
boat in as we played out line. Being a double-ended boat helped and a happy bunch of guys
waited as food arrived. All day the surf ran high and wild. On the 3rd day the surf was
somewhat normal and we were able to bring the men aboard. It might be noted here that many
of these white coral islands have no vegetation and are only about 6 feet above the sea level.
The battle of Midway was at its peak when we were nearing the Island hoping to get a sub
tender, the USS WRIGHT, into the small lagoon as soon as the battle at sea was over. The
Japanese and the U.S. both had subs in the area. Evading these and keeping a sharp lookout
for enemy planes took long hours and good lookouts scanning the skies. Changing course
often seemed a good deterrent. Finally as the Japanese withdrew it was safe for our sub
tender to anchor in Midway's small harbor. Then we were off searching the battle area for
survivors - no success.
After mooring at Midway I was able to go ashore and observe the damage. The men and
equipment used in defending the Island were beat. A small division of Marines and a few
planes would soon have succumbed to a Japanese landing. Only our victorious battle at sea
prevented it.
With tow old, old Olsen ships (Pre World War One slow freighters) we headed for Palmyra
Island with a load of supplies for the Air Force. A small airfield and a few Ventura fighter
planes occupied the Island. At 4 knots it seemed forever crossing about 1600 miles of ocean.
With the freighter having engine problems and a cross-sea of about 4-foot swells wasn't
making for a good trip.
After arriving at Palmyra we received orders to proceed to Canton Island. - A freighter was
aground. Arriving at Canton a destroyer was patrolling the area and was happy to be relieved
of its duty and headed for Hawaii. The Taney sent several men to help unload the President
Taylor but this didn't help much as a huge chunk of coral had pierced its hull and remained
inside.
While patrolling the area our sound gear picked up a contact. Making a run we dropped
depth charges. The results of the explosion was a school of sharks about 6 feet long flying
through the air.
With this task completed we went back to Palmyra and picked up the two Olsen ships and
went back to Hawaii. 72 days were involved in this trip - the longest ever. The President
Taylor was shelled and torpedoed by the Japanese. Years later the President Taylor was cut
up for scrap by a salvage company in Portland, Oregon
(see news article at end of this story about the President Taylor)
Returning to Pearl Harbor some of us were over due for R&R. So while the TANEY was in
for minor repairs four of us got 3 days at the Royal Hawaiian Hotel. With the USO, a couple
bottles of Primo beer and the Waikiki Theater across the street we had 3 days of relaxation.
We arrived at Midway to pick up our sub tender, the USS WRIGHT, for its trip back to
Pearl Harbor. We departed a few hours before dark. As darkness was setting in, our
soundman picked up a contact. One long blast on the whistle and we started on our run. The
sub tender of 54,000 tons started bearing down on our starboard side. With several blasts on
the whistle and a sharp left we were able to avoid a collision that would have sent us to the
bottom. Clearly they had gotten the signals mixed up. Having missed a collision by about 20
feet was close enough. Thank you Lord.
These were only some of the assignments that kept the TANEY and us busy during the first
part of our conflict with Japan. The TANEY was nicknamed "THE LUCKY LADY" and the
legacy lives on. Homer T. COMPTON BM1/C




This is an excerpt from a TANEY related history. S/vern
"Portland Salvers Cutting up War-Lost Vessel"
BY LAWRENCE BARBER, Marine Editor, The Oregonian.
"A crew of Portlander's who sailed in the 140-foot yacht Caronia from Portland in August,
1943, for Canton Island to salvage the wrecked steamship President Taylor, where it stranded
on the mid-Pacific coral island."
"The President Taylor was a former American President line ship which was operated as a
troop transport during the early days of World War 2. According to the most reliable version
told at Canton about her stranding there, the ship called there February 13, 1942, with 1200
troops to be disembarked in small boats. Before the troops were able to leave the ship,
however a destroyer escorting the Taylor reported submarines in the vicinity and instructed the
transport to stand in closer to shore."
"Ship Held Fast"
"While maneuvering, the ship touched bottom and heavy swells drove her hard aground. The
destroyer was busy dropping depth charges and unable to assist the transport. The next day
the troops were disembarked and some of the cargo jettisoned to lighten; the vessel. Two
unsuccessful attempts to re-float the ship failed and she was ultimately abandoned. "
A had written note on the article states: "After the TANEY arrived the Destroyer left. It was
reported the destroyer Captain told the Skipper of the U.S. Taylor to get in closer or we leave
you. The Skipper of the Taylor Shot himself the next day."




Walk in the park.
Mozetter was in the same draft as I, reporting aboard the Taney early 1941, Mozetter was soon transferred to the Kukua, a boey tender normally moored at Honolulu Harbor. Mozetter, during his liberty, became acquainted with a Hawaiian girl. They spent most of the day around the park (the park then consisted of most of the land where all the hotels are now on Waikiki Beach). It was getting late, so Mozetter called it a day and returned to the ship. He woke up around midnight, to find the Hawaiian girl in bed with him. Knowing the consequences of being caught, Mozetter hustled her off the ship, "---and don't come back!" Nothing was ever said about this, but Mozetter decided to stay aboard for a couple of weeks, just in case.
Shore Patrol
Two seamen of the Taney went ashore and each had a couple too many drinks. They soon got into a fight with two Marine Shore Patrolmen, then jumped in their jeep and went for a little ride. The Shore Patrolmen soon had them in the brig. Word came down to Captain Olsen that the patrol had two of our men, so Captain Olsen, stripes and all, departs the Taney. About half an hour later the Captain returned with the two seaman close behind. One hour later, we were on our way to Midway, with no captain's mast, and no court martial. This was the captain's way ... and i'm sure those two sailors never gave him any more trouble.
Lucky but not always rosy
It was late in 1942 and Warner had made his way from 1st class machinist to Lieutenant, and spoon he went on to Executive Officer. The Taney soon became an unhappy ship. The XO had men chipping lead base paint day and night, and standing watch around the clock. The deck force began to create problems getting drunk whenever they could... returning late to the ship, etc. But Warner kept up the pressure. Small things became major things, and ten days in the brig soon became 30- days, on bread and water. Most everyone thought it was a ;bad idea, at sea with the chipping hammers going rat-a-tat-tat and with the noise from the engine room to boot. Any nearby Japanese sub probably headed for home hearing it. I'm sure they wondered what kind of weapon the U.S. Navy had come up with. It reminds me of the British marching through the forest hunting Indians, with their drums banging away.
Dry dock and bad orders.

Work was complete in dry dock, and Lt. Warner. the XO. ordered me to get the day workers to paint the hull. (With the yard workers removing the scaffolding, we had to make a stage, which was an 8-foot plank, 120 inches wide, with a line on each end. The line went wp to the deck, around a cleat, and back down to the stage. A man on each end painted and lowered himself down. Then they both had to climb the rope back up to the dick.) When the ship was in the water, this was no problem, but in dry dock, if a man made one mistake, he would fall 75 or 100 feet to a steel deck below. The men broke out the stages, and were checking the lines...looking over the side...stalling for time. Finally, one of the seamen came over and said, "It isn't safe, if we fall, that would be it, and I'm scared". Two others came forward and joined in. I tooled them that you can't refuse an order. But I was afraid, knowing that if something happened, I was sure to be court marchaled. Soon the O.D. came up wanting to know what was going on. The men told him they were afraid to go over. the O.D. went back to the XO. Lt. Warner. Warner came up and singled out a couple of the men. "You're refusing an order?" he asked. "No sit", came back the reply. After about ten minutes of this back and forth, the XO said, "OK, but when we get out of here, you men will paint this ship if it takes all night". The crew answered, "Yes sir, we'll do it sir!" Half an hour later, the Taney was moved out of dry dock and taken to a pier. Just then, the yard workers moved in and painted the hull. Warner must have thought I had something to do with this, because from then on, I couldn't do much that pleased him.
Snafu
Late in 1943, the Taney arrived in San Francisco for refitting. Everyone was happy to have liberty and leave, it was a chance to go home. Lt. Warner got his wish, the command of a new Destroyer Escort charter for the Philippines and Okinawa, after ramming the dock and tearing it up on his departure. ( I wonder who he put on report for that.) It must be reported that the Taney had its share of good officers.
Raised in Colorado
At the age of 10. I could ride a horse with or without a saddle, better than most of the Indian kids around. Coming back to the states from the South Pacific, a group of us went to a riding club. After about an hour, I began to feel more at ease in the saddle again. So, I remarked to the guide that I was beginning to feel almost lake part of the horse. Some gal behind me said, "Yes, and I bet bet I know which part." That ended all future communications I might have had with her.
Remember
The R.B. Taney was a lucky lady
With over 50 years of service
3 long wars (earning)
16 awards for outstanding service
11 major drub bust
Hundreds of drug and weather patrols
She has earned her place in history.
But let's not forget it was men like you and I,
that sailed with her and made ia all happen
Now she rest at Baltimore's Maritime Museum
As a reminder to all
That she served her country
beyond the call.
(THE ABOVE STORIES BY)
-Homer Compton BM 1/C



1946
THE VALIANT FEW by Jim Gill
Aside from the unpleasantness, the war years were in some ways pretty fat for most of us. The pre-war regulars had their foot in the door, so to speak, and formed the backbone on which the organization expanded. By mid 12945 the Coast Guard had grown to roughly 282,000 men and women. (Counting regulars, active reserves, SPARS, Auxiliary, temporary reserves and Port Security) The old regulars went up the ladder in a hurry, especially if you happened to be in the right place at the right time. These exalted ranks and rates were, or course , temporary.
When the war ended came the day of reckoning. We all knew what was going to happen, but just wouldn't admit it. So it is with human nature, and when the crash came it wasn't pleasant. As the gates opened the exodus began. The first departing wave was the active reservist, by far the bulk of the wartime Coast Guard. They were released according to seniority in their coveted "Point System". The outflow continued as Port Security groups were disbanded SPARS paid off, Auxiliary and temporary reserve cut to the bone.
Cut to the bone also was congressional funding and allocations for the Coast Guard. There was hardly enough money to keep us going. Paychecks were frequently late, allotments held up and even purchasing fuel for ships and aircraft was a problem. To save fuel the usual training exercises were canceled and only life threatening distress calls were responded to. The Ocean Weather Station Program was curtailed with all indications that it would be completely shut down. The Coast Guard seemed to be doomed with no foreseeable future.
As if this was not enough, the regulars suddenly faced the moment of truth. They were reverted to their "permanent" ranks and rates. Captains went back to being Lieutenants; Chiefs went back to second class and so on. I myself went from QM1 to QM3. I want to tell you, there was pain and suffering! The schemers and dreamers in Washington had the idea that the true-blue regular establishment would endure the pain and stand fast. They made the mistake of creating an easy solution for those few who might find it unacceptable. If you had been dropped two grades, you could get out. Were they ever wrong! You didn't want to be standing near the door in those days as you may have been crushed in the stampede! In no time at all the mighty Coast Guard of 1945, 282,000 strong became the meager few of 1946 - just over 18,000! It was a grievous wound for amongst the wave of departing regulars were the cream of the crop, long experienced officers and petty officers who would be sorely needed to rebuild the Coast Guard's shattered remain. And for those who did remain, the impact on moral was devastating!
Unexpectedly, funding was authorized to continue the Ocean Weather Station Program. A stitch in time perhaps, but one that would be painful to bear. The ships would be sailing again all right, but what would they do for crews? There then began a mindless shuffling of personnel that further pissed everybody off, made little sense and accomplished nothing. In the next two years I served in no less than four different cutters and went from West Coast to East Coast and back to West Coast. The Ocean Weather Station Program or "Weather Patrol" as we called it, required all the ships the Coast Guard could muster both Atlantic and Pacific. What could be mustered was woefully inadequate. There were the five remaining "Secretary" class cutters (four on the East coast), eighteen of the newly acquired 311 foot ex Navy seaplane tenders (AVP) and thirteen "Owasco" class 255 foot cutters. That's a total of thirty-six ships. Initially there were three weather stations in the Pacific and five in the Atlantic. On paper, twenty-four ships on a continuous basis could sustain these eight stations. That left twelve ships to fill in here and there and to cover other Coast Guard responsibilities. Had all thirty six ships been in top condition and fully manned, the implementation of this plan would have been a snap. Instead, it barely succeeded only by the sacrifice and suffering of the valiant few that made it work.
The "Secretaries", built in 1937, had born the brunt of the early and strenuous WW2 convoy duties and by war's end had just about been used up. The AVP type seaplane tenders acquired from the Navy were in no better shape. That left only the 255-foot class in "new" condition for none had been completed in time to see wartime service. Referred to as the "Fiasco" class, they proved to be troublesome and undependable. The engineering concept was a little out of the ordinary and there were many bugs to be worked out. In addition they were uncomfortable riding ships and the excessive number of watertight boundaries made living conditions most difficult. The entire fleet then was either tired or worn out or troublesome and unreliable.
With this wonderful array of equipment we began a program that would prove almost impossible to maintain and a hardship on everyone involved. The basic schedule for weather patrol was to have been twenty-one days on station and about sixty days in port. The sixty days included running time to and from station, district patrols, search and rescue missions, training exercised and annual dry-dock. The typical problem was a ship that due to machinery, electronic and other failures as unable to proceed on schedule, which required another ship to fill in. There was a lot of that happening so in reality the schedule looked more like thirty out and thirty in with the in-port period being largely used up as previously stated, not to mention the struggle to beat a tired old ship back into good enough condition to carry on. The twelve ship "reserve" vanished in a hurry.
Somehow we managed to carry on despite being terribly short-handed with barely enough people to keep sea watches. The whole routine was devastating and we all suffered. Family life was almost non-existent, marriages were wrecked and moral dropped even lower. During this wretched period of time I lost two acquaintances through suicide and another by homicide. Somehow, most us us keep going --- don't ask me how or why, but it wasn't easy. Again, the "Valiant Few."
My wartime assignment, a troop transport was decommissioned on 15 March. My orders were report to Coast Guard Base, Government Island, And Alameda CA for further assignment. At this point I was completely unaware that the Coast Guard as I had known it, was gone forever. Appropriately, I reported on April Fool's Day. Unlike that festive date, what I encountered was not make-believe, it was REAL! I felt like Alice in Wonderland stepping through the looking glass into a strange New World. The once bustling Government Island Base was now a gost town. The cadence counting shouts of hundreds of recruits marching in formation were gone. Two companies of scrawny looking boots were currently in training, all that the recruiters could scrape up to help fill the void. Nine out of the ten buildings were vacant and the streets were empty. At the main dock were cutters once rafted up three deep, there now remained two active ships, the rest decommissioned and awaiting some grim final disposition. A pall of gloom hung heavily over the entire scent.
As if to underscore the miseries confronting the Coast Guard, the morning newspapers were screaming in banner headlines, "Disaster in the Aleutians." A gigantic tidal wave had roared down upon Unimak Island and the Light Station on Scotch Cap. The sturdy building was wrenched from it's site with such force that only the concrete base remained, the rest shattered and hurled into the sea ninety feet below. Of the five-man crew only bits and pieces of bodies were found. Seismologist estimated the gigantic wave from 100 to 150 feet in height and traveling at more than ninety knots!
As the next three weeks flew by I became more and more skeptical regarding my future in the Coast Guard. A major part of this dilemma was the "bust" to third class. Sadly I un-stitched my first class crow, rummaged around and found my old third class bird and sewed it on. (There was lots of sewing going on in those days) It was not only a big loss of prestige but there were other more serious considerations. As I was now married, the loss in pay was significant. If I got transferred, I was no longer eligible for transportation of dependents and household effects. Fervent hopes that my upcoming assignment would be in the local area were answered. When my orders arrived I was assigned to USCGC IROQUOS (W-43), a ship home-ported at CG Base, Alameda.
I will not dwell upon my time spent in IROQUOIS. Sufficient to say it was unpleasant. It was a sad ship manned by sad people and although my stay aboard was brief it was my introduction to Weather Patrol. Although the Ocean Weather Station program breathed some life back into the Coast Guard in the form of appropriation dollars, it nevertheless had a negative effect on our already downside moral. Most of us had spent the war years away from home and had been involved in all kinds of duties, most of them monotonous, many distasteful and some downright nasty. Nobody was ready fore more of the same. There is no question that the ocean stations provided aircraft with vital "winds aloft" and other important meteorological data. Weather patrol, however, was mostly a product of pressure by the aviation lobby because o f concerns that airplanes which were not of the seaplane or flying boat ilk were at risk when spanning vast expanses of water. The popular notion was the that aircraft not capable of landing on water were unsafe to carry passengers across an ocean. A clue to that regard might be that the term Ocean Weather Station replace a much more accurate (but alarming) title, "Plane Guard Station."
Arriving back at Alameda after our first patrol my worst nightmare became real. A set of orders awaited me. "Proceed and report to C.O. USCGC SPENCER (W-36) at Norfolk, Virginia." Norfolk? Old S-City? Ughh! I would do anything to get clear of IROQUOIS, but Norfolk? This meant leaving my wife somewhere and heading off alone. Now being a third class petty officer I did not qualify for transportation of dependents and household effects. Getting out might be the answer but I still had time left on my enlistment. Nothing left to do then but carry on. On 22 July I picked up my orders, logged off and took my leave of IROQUOIS. I can't say it was with any feeling of regret. In fact I didn't feel anything at all. IROQUOIS registered zero in my list of favorite places to be. I transferred trains three times the last leg on the Norfolk and Southern. Somewhere in the mountains the dark of night I woke up about 0300 to a strange eerie sound. The fireman was paying "Blues in the Night" on the whistle. I couldn't help but agree.
I reported to USCGC SPENCER (W-36) on 29 July of 1946 at the Portsmouth Naval Shipyard in Virginia. I was there to replace the QM3 who had just committed suicide. (Sadly, there e was lots of that going on) It wasn't a happy situation and I was terribly depressed. Underway watches were 4 on, 4 off. Meanwhile CG Headquarters was now in a panic trying to stem the outgoing tide of experienced personnel. The "two grades and out" directive was canceled and it was rumored that those of us that stayed would soon be considered for advancement. For me it didn't mean much for my enlistment was about up and if I indicated I was not going to reup they would transfer me back to the West Coast for discharge. SPENCER was a good ship with a perfectly fine group of officers and men (barely enough to operate the ship) but my mind was made up. I detached from SPENCER 24 October 1946 and headed west.
I had 90 days of "terminal Leave" coming and that took care of the rest of what had been a devastating year in the Coast Guard. 1946 was one of the worst periods of my life and possibly for the Coasts Guard as well. Things got better as time went on and yes, I did ship over. In my immediate future there would be an assignment to an all-around very fine ship, USCGC TANEY (W37). In a short time I was restored to QM2 and later back to QM1. Looking back now from 1999, the year 1946 seems like a dim and distant nightmare. I pass it along as a reminder to those of us remaining from that dismal era who will no doubt read with a shudder. Our younger crop will probably view it with amazed disbelief! I can only say to you that it was all very real.
2,195 words 7 March 1999 Revised for Vern Toler (Taney Web Page) by Jim Gill




file:///c%7C/www/vern/personal/taney/taney.dome.jpg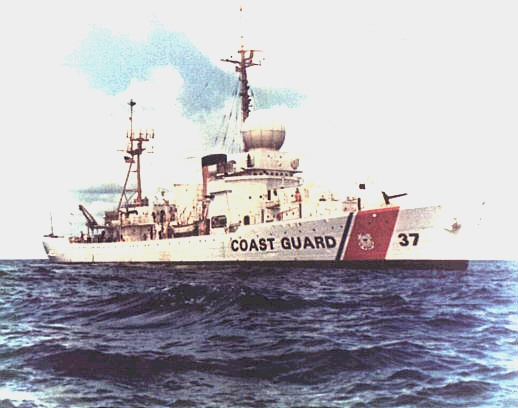 Painting the Radome
I was a new kid on board Taney. I was a Seaman 2/c at the time. We were on our first plane guard station patrol at station "Red-Head-Fox". We had just about finished repainting the whole ship, from peacetime Gray (light Gray), to peacetime white. This included the white hull, salmon buff spars and stack, and black trim. All was done except the radar dome atop the stick.
The Boson's mate knew that I wasn't afraid to climb the stick. He told me to get a bucket of the salmon buff paint and a brush from the paint locker and go up and paint the radome. I figured this was a good deal. After all it would only take about 45 minutes to paint the thing, but I could goof off up there for over an hour. I asked the guy in the paint locker for the paint and brush and up I went. I spent about and hour and a half doing the job and then it was time for noon chow. In the middle of noon chow the loudspeaker squeaked out "Seaman Maybeck, report to the bridge, on the double". I knew I wasn't due for bridge messenger or lookout duty 'til 1600, so I couldn't figure out what was up. When I arrived on the bridge, Captain Bowman and the X-O were in a wild, arm waving discussion.
It turns out that I had painted the radome with lead-based paint and CIC was screaming that they couldn't get anything on radar. The Captain wanted to know why I had done such a stupid thing. I answered that the Boson's mate just told me to paint the thing and never mentioned anything about lead-based paint or non lead-based paint. Then they had the poor guy from the paint locker up there wanting to know why, when I said I was going to paint the radome, why he gave me lead based paint? He was an Apprentice Seaman and I don't think he really knew the difference anyway.
Anyway, we were relieved on station the next day and proceeded back to San Francisco. After passing under the Golden Gate we headed down the Bay to the Mare Island Shipyard. We arrived during late afternoon, so nothing was done that day. The next day a giant crane lifted off the radome and it was sandblasted and repainted. It was replaced the following day and we then proceeded to our regular berthing space at Government Island in Alameda. We had two nights of liberty while at Mare Island Shipyard so we all got a chance to visit the watering holes in South San Francisco. The other side of the coin is that when we came back into San Francisco all of the Officers wives were waiting for us in Alameda. As soon as were doubled up at the Shipyard, the Officers all racing for the dockside phone was a real Chinese-Fire-Drill that was sight to behold.
Harry Maybeck
USCGC Taney '46-'48
July 1999

Satellite Picture Story
I was an Aerographer's Mate 3/c on Taney. I really liked meteorology, so after my enlistment was up, I attended NYU College of Engineering and got my BS in Meteorology on the GI Bill. I worked as a meteorologist for American Airlines for 37 years before retiring.
While working at the American Airlines Flight Academy in Fort Worth, TX during the early 80's, we received a black and white copy of the infra-red satellite pictures (IR Sat-Pix) every half hour, 24 hours a day. These were routinely saved for 90 days and then discarded. They were great as handouts when school kids visited the office. The teachers loved them. I had taken hundreds of them to my apartment and studied them, over many cool ones, trying to learn a little more about interpreting the various cloud configurations on them. One thing puzzled me. On many of these IR Sat-Pix, a very short, white, very straight line would appear. For quite a few years, meteorologists called these lines "anomalous propagation". This really meant that they had no idea what it was. After studying hundreds of these charts I realized a few things. These lines were always very straight, appeared as white lines against the darker sea surface, and were only about 1/8 to 3/16 inch long on the chart. They never appeared over a land mass, just over the ocean. I also realized that they only appeared on Pacific Ocean charts with a satellite pass between approximately 1000GMT and 1800GMT. After calculating all of these lines in local time, it became apparent that they all were from locations where it was between 0100 and 0400 local time. Another factor became apparent. Plotting these lines on a chart they would connect up in almost straight lines. Now what was both a Naval and merchant ship doing on the mid-watch that would leave a mark on the ocean surface? Working with a fellow meteorologist in the Air Force, who was stationed at Carswell Air Force Base in Fort Worth, we finally came to the conclusion that these ships were pumping out their toilet holding tanks on the mid-watch. The chemicals placed in these tanks as both a disinfectant and a deodorant was having a chemical reaction with the sodium in sea-water producing a slight change in the sea-surface water temperature.
These lines would not be visible from the ship and they would not even be visible from an aircraft. But, the infra-red satellite cameras were detecting the temperature change in the ocean water temperature . It only lasted for less than an about an hour, that's why the lines were so short.
We were going to present this theory to the local Dallas/Fort Worth Chapter of the American Meteorological Society at one of their monthly meetings. The word got out to the local National Weather Service people about our topic. They were located in the Federal Building in Fort Worth. The local FBI office was in the same building and these guys frequently had coffee together.,
When the meeting was about to open, all of these "suits" show up in the back of the room. It turned out that the FBI told the CIA and about a dozen agents from these agencies showed up to hear what we had to say.
After all was said an done, they liked the idea, and the CIA used our "theory" to track the Russian ships across the Pacific that were supplying the Central American groups during the conflict that was going on in which our CIA was involved. Even though all merchant ships are required to report their position at least once a day, usually with a regular weather report, these Russian ships were maintaining radio silence. But every time they pumped out the tanks from the ships heads on the mid-watch.….the CIA plotted their position from a regular "weather satellite picture".
Harry Maybeck, Aerographers Mate 3/c
USCGC Taney '46-'48
July 1999
I am a John Wayne nut. John Wayne made 152 movies and I have 120 of them on video tape.
While watching one of the old ones for about the zillionth time I realized an amazing thing.
In the movie "The Sea Spoilers" made in 1936, John Wayne plays the Commanding Officer (Chief Warrant Boatswain) of a 125' cutter. They are after seal poachers. In more than one scene in this movie there is a Coast Guard Signalman on this Cutter sending semaphore signals (both light and flags). I finally realized that this Signalman was George Ingersoll who was a Signalman 1/c on board Taney with me in 1947. He was one of the Chiefs who was busted back to 1/c in 1946.
Harry Maybeck
USCGC Taney
1946-48




Captain Carl George Bowman
The following is not meant to be disrespectful to Captain Bowman….but just some rambling thoughts about him.
Commander Bowman was a stern Captain of the Taney. Most of the crew either liked him or hated him. I respected him very much, because he was a very fair man and also a fantastic seaman and navigator. Captain Bowman had one idiosyncrasy. I really think he thought of himself as a Captain on a 18th century ship.
Item 1. He ordered holy-stones from the Naval Supply Depot at Alameda so the deck force could "holy-stone" the teak deck on the fan tail. NSD replied with, "you want WHAT"? He was insistent, so they finally procured them, along with bags of sand, so the deck force all got holes in the knees of their dungarees, holy-stoning the fan tail.
Item 2. I don't know of any other Coast Guard Officer that owned a "Boat Cloak". It was in the catalog, so Captain Bowman had one. On one patrol at Station Jig in the Gulf of Alaska, during February '47, the visibility never got above 1/4 mile, day or night, in fog. Bowman would stand on the bridge wearing his boat cloak with the big collar turned up. The crew swore he was looking for a white whale.
Item 3. He frequently had his twin sons on board. Sometimes even when we went to sea on short cruises (2 or 3 days). I guess he felt sorry for me after the radome painting incident. Anyway, he always asked that I be assigned to baby-sitting his two kids. The crew called them the Katz and Jammer kids, after the comic strip. After one such baby-sitting session, I was called to the Captains Cabin. He wanted to know why I was lying to his children. Apparently, they really believed the stories I was telling them. The one he referred to was when I told them that the Coast Guard would blow up ice bergs by drilling square holes in the ice bergs and put in square dynamite so it would blow up into ice cubes.
Item 4. Captain Bowman would wear his boat cloak, standing in the bow of the 26 foot, double ended, double banked, Monomoy Surf Boat. He had asked the Chief Carpenters Mate to make him a harpoon. He was determined to harpoon a shark. On one patrol at station Bird-Dog-One some
sharks were spotted and he ordered the boat put over. he stood in the bow with the damn harpoon, and lo and behold, he got one. He had often stated that he wanted a walking stick made out of sharks vertebra . By stringing the vertebra on a leather thong and then pulling it taught and knotting it off the various vertebra would lock tight into a rigid stick. Anyway, the deck force got the thing up onto a canvas that was spread on the fan tail and the ship's doctor proceeded to cut the thing open. What shocked everyone on board was, in the shark's gut was a nickel and the little metal clip, like on the end of a shoelace.
Item 5. Captain Bowman's, initials were C. G. (for Carl George).
About half of the crew said this stood for "Coast Guard" Bowman while the other half said it stood for "Christ God" Bowman.
Item 6. On one patrol, we received a message from DD-888 (Stickell).
There was a seaman on board who was having an appendicitis attack. Since our doctor was a U.S. Public Health Service Surgeon we went to meet them. We came up within about 100 yards of the Stickell at about 2300 hours. Captain Bowman ordered the 26 foot Monomoy over and the crew started rowing towards the Stickell. The sea was relatively flat. Long low swells with almost no chop. When our boat was almost to the DD, their 36" carbon arc spotlight hit them. Clear as a bell across the water, you could hear their lookout cry out, "Good God, they're paddling". We got their seaman on board and all turned out well. On our next patrol we were returning to San Francisco and received orders from 12th District HQ to limit our speed to conserve fuel. We had been at sea for about 35 days at that time, and all aboard were anxious to get back to port. We were making about 15 knots. After the second message from 12th District HQ to reduce speed in order to conserve fuel, Captain Bowman sent them a message saying "That's all right, we can paddle in the dark". I'm sure that HQ had absolutely no idea of what he was talking about.
Harry Maybeck
USCGC Taney
1946-48



From: BrianTBe@aol.com 21-Oct-99 22:22
Subject: USCGC Taney
To: vern@armory.com
I was just checking out the Taney web page. My name is Brian Bender and I
was a FN andBT3 on there from April '67 to about December '68. Capt Frick was
skipper and Comdr.. Starr the XO, then Capt. Young and Comdr.. Hand relieved
them. We had a great group in the fireroom with Chief Hugh Mobley and BT1
Charlie Rodgers. We pretty much did things our own way down there and were
always ready to go when the telegraph rang. Did a bunch of Ocean Station
November and a couple Alaska fishing boat patrols. After the Taney, I went
onto the Barataria for one more OSN, then to the bouy tender Willow. After
getting discharged in Sept. '69 I went to work for Chevron and sailed on
their oil tankers for 25 years, retiring in 1995 as Chief Engineer on the
SS Chevron Mississippi. I have read the posts here and recognized 2 names: BMCM Taliaferro and Ensign Coffy. As I remember, Mr. Coffy was well liked by the crew because of his somewhat
irreverent nature. I believe at one time a full 1/4 of the crew was on
restriction for one reason or another, including Mr. Coffy, also sometimes
known as the "Big Kahuna". I recall standing next to him at restricted
man's muster more than one morning.
I have enjoyed poking around the site. Please include me in any former crew
member rosters.
Thanks a lot.
Brian T. BenderNapa, CA 94558
BrianTBe@aol.com



(Letter from Lon McMinn MM2 8 March 200)
The Roger B Taney (WP 37) has a special place in my heart. T thought from what I had heard that she was left with the Vietnam Navy and went to Indonesia. My wife bought a Web TV set and she was checking out Maritime Museums. We learned that the Taney was in the Baltimore Harbor. We are R.Vers and one week later we were on our way to Baltimore. When I arrived in Baltimore and went onboard, it brought back lots of memories. This old ship that still looked young and I got old.
The young men on the Taney treated me great. One young man took me through the engine room, the boiler room and the berthing compartment and I saw my old locker. The bunks had been changed but there was a strange tugging at my heart. God bless you Vern (The heroes from WW2) I'm sure you have some of the same tugs at your heart That old ship always got me home and I love her for it. Thanks and smooth sailing.
((Sea Story by Lon)
April 1952 – 3-month patrol arrived Honolulu, docked 3 days, fueled at Pearl harbor, On weather patrol for 21 days. Arrived Yokasuka, Japan docked 10 days, On weather patrol for 21 days. Arrived Government Island, Alameda, California (homeport).
In this two years we did about 7 one-month patrols. We were at San Diego for drills and school with the Navy for three weeks in July – August 1952.
February 1953 set sail to Honolulu, 3 weeks in midway, on to Wake Island for fuel, Guam, passed Sipan and checked out Vulca Island, formed from a recent Volcanic eruption, On to Yokusha for 21 days, Leaving Japan we went passed Vladevestok in the Sea of Japan, where we hit one heck of a typhoon. On to Sand Island in the Aleutian Islands, where we fueled drank beer and played pool with the Navy. Then to Adak where we had a slight misunderstanding with the Seabees and the Port Commander asked us to set sail (PDQ) Anchored at sea 21 days, called to LCM crash. Retrieved bodies and airplane parts in the Bearing Sea. Then we started on a course that would have brought us down the West Coast to home port, but were diverted to safety stand-by for "Ike's" planes when they flew to Korea to make peace. We ran a little short of food, but we enjoyed pancakes and garlic salt. Then on to Government Island. Standard one month patrols until I left the Taney in the winter of 1953. Chief Boiler Tender Meadswcroft, who I served with, was in Pearl Harbor, on the Taney December 7th, 1941. Lon McMinn MM2




Subject:
Taney accepts challenge from Navy.
Date: Sun, 27 Aug 2000 11:17:43 EDT
From: USE2RR@aol.com
I served aboard the Taney from May 1951 to January 1954. I don't remember
the exact dates, but I recall we had been on weather patrol on Uncle and were
to steam to Midway for Air Sea Rescue for 21 days. Prior to arriving on
Midway, we received a message from the Navy guys on Midway challenging us to
a boxing smoker on the Island. I don't remember what our compliment was, but
I don't think it was more than 150. My recollection is that there were ten
time that number of Navy personal on the Island. We accepted the challenge
and because I had some experience in the Golden Gloves in Chicago, I was
asked to train some of the guys on the Taney. To my surprise, about ten guys
volunteered to fight. Of the ten, 9 were Stewards from the Officers Mess.
All were originally from the Islands. These kids were the greatest. They
were all heart. Of the ten fights, the Taney guys won 9. I couldn't have
been more proud if I had won them all myself. They were a credit to the ship
and to the Coast Guard itself. I wonder if any one else recalls that night.
I hope to see you in Oct. 2000 and maybe some of those who would remember.
Jim Zito,
discharged on Jan 28, 1954 from Govt. Is.,
Alameda, Cal. BT2/C
(CG Stewards Association 5 Bells Page 2)



USCGC TANEY IN VIETNAM. Submitted by Garrett E. CONKLIN



Below information submitted by Granddaughter ofNOLAN, William, Bernard (107-860) MMC Retired Rank Lieutenant (now deceased) Granddaughter Barbara Nolan Zubricky stated her farther was also Warrant Officer Who served in the Coast Guard for 27 years. the menu from someone at Cleveland, Ohio Coast Guard Station.
THANKSGIVING MENU 1945--Fruit Cocktail, Cream of Celery Soup, Roast young American Turkey. Virginia backed ham, Sage dressing, Giblet gravy, Mashed Irish potatoes, Fresh Birdseye peas, Stuffed celery, Green olives, Hot rolls, Old Fashioned Pumpkin Pie, Apple pie a la mode, Navy coffee, Oranges, Apples, Grapes, Cigars, Cigarettes, Mixed nuts, Candy
High Lights of the Taney's 1945 Itinerary
January 18th Sailed from Boston --Commander G.D. Synon, Commanding
January 29th, -- Departed Norfolk
February 4th --.Traversed the Panama Canal
February 13th, -- Called at San Diego
February 22nd, Anchored in Pearl Harbor
March 10th, Cleared Pearl Harbor, with flag of Rear Admiral C. H. Cobb
March 14th -- Crossed International Date Line
March 18th --Fueled at entwetok, Marshall Islands.
April 7th -- Northward from Utithi, Caroline Island.
April 11th --- The Okinawa Invasion.
May 11th -- War at Le Skima, -- downed four Jap kamaizia planes,
June 1 -- Returned to Hogushi, Thence to Bucker, Bay, Okinawa and took station on SOPA
June 25 -- Okinawa secured by United States forces.
August 6 -- Commander C. G. Bowman relieved Commander Synon of command.
August 15th -- War's End
Rear Admiral C. H. Cobb and staff departed.
Captain Samuel W.. King, USNR and staff arrived on board as prospective Port Director of
Kobe and Osaka, Japan.
September 11th -- Successfully navigated mine fields into Wakonoura Won, Honshu, Japan.
Engaged in evacuation of prisoners of War.
October 14th -- Farewell to Japan.
October 29th -- Home.



This story is by HENRY M. WICK. JR. Written for his grandchildren of his WW2 experience. Vern Toler for the Taney WebPages copied the portion relating to the USCGC TANEY. Vern Toler left out some names to prevent embarrassment.

In June of 1944 I was ordered to report in the Brooklyn, NY, Navy Yard to the U.S.S. TANEY. ---Whose Commanding Officer (--------) was known as a superb ship handler. A strict task master and somewhat fearless individual. He was truly a professional Naval Officer, unmarried, dedicated, but with one weakness – alcohol. The Taney carried four 5-inch guns, 40mm and 20 mm guns, depth charges and hedgehogs, it was 327 feet in length and weighed 2500 tons. It was a pleasure to sail on after the Pandora.
Captain (----) was harsh. I recall that one time he told me to remember that my bars (officers identification) could be removed at any time. This statement was made because he felt I had not corrected a secret communications document as promptly as it should have been done. The Taney had a large complement of Officers, including a Lieutenant Commander Palmer as Executive Officer, an old time Engineering Officer named Nolan,a ships doctor, and a variety of Senior Grade Lieutenants. Junior Grade Lieutenants, and Ensigns, a large number of whom were Academy graduates. The Taney was the flagship of an escort task force, and carried a four striper (Captain) from the U.S. Naval Academy named Henry Duvall, who was a martinet. His job was to command the escort section for the convoys and work in cooperation with Convoy Commodore, a Merchant Marine Officer or a Naval or Coast Guard Officer who was in charge of the signaling, speed and discipline aboard the merchant ships. The Taney's task force had the responsibility of escorting convoys across the Atlantic and into the Mediterranean. These convoys were huge, involving at times 100 ships stretched across miles of the ocean. The "John Brown" shown in "Stobart Sprint" is an example of a Liberty merchant vessel used in Atlantic crossings.
The Taney was the escort leader and maintained position generally in the center of the convoy several thousand yards ahead of the lead merchant vessel. Each escort vessel, (destroyer escorts, and others) had wide ranging sonar devices whose purpose was to pick up submarines. The principal anti-submarine weapons were still depth charges, which were scattered over a wide pattern when a submarine was detected. The skill of the sonar operator was very important in continuing to keep contact with the submarine so as to permit the escort vessel to make a carefully designed run dropping its pattern of charges with the pressure fuses set to explode at various depths in the area where a submarine was expiated to be.
The Officer in charge of sonar on the Taney was Julius Brunk. I recall one episode when I had the watch for a four hour period (I believe from 12:00 Noon to 4:00 P.M.) when we detected the presence of a submarine very close to the convoy in the Mid Atlantic. I rang for general quarters (battle stations) and dropped depth charges before all hatches could be secured and the Captain was able to assume the command. In that case, we did not know whether a submarine had been destroyed or damaged, or whether the sonar operator had really not found a true submarine. After several experiences with depth charges and their destructive nature. I could never watch a movie such as "Das Boot" about a German submarine. When depth charges were dropped, normally the convoy made an emergency turn to clear the area; certain escort vessels were detached to continue the search and the convoy would continue on a corrected course towards its destination.
When I originally boarded the Taney in June of 1944 there were on board a number of Senior Lieutenants who had the responsibility of Senior Watch Officers, Each watch – 4 hours – had a Senior Watch Officer, a junior Watch Officer and members of the staff of the Escort Commander. The Senior Watch Officer had command of the ship until relieved by his successor or the Captain. On our first voyage, I served as a Junior Watch Officer and became accustomed to the handling of the ship under various conditions. I also served as Assistant Communications Officer. Our port of call in the Mediterranean was normally Bizerte, which was then the capital of Tunisia, the location of the palace of the ruling family. By that time, Tunisia had been reduced to rubble in many areas there were German prisoners in abundance, as well as Italian prisoners. The German prisoners were kept in carefully guarded areas, since they were remnants of the highly regarded Afrika Corps, Commanded by General Rommel. The Italian prisoners were permitted to move about rather freely since they were not considered to be a danger. In fact, the Italian prisoners were used as truck drivers by the Allied forces. The natives (Arabs) were generally reacted with contempt by the French, who were the ruling colonial powers. I recall taking a truckload of sailors on liberty in Bizerte when our truck knocked down an Arab. The Italian driver was told by the local French police to keep on going rather than create a scene by stopping. I am not certain what the fate of the Arab was, but this action by the French policeman indicated the value, which the French placed upon the life of an Arab. While in Bizerte we were permitted to do a limited amount of travel to the major city of Tunis, including a visit to the shops of the Casbah, which was the name for the old Arab quarter where silver, bronze and other metals were worked. There were restaurants and other shops on extremely narrow streets surrounded on both sides by the extremely limited living quarters of the native population. The streets of the Casaba were of course, very dangerous for French, Americans and English, and those of us who toured the Casba did so in groups, usually accompanied by armed personnel. I have some pictures of the area around Bizerte which we were permitted to tour. In one restaurant another Officer and I were given what was termed a steak, but which we later concluded must have been horse meat because of the extremely limited food supply in the country. I do recall that in the bars the natives served cucumbers, as we would serve potato chips with beer. We also visited the ruins of Carthage, destroyed by the Romans 2000 years ago.
At that time, most of us were foolish enough to drink some of the local beer and eat the cucumbers without any adverse effects. Of course, we were heavily vaccinated and inoculated prior to arriving in Africa, including an inoculation for the Bubonic Plague (The Black Death, as it was known in the Middle Ages) which still was common in parts of Africa. After completing a round-trip between the East Coast and Africa. The Taney and other ships of the Destroyer and DE Class would ordinarily be sent to Casco Bay, Maine for night maneuvers and firing practice, as well as anti-submarine maneuvers. These were arduous days, sometimes involving exercises on practically a 24-hour basis to prepare for the next trip across. Limited work was done on the ship at the home port during such time, mainly refueling, re-supply of ammunition, and depth charges as needed, and a re-supply of food and other necessities.
There was a limited leave period on one such event when the sailors and the Officers on the ship were permitted to go ashore in Portland Main, for an evening leave. I had the duty at that particular time as Officer of the Day, and was not permitted to leave the ship. I recall that about 10:30 at night I came out on deck, after hearing a considerable amount of commotion. I found that there were sailors and Officers in uniform swimming beside the ship. Apparently, they had returned from Portland in somewhat relaxed condition and had decided it would be appropriate to swim prior to heading for the showers and bed. There were other sailors catching fish from the fantail of the ship (stern) using hooks without any bait. The fantail was filled with a number of fish and sailors, most inebriated. One Chief Petty Officer finally told me that there was no point in taking any action, and that I should simply go below and go to sleep, that everyone would be taken care of, which was the case.
The next day when we were about to depart for Europe at approximately 8:00 a.m., the only missing individual was the Captain. This situation created considerable tension, since the Escort Commander (Capt. Henry Duvall, USN) insisted that the anchor be hauled up and the ship get underway precisely as ordered, Captain or no Captain. This would have placed in command the Executive Officer, who had no desire at all to leave the Skipper, (---------), in Portland, Maine facing a general court martial for desertion. Desertion was the charge placed against any Officer or Sailor who failed to return to his ship in time for departure to a war zone. Matters became tenser as the hour of departure approached and no Captain. Suddenly, minutes before the ship was to get underway, a speed boat came roaring out from the port, an at almost precisely the moment of departure, Captain (-----) was hauled on board and hustled to his cabin, while departure arrangements continued. The ship departed under the direction of the Executive Officer, and the Captain was not seen on deck on that particular day as we moved into the rough North Atlantic. No mention was made of this incident in the ships log, and the Escort Commander carefully ignored the Captain for at least 24 hours. (Dick Phillips canconferm this event, since he helped get the Captain on board,) During this voyage, there was a bad storm (September 1944) and the Destroyer Warrington was lost at sea with all hands, including Bob Moore, who was a friend from Maryville College. I had visited with him just before our ship departed from Portland. The Taney was a very sea-worthy ship and survived this hurricane and later a typhoon off Okinawa.
On perhaps my second trip abroad, a Lieutenant by the name of Grant fell out of favor with the Captain and was ordered off duty. The Captain ordered me to take Grant's duties as the Senior Watch Officer. I was then 22 years of age. The Senior Watch Office was in complete command of the ship during the 4 hour period of the watch, subject of course to direction of the Captain, or the Executive Officer, as to course changes. Watches were rotated 8 to 12, 12 to 4, 4 to 8. The most undesirable watch was that from 12 Midnight to 4 a.m. when most attacks and incidents seemed to occur. All escort vessels were required to travel completely blacked out, maintain communications by ships telephone only and adhere closely to the ziz-zag pattern required by the secret orders from the Escort Commander and the Convoy Commodore. American Jurisdiction continued to an imaginary point somewhere in the Mid Atlantic when the command of the convoy passed to the British, who would then issue orders if required, as to the presence of submarines, the presence of enemy aircraft, and other conditions which might justify a change in the original course.
The routine of the day provided for drills and exercises throughout the day, meals of course, gunnery practice, and other maneuvers, such as man overboard drills. Captain (---) had a habit of calling Watch Officers who were off duty to report immediately to the bridge. Upon reporting, the Captain would toss a life jacket overboard, and order a man overboard drill. The duty of the watch Officer was to maneuver the ship so as to keep the life jacket in sight, and approach in on a gradual course into the wind with some hope of slowing or stopping so that a life boat could be lowered and the man overboard rescued. I recall experiences of being sound asleep after watch and being ordered to the bridge to perform such an exercise.
The Captain also employed this type of exercise with gun crews, which were also under the command of the Watch Officer during a normal watch.
The Captain made it a practice to appear suddenly during the middle of a daylight watch, regardless of the time, and announce that dive-bombers were approaching at various angles and heights. The gun crews, forward and aft, under the control of the Watch Officer, were then required to set fuses immediately for the appropriate height and fire the four 5 inch guns as promptly as possible. After going through this procedure for what seemed to be at least once every few days, the gun crews on my watch and I devised a method by which the fuses could be set in advance. We established some new records in having guns ready to fire, and commencing firing after notification from the Captain that dive-bombers were approaching. The Captain had a strange look on his face, after one such incident, and I think he probably knew that we had prepared the fuses for this event.
Most of these trips were uneventful in 1944 since the submarine menace had decreased and the escort vessels were able to blanket, with depth charges, any suspected submarines. However the exercise of keeping escort vessels in precise position while running a zig-zag course in heavy seas with lumbering merchant vessels approaching at various angles was not an easy one. Nor was it easy to refuel from a tanker with each ship operating at 15 knots and maintaining a parallel course 60 feet apart.
The author Nicholas Monsarrat has written the best account I have read concerning the movements of convoys, and the dangers encountered by escort vessels, in his book called "The Cruel Sea." While the Taney was far more comfortable ship than the small destroyers and corvettes upon which Monsarrat served, the descriptions which he gives of the hardships of life aboard war ships in terrible storms and winter weather are very accurate. Some voyages were an endurance contest with moments of terror and hours of boredom, others were like a pleasure cruise.
I recall a specific incident involving a night watch and orders from Captain (---) in the Mediterranean Sea at the approximate time of the invasion of Southern France. The Taney was the lead escort vessel for a huge convoy of ships, which had moved through the straits of Gibraltar and were moving eastward to destination. In the ordinary course the Captain at 6 p.m. wrote night orders (instructions) for each watch from 8:00 p.m. onward. I had the 12 to 4 a.m. watch and I recall the night orders included an order to call the Captain immediately upon contact being made with a large British convoy moving westward out of the Mediterranean. That convoy was expected to pass close to the port side of the huge American convoy and the Captain's orders required that he be notified immediately so that a course change could be implemented if ordered by the Escort Commander, Captain Henry Duvall, USN. The Captain,s cabin was below the pilothouse where the watch officer stood. There was a voice tube from the pilothouse to the cabin.
At approximately 2:00 a.m. the Taney radar picked up a large convoy of ships moving toward the American convoy at a speed of approximately 12 knots. The course of the English convoy was tracked and found to be one, which would likely cause collisions with the port side of the American convoy involving rows of merchant ships. On the deck with me at that time was a Lieutenant named Morrison on the staff of Captain Duvall, who was sound asleep in his cabin below. I called Captain (----) on the voice tube and asked him to come to the bridge immediately to review the radar plot. And determine if orders should be requested form the Escort Commander and the Convoy Commodore. I was horrified to detect the order of bourbon when the Captain answered and I realized I had a serious problem. I immediately ordered the messenger, to go to the Captain's cabin shake him, and tell him to get up to the bridge. The messenger did as ordered and returned in a few seconds with the precise comment "Mr. Wick, Captain, he ain't coming up." I struggled. How could the Captain put our ship, and the entire convoy, in such a position? My duty was to call the Escort Commander immediately and notify him of the circumstances. That action would mean a general court martial for the Captain, My failure to do that could result in collisions more dreadful than could be imagined. Lieutenant Morrison, standing beside me, insisted we must call the Escort Commander, and I agreed. There was no choice. (Had I called the Executive Officer, he would be required to note the Captain's condition. Read "The Caine Mutiny" by Herman Wouk for a comparable situation )
Suddenly, as my decision was reached, the sky lit up with flares, and a coded message came from the English convoy that it was making an emergency turn to starboard to avoid any possibility of contact with the American convoy. We (Morrison and I) breathed what could mildly be described as a huge sigh of relief and called the Escort Commander to advise him that the English convoy had been detected and was making an emergency turn to starboard. Captain Duvall appeared on deck, reviewed the radar plot, and after several minutes, departed apparently satisfied. Through intuition, or otherwise, he did not ask where Captain (----) was. The convoy continued onward, about an hour later Captain (---) appeared to ask for a report, which was given to him about as curt a manner as was possible to do. The Captain vanished. The watch concluded.
Not long after, Captain (---) was transferred and promoted. He became an Admiral after the war ended. No mention was ever made of this incident in the ship's log except a brief reference to the English convoy changing course. Should I have done something else? Would you? Long after the war ended, I wrote to Captain (---,) then a Rear Admiral, and asked him for some pictures of the Taney. He replied very promptly, sent me the pictures, and asked me to be sure to visit him at his command either in Norfolk or Washington.
Late in 1944, orders came for the Taney to report to the Boston Navy Yard for complete alteration into an amphibious flagship. The conversion of the Taney from an escort vessel to an amphibious flagship took a period of several months in the Boston navy yard during a bitter winter of 1944. Captain (---) had departed for other duty and was succeeded by a commanding officer named George D. Synon, a three-striper and academy graduate. Captain Synon was a rather slim person, perhaps 40 years of age, who had spent a number of years in various other vessels, The executive officer was named George D. Boyce and there were a variety of other academy, reserve and other officers who had risen through the ranks. The mission of the Taney as a flagship was to carry an admiral who would be command of a specific operation in the Pacific-unknown to us at that time. When the ship sailed early in 1945, our destination was still unknown, at least to most of us on board. I was assigned duty as a Senior Watch Officer and Assistant Gunnery Officer and, for a time, handled correspondence for the Captain and the executive officer. We sailed from Boston and passed through the Panama Canal on our way to the Pacific. I recall little about Panama except that it was filthy. We moved slowly through the canal and headed into the Pacific for Hawaii.

Our days were occupied by drills, principally gunnery exercises and man-overboard exercises.
In Hawaii, we received orders to proceed to Okinawa for the invasion. Our ship was to serve as the flagship for Admiral Calvin Cobb, who would be in command of the defense forces in the Okinawa area. Most of us had never heard of Okinawa, but we learned it was a Japanese stronghold and was one of the stepping stones to the homeland of Japan. At that time, our B-29s had begun bombing the homeland of Japan from island bases in Guam, Tinian and other islands. However, the Japanese were far from surrendering and still held Okinawa with thousands of troops and gave no indication of any intention to surrender.
The great Pacific rendezvous for the Okinawa invasion was held in the island area named Ulithi, which I believe is the Marianas group of islands. I recall that on our charts it seemed distant from anything and we reached it only after steaming for several days at maximum speed from Hawaii. In route, we stopped briefly at Enwietok, which had been practically destroyed in the battle for that island. There seemed to be little left on the Island except trees that appeared to have been blasted in some giant storm. At Ulithi, we took on additional supplies, including ammunition. I took a detail of sailors to the ammunition ship to secure additional powder, 5-inch 38 caliber shells and 40 mm shells, You can be sure we completed our task on the ammunition ship as promptly as possible since these ships were the favorite target of Japanese submarines and simply vanished if an explosion occurred on them. I often wondered how the crew and officers received an assignment to the ammunition ships, since they were isolated from the rest of the fleet and had no protection. I recall we had on board a concert pianist named Scott who asked me to give him relief from handling the ammunition since he felt that his hands would be injured. I did that and probably incurred the wrath of others who had no desire to be involved the handling of the ammunition.
As an Assistant Gunnery Officer, I was assigned at times to a station inside the 5-inch gun turrets and would participate in the exercise of testing new ammunition, paticulary powder bags, I must state that the experience of sitting in a hot gun turret with temperatures around 100 degrees and engaging the process of testing ammunition to make sure that it worked properly was not a favorite activity, However, that was on of the jobs assigned and all of us took turns at it. The Gunnery Officer at that time was Lt. Charles Zielinski, an academy graduate, who had previously served as command officer of a Patrol craft (165 feet) and was a very studious and intense person. As a footnote, he felt that his name would harm his chances of promotion in the service and was in the process of changing it to Charles Green, something which he apparently accomplished.
I recall, as we left Ulithi, a feeling of extreme loneliness since we had not received mail for a period of months and indeed had no contact of any kind with the outside world. Our food supplies were secured from supply ships and we had no real contact except by radio code, or signal lights with other ships. We sailed from Ulithi to Okinawa to take our position in the Okinawa operation. To my best recollection, we observed radio silence on the trim and had little contact with other ships.
I recall when we sailed into the Okinawa Harbor (later known as Buckner Bay in honor of the General who was killed there) there was the greatest congregation of ships which I have ever seen in one location. There were battleships, cruisers, destroyers, troop transports, patrol craft of every conceivable variety of ship including LST's and LCI's which had been used for the initial landing. The troops were ashore when we arrived and there was little, if any, initial opposition from the Japanese who had withdrawn to the hills in some vain belief that the island could be defended, and the Americans would simply leave after losing significant numbers of troops and ships from kamikaze (divine wind) attacks.
As we came into the anchorage there was firing from the ships already the anchorage against Japanese planes which according to our advance information, were engaged in suicide attacks against any ship available. I remember that my station at that time was in command of a 40mm gun toward the stern of the ship. We were required to maintain position and watch directly ahead while gunfire was proceeding immediately behind us on the other side of the ship. We had been trained to recognize various types of Japanese planes 2-engine planes called "Bettys", single engine planes, (the Zero) and others. This training consisted of hours of studying cards showing the different planes and movies or slides in which the plane would be shown for a second, and we would be required to identify the plane. At the same time we studied American planes so as to avoid the friendly fire incident in which ships frequently fired on American planes in the belief they were Japanese. I saw my first Japanese that first day, a dead soldier floating by, one leg off and bloated. We picked him up and buried him at sea.
During the months we were at Okinawa from April through the end of the war about August 15th, every day seemed to involve a continuous series of raids by the Japanese. We were then approximately 90 miles from the Japanese homeland so that, in 20-30 minutes, the slowest Japanese planes could make their way to the anchorage, which they did night and day. I can recall the first Japanese plane, which flew directly at my gun station. It was a two-engine plane described as a "Betty" and had the appearance of what we would call a C-47, the workhorse of the U.S. Air Force. I can only say it was unbelievable to see a plane actually approaching on a direct course which, had that course been maintained, would have destroyed our section on the ship and all those on it. Every gun which could be brought to bear, including 5-inch 38's depressed, 40mm, 20mm, were firing and within an instant, the plane dove into the ocean a short distance from our ship. That scene was repeated many times, as Japanese planes would fly over, around and sometimes, simply circle at tremendous height, waiting for the appropriate moment. I am not able to describe the frequency of those raids, except at times they seemed to be endless, day by day, Each day would follow a pattern. As a raid was in progress and our guns and those of many nearby ships would track Japanese planes with tracer bullets and every conceivable type of ammunition, the adrenaline in our bodies would result in a tremendous concentrated effort which continued for the minutes or hours which the raid was in progress. When the raids ended and the adrenaline ceased pumping, many of us, myself included, would sink into a depression and await the next raid and the next, and the next.
Our combat air patrol part of the fleet was positioned in such a way that the progress of Japanese planes could be tracked direct from the mainland and positions reported from minute to minute. Then, the wait would be to determine who would see the planes first, whether permission would be granted to commence firing and what the result would be.
At times we were not permitted to fire, particularly if there were friendly aircraft in the vicinity attempting to shoot down the Japanese planes, or if our Admiral believed that friendly fire could cause more damage than would the Japanese. The history books recite the large number of American ships, which were sunk and damaged at and near Okinawa. There were many. How many Japanese were shot down by our combat air patrol and by our ships were never actually tallied, but I'm sure there were several hundred of them. The records of the Taney claim 4 confirmed planes shot down and a number of probable.
At times at night when a raid occurred and the signal of flash red, control yellow(*) was given, the sky would be literally filled with exploding shells, aircraft tracer bullets and other sounds, including screams. The sky would literally look like the greatest Fourth of July celebration one could imagine-explosions on land, in the air, star shells falling and airplanes screaming through the sky. (*) This signal meant fire at any target, Other signals such as Flash Red, Control Green meant to hold all fire.
The Japanese did not confine their attacks to those against American vessels. I recall one incident in which a Japanese air suicide group landed on a United States Airfield (Kadena) on Okinawa and created havoc among the aircraft and personnel nearby. The Japanese were all killed, but prior to that occurring, they destroyed American aircraft and killed a number of soldiers at the airfield. In the initial parts of the invasion, the Japanese also used suicide boats, small power boats, which at high speed carried torpedoes, and which the Japanese sailor was to ride until the boat rammed into a ship. These suicide boats were largely destroyed in the first few weeks of the campaign, but were succeeded by what were known as "Baka" Bombers, a glider, without pilot, which was released from a distance from a Japanese plane and guided toward a ship. These were terribly difficult to shoot down since they were operated at a very low altitude and skimmed across the water. Fortunately, they were unreliable and few hit any targets.
At times, we would simply sleep under our guns, exhausted, after hours on the general quarters.
Captain Synon developed the theory that the Japanese could not see the ships in the anchorage if a number of ships made smoke, with smoke devices attached to small boats used for picking up mail. Therefore, the practice developed of making smoke when the Navy received information of a large Japanese raid in weather which was poor. The Captain used this practice so much that he came to be known as Make Smoke Synon, a not altogether complimentary description. The make-smoke concept was proved to be rather false when it was determined that, in many cases, the ship's masts were clearly visible out of the smoke. The smoke itself would provide an appropriate target for a Japanese plane.
When Franklin D. Roosevelt died the word came to us while the air raids by the Japanese were almost continuous. I recall that day being on a raft or some other method of water transportation seeking some part for a gun from another ship in the anchorage. I think the Chief Gunner's Mate and I had been sent to secure the part from any ship that we could. There were literally hundreds of ships in the harbor of various types transports, mine sweepers, patrol craft of various types, cruisers, battleships and destroyers, parts were exchanged as a matter of routine. In any event, the death of F.D.R. created greata concern, particularly since there was a common belief that Harry. S. Truman was not fit to be President of the United States. The newspapers and radio broadcast from the states indicated that there was a movement to persuade Harry Truman to resign and permit Edward Settinius, who was then Secretary of State, to assume the Presidency. The theory obviously was that Stettinius was better qualified to serve a President than Harry Truman of Missouri. Obviously, Harry Truman did not accept that position kindly, and I doubt that Stettinius had much of a career at the State Department after Truman was sworn in. The war continued with air raids on a daily basis after Roosevelts death.

When the war in Europe ended and VE Day was celebrated in Europe and the U.S. The Japanese did not give up. The ship's log would show that there were air raids on a continuing basis and of course, the land battle in Okinawa continued with huge loss of life, principally on the Japanese side, but also on the American side. I recall a young Army Officer who visited on board our ship every few weeks or so, probably to eat a hot meal. He was a friend of one of the younger Officers, (we were all young, but younger might be 20 or 21). One day we were shocked to learn that he had been shot by a sniper shortly after going ashore from our ship the night before.
I spent some time on Okinawa itself and remember it as a terribly hot and dusty place, or if it rained, as terribly, terribly muddy -- disagreeable under any circumstances. At one stage our ship was dispatched north from Okinawa to operate near le Shima, a small island on which the Japanese had been attacked by the 77th Division. For some reason I was ordered to go ashore with Dr. Huntley, the ship's doctor. We used the Taney's small motor boat, and spent some time ashore during which Dr. Huntley attended to wounded or ill soldiers, I remember the place on le Shima where Ernie Pyle, the great war correspondent, had been killed by a Japanese sniper. At that spot there was a pile of rocks with wooden cross with the name "Ernie Pyle" and the message "The 77th Division lost a good friend here Ernie Pyle" I will never forget standing at the cross and thinking how ironic that Ernie Pyle, who had survived the war in Europe, was killed by a sniper in what might be the last battle of the war. According to the war department history on Le Shima, the pile of rocks was replaced and today there is a monument with that inscription on it. I'm not certain where Pyle was finally buried, perhaps on Le Shima.
Sometime in the early part of July, Lt. Green was transferred from the ship and I was appointed gunnery officer by Captain Synon. After that, Captain Synon was transferred and was replaced by Captain Carl Bowman. I recall very clearly Captain Bowman walking around with me to inspect every gun to make sure none had scratches or any defect with which he could possibly be charged when he turned over command to his successor. About that time Lou Volse left to take command of a D.E. Lou was about 24 years old and was an outstanding officer.
Toward the end of July, when it appeared that the Japanese might surrender, General Joseph E. Stillwell came on board to meet with Admiral Cobb over some operation. There was a constant flow of Officers and other people on and off the ship, since the Taney served as a communications center and was Admiral Cobb's headquarters. Cobb is listed in the official history of Okinawa as in command of the Ryukus defense forces. Cobb was little known to those of us who were Junior Officers ( or even Senior Officers) since he stayed in his cabin or with the Captain and did not share in the Officers' mess. He was the former Navigation instructor at the Naval Academy, and apparently was an outstanding Navigator. Prior to his command on the Taney he had served in command of a battleship – I believe the Pennsylvania.
It is difficult after these years to remember the emotions that we felt after learning that the United States had dropped a new kind of bomb on Hiroshima and Nagasaki. Our ship was not a great many miles distant from those cities, but we learned about the bomb by radio just as did most of the other armed forces. At that time, I must admit, the bomb seemed to most of us to be a great idea since it might lead to the end of the war. We had no idea of its power, nor that thousands of Japanese had died in each city. At that time ,our ship had received an indication, if not orders, that as soon as the Okinawa campaign was completed, we were to return to the Philippines to prepare for the final invasion of Japan. I can assure you that no one looked forward to that operation, considering that the fact that the Japanese would be defending their final homeland, and so we had been told, would never, never give up. The Japanese tenacity was shown by their defenses of Okinawa against overwhelming force. The Japanese did not believe in surrender, and I am certain that there were just a few thousand Japanese troops who surrendered rather than die in the Okinawa battle. In all the months we were in Okinawa, and during all of the Japanese Kamikaze raids, there was only one Japanese pilot picked up alive in the Okinawa area.
There is a story in John Toland's book "The Japanese Empire from 1936-1945", which describes one such pilot whose plane plunged into the ocean prior to hitting a ship, That pilot may have been the one who was captured in our anchorage, or it could have been another who chose to save himself rather suffer a fiery death by gunfire or an explosion from diving in a ship. There were literally scores of American ships hip by the Kamikazes near Okinawa. I recall that the Franklin, an aircraft carrier, came through our area after it had been almost fatally damaged by Kamikaze planes. No one was allowed on board the ship and the Franklin's Commanding Officer stated that the Franklin would take care of its own. I also recall a destroyer, perhaps the Laffey , which was hit by six or seven Kamikaze planes, and came beside our position in the anchorage with at least 7 American flags flying and the Star Spangled Banner playing on its loudspeaker. Our ship's doctor, Dr. Huntley, was ordered to the distroyer to assist those who were wounded. Many sailors died from the attacks, many were wounded. At one stage in the battle, the Taney shot down a Japanese suicide plane just as it was about to strike a neighboring merchant vessel. The Captain of the merchant vessel sent a message (of which I should have a copy) simply saying "Thanks for saving our fanny".
There was at least one unfortunate incident when the American ships in our area (and perhaps the guns on our ship) shot down a U.S. Navy plane, which slipped out of the clouds when there was an order termed "flash red, control yellow", which meant that any ship was free to shoot at any airplane target which appeared. Probably this was a carrier plane lost, seeking to return, which simply did not know that it had triggered an alarm along with Japanese planes, and was shot down trying to return to its carrier.
There was so many ships in the anchorage and so much shooting that one of the great dangers was that anyone topside could be wounded or killed by flying shrapnel, or by over anxious gunners shooting without regard to any ship nearby. Of course, if there were more than one Japanese plane in the area and attacking, it is understandable that such incidents could occur.
We were close enough to Japan to hear Tokyo radio and Tokyo Rose. According to information given to me by some of the crew, Tokyo Rose would announce which ships were in the anchorage and which ones would be hit. Some of them contended that Tokyo Rose had mentioned specifically the Taney, with its number 37, as the target for a specific night. Tokyo Rose was, as I recall an American whose English was excellent, and who played favorite songs of the 30's and 40's, and carried on conversation in an effort to persuade Americans they would be killed and they should not continue in this attack on the homeland of Japan.
The combat Air Patrol would frequently engage planes near the anchorage or sometimes even in the anchorage. I recall picking up a Marine pilot with our small boat. He had either been shot down, or his plane had developed engine trouble and ditched at sea. We brought the pilot on board and he had lunch with us and then was taken off to return to his unit on Okinawa. I recall how pleased he was to be able to sit down at a table and have a meal. I think that he envied the cleanliness and the order on board the ship – the tablecloths, the silver, and the always available coffee.
I recall the battleship Pennsylvania shelling the enemy positions in Okinawa at night. The 16-inch gun shells looked like red tennis balls flying through the air as salvo after salvo directed against the island. The Commanding Officer of the Pennsylvania on that day advised all ships to be particularly careful to close all watertight doors since torpedo planes were expected to be attacking that evening. A few minutes later, we received word that the Pennsylvania had been hit by torpedo planes, and was in danger of sinking since it had failed to close completely all-watertight doors. It was saved and later participated in the surrender at Tokyo. I recall going on board the Pennsylvania for church service. The Pennsylvania still had wooden decks, or at least a huge meeting area where wooden decks or a platform had been put in place. It was an enormous ship and served with distinction throughout various Pacific campaigns.
The events leading up to the close of the war are somewhat vague in my mind except that I recall that there was an announcement that the war had ended or at least the Japanese had stopped fighting and had agreed to a non-conditional surrender. However, even after that event had occurred, the Japanese continued sending planes to attack ships in the Okinawa area. I recall standing with Captain Bowman (I was then the Gunnery Officer) after the war had been announced as being over, and watching tracer bullets fly over parts of the anchorage at night as ships replied to random Japanese attacks. We had little protection, a tin helmet, life jackets, and were quite exposed. At that time I would have been on the flying bridge equipped with a communications set with a Yeoman or Signalman with me.
When the surrender was announced, I had the same feeling as many others, – "The was is over, and I am alive."
At that time we had a number of Navy Officers and Coast Guard Officers on board, as well as 2 Marine Lieutenants (with 2 platoons of Marines) and assorted Public Relations people, a Chaplain, combat photographers, medical people, a while variety of staff normally accompanying an Admiral.
Shortly after the war actually ended, we received word that the Japanese had indeed agreed to surrender, and that McAuthur was to land in Tokyo. Our ship was ordered to proceed to the Osaka-Kobe entrance area and anchor off a small town, Wakayama Wan, where the Sixth Army was to enter and where Australian prisoners were to be returned by the Japanese.
We sailed north and I recall our approach to the Japanese mainland occurred on a day when it was grim and gloomy, and clouds were over the land. The land was quite mountainous, dark and forbidding. The Admiral in command ordered Japanese mine sweepers, which had made a rendezvous with our task force, to proceed single file into the anchorage area with instructions to sever all mine cables in the harbor area so that the mines could be destroyed. All ships in our task force, cruisers, destroyers, various ships and the Taney followed in single file on the theory that the Japanese would first be blown up by any mines which had not been found. As a mine came to the surface, the ships nearby would take target practice and blow up the mines. There were huge geysers of water that went into the air as each mine was exploded. Ultimately we anchored off Japan and the next day 4 of us went ashore in a small boat to meet with the Mayor of Wakayama Wan. We were to advise the Mayor the Americans were landing in 24 hours, that no Japanese would be hurt as long as the Japanese stayed out of the way of soldiers who would be landing, and that there would be no fraternization between Americans and Japanese. I think the American high command (part of it) believed that the Japanese were unworthy of association with Americans. Remember, these were the people who attacked Pearl Harbor, conducted the Battan death march, and committed other atrocities.
In the small boat, in addition to myself, there were 3 other Junior Officers. One was a Japanese interpreter, whose function it had been to interrogate Japanese prisoners, and I believe the others were Mort Furber, also a lieutenant JG like myself (from Boston) and possibly Steve Salen from Hollywood, California. How we were picked, or if we volunteered, I've forgotten at this stage, but I believe that we were sent ashore because we were so young that it would insult the Japanese, and secondly, that if were shot there were many others who could replace us.
We went ashore in the small boat to a small fishing village and I recall seeing what appeared to be a whole number of babies very chubby and in obvious good health, fishermen, and a number of men who appeared to be of military age and who looked sullen and full of hate. We did not speak to any of them and left our boat with instructions to the crew to be prepared to leave at any time. The only weapons we carried were .45 pistols, which of course were meaningless, had the Japanese chosen to attack us.
We did not see any arms on the Japanese, but they could have drowned us or simply stoned us to death had they chosen to do so. In any event, our Japanese interpreter had previously been instructed how to find the Mayor's office and we proceeded promptly through ruins (the place had been firebombed by B-29 Bombers) to one of the few remaining concrete buildings standing.
The area seemed to consist of small stones which was the only thing left after the fire had consumed most of buildings in the area. We proceeded to the Mayor's office, and were met by a woman secretary, who was shaking, apparently with the belief that she was to be killed as soon as the Americans came ashore.
The Mayor was a middle-aged gentleman who asked us to sit down. The Japanese speaking, Navy officer explained to the Mayor that the Sixth Army would be coming in the following day, that all Japanese were to be kept off any street, and out of any area, where the soldiers came in, that there was to be no fraternization, and that no Japanese would be harmed unless an American was harmed. The Mayor obviously was relieved and offered us some beer. I probably had not had Japanese beer prior to that time, but we all accepted his offer and found the beer to be a very mild drink. After we had completed the beer, we left the Mayor. To the best of my recollection, I had a business card, which showed my name and rank, and I left it with the Mayor. We walked back through the groups of sullen Japanese, boarded our boat, and went back to the ship. The few days between surrender and Army occupation were very tense, since no one knew how the Japanese people (and their mainland Army) would react to American soldiers. Never in Japanese history had foreigners, partiularly Westerners, occupied Japanese territory.
We reported our actions to the Navy chain of command and the Army did proceed to land the next day. About 48 hours later we received word that the Navy had commandeered a large building in the area and had established an Officer's Club, staffed by Japanese. I did not know how the Navy accomplished this, but within that 48-hour period, all arrangements had been made for Japanese help, liquor and food. In the few weeks that we remained, we went ashore several times and the activity at the Officer's Club was just as it would have been at some club in the United States. Service songs, college songs and barbershop quartets were the order of the day. The Japanese waitresses at the Club were very attractive, a surprise to most of us, after what we had read or heard. In addition, the Japanese began selling souvenirs to American soldiers and sailors and had stands up all over the streets. The order against fraternization vanished, a new era had begun. MacArthur was the ruler of Japan and there was no resistance by the Japanese Army, their Navy and Air Force were no more.
After about 30 days in Japan, we received orders to return to San Francisco and after refueling and reprovisioning, we departed for what turned out to be a 16 day trip through rough weather. On our arrival in San Francisco sometime in October 1945, every reserve officer on the ship received orders either for another vessel, shore station or for discharge, while every regular officer remained on board. I was ordered to report to Treasure Island Naval Base where a Captain named
S. H. Evans told me that the U.S. had spent over three years in training me and that I was considered essential for at least one additional year. I told Captain Evans that I wanted to go to law school, but he stated I had plenty of time for that. He gave me two choices, become a navigator on a troop ship running between San Francisco and Japan, or become executive officer and navigator of a Frigate destined for air-sea rescue in the Aleutians Islands. I chose to go on the frigate USS Annapolis after home leave. I saw my family in November 1945 for the first time in many months. I was 23 years old, and was making $225 per month.
Thereafter, I reported to the USS Annapolis in Seattle, Washington, and served on the Annapolis under a Captain named Sverre Halvorsen in the Pacific for several months. Despite the fact that our initial orders were to provide air-sea rescue in the Aleutian Islands area, we were in fact diverted more to the Hawaiian Islands. Discipline was difficult to maintain in those times since almost all of the csrew were new non-career sailors and officers and all were looking forward to leaving the service.
After serving on the Annapolis for several months, I was transferred to the USS Pueblo, also a Frigate, operating in the Pacific as an air-sea rescue ship. I was executive officer and navigator of the Pueblo serving under a Captain named Barney Hyde, a reserve officer. Ultimately, we received orders to proceed through the Panama Canal to Charleston, South Carolina for decommissioning. Frigates were made available to the Russians without cost, although the Pueblo was probably destined for the scrap heap after decommissioning in Charleston. In August of 1946, I was released from active duty, although I was required to keep my commission in the reserves.
When I transferred my commission to the U.S. NAVY after my eyesight had improved, I was still required to stay in the ready reserve, I continued until 1952. At that time, I was promoted to Lieutenant Commander, and was asked to volunteer to serve in the Korean War on a destroyer in Korean waters. I declined, which ended my Naval career.
FINIS


Subject: TANEY, OCS CRUISE 79' Date: Sat, 30 Jun 2001 16:39:36 EDT
Vern, I just spent the last two hours looking over this wonderful compilation
of information on the TANEY. I was never a permanent member of the crew but,
as a reservist, I held once held mobilazation orders for assignment to her in
time of need. I originally enlisted in Norfolk in August of 74, atended
basic training and Electrician's Mate School and returned to a Reserve Unit
in Norfolk where I finished College, later to attend OCS at Yorktown in 79'.
While enlisted, I assisted in moving the Coast Guard from old Base Berkley in
(South Norfolk) to the newly established base at Craney Island (the "Mud
Lump"). I spent a number of active duty weekends on the USCGC Mohican,
moored across the pier from the Taney! A few of the crew members on Taney
were old bootcamp friends so, I spent a few hours looking around the
engineering plant and enjoying a few cups of coffee! In late June of 79', I
was again given the opportunity to see Taney when my OCS class Cruised from
Portsmouth, VA to Portland, Maine and back. The trip was routine, we
conducted drills, stood watches, participated in a few fisheries boardings,
made Port for a day (A good dinner and a few beers!) then returned. On the
way back, we were diverted a few miles to a fishing boat out of Gloucester
that had engine trouble. We towed him through the night to within six miles
of the Cape where an 82' WPB took her in tow. We proceeded back to
Portsmouth with a minor stop for a little gunnery practice and a chance to
fire the 50 cal. machine gun.
I would see Taney once or twice in the early eighties while stationed
aboard a WMEC in Miami. I left active duty in late 82' and worked at Ingalls
Shipbuilding for the next four years while remaining in the drilling reserve.
In 85', I returned to Norfolk as XO of the newly established Reserve Vessel
Augmentation Unit! My mobilization orders were for the Taney! So, once
again, I had the opportunity to walk her decks (once wood, now covered up
with some ground-up rubber compound!......"Less labor said CAPT Churchill).
A few months prior to decommissioning, I was invited aboard with my family
for "dependents cruise" which actually took place in the Harbor and the lower
James River. The weather was beautiful and the food was great!
I really don't have much in the way of exciting stories to pass along
but, I just wanted to share the story! Today, I'm retired from the USCGR and
work as an engineer for McAllister Towing aboard a tug. I frequently visit
Baltimore with tows and often see the Taney! By the way, our Port Engineer
for McAllister of Virginia is Alphonso Payne, MKCM, USCG, Retired.....A
member of the Taney Decomm Crew!
Regards, From: WN3X@aol.com
Don Midgette, LCDR,USCGR, Ret.






Subject: WILEY HICKEY;PEARL HARBOR
Date: Thu, 28 Jun 2001 10:23:58 -0600
From: "Hall, RuthAnn, TC" <RHall@times-call.com>
Journey By Erica Flores The Daily Times-Call LOVELAND - When Wiley Hickey
was just 18 years old, he bade farewell to family and friends and headed to
Port Townsend, Wash., for Coast Guard boot camp. Two months later, in
October 1941, he traded assignments with a fellow sailor and headed out
across the Pacific to the sleepy islands of Hawaii. Little did Hickey know
that his quest to get as far away as possible - what he called "cutting the
apron strings" - would lead to his involvement in one of the most infamous
battles in military history. Dec. 7, 1941, was the day Japan attacked Pearl
Harbor and the day the U.S. officially got involved in World War II. Hickey
was aboard the USCGC Taney, a 327-foot Coast Guard cutter that had been used
to maintain weather stations on islands throughout the South Pacific.
Hickey worked as a cook, one of the only jobs available to a rookie, and had
never fired a gun before. The Taney was docked in Pier 6 at Honolulu
Harbor, about 6 miles away from Pearl Harbor, during the attack. Hickey
said he can remember the siren sounding at about 8 a.m., alerting the crew
to a swarm of Japanese airplanes. The rest of that day, he said, is
something of a blur. He remembers helping men to reload their guns and
replace their barrels. And he remembers the sound of bombs being dropped,
the terrifying moment of silence afterward, and the unimaginable relief when
the weapons splashed into the ocean and out of range of the ship. History
can fill in the rest. Apparently, the ship observed the attack over Pearl
Harbor but received no orders to move. That changed just after 9 a.m. when
the second wave of Japanese planes began their final approach toward the
harbor. The Taney fired on the enemy aircraft with 3-inch guns and
50-caliber machine guns. Amazingly, no one aboard the Taney was hurt, and
the ship was not damaged during the attack. Hickey served in the Coast
Guard for about four years, and although the attack was almost 60 years ago,
he said that he still feels bitterness. "They had a different mentality
than we did," Hickey said. "We were trying to stay alive. But they
accomplished immortality if they died for their emperor." The Taney went on
to serve in both the Atlantic and the Pacific and remained on duty through
the Vietnam War. The ship was decommissioned on Dec. 7, 1986, 45 years
after it first went to war, and was designated a National Historic Landmark
in 1988. Today, the Taney is the only ship of the 101 involved in the
battle that is still afloat. Hickey, 79, is one of just 22 men still living
of the 145 who served on the Taney during the battle. And Dec. 7, 1941, is
the stuff of legends and blockbuster movies. But despite the magnitude of
what happened that day, Hickey remains somewhat meek about his place in
history. "I wouldn't give up that experience - it changed the world. But I
don't feel like I really did anything," Hickey said.





Date: Sun, 12 May 2002 08:48:38 -0600
From: "Michael S. McCollum" <mmccollum@houston.rr.com>

Fancy finding this website, and even one of my own former crewmates,
Wayne "Ray" Radwaski.
I'm Michael McCollum, was an RD3 aboard TANEY from 73-75, saw one OS
Charlie and about 17 OWS Hotels and rode out 3 hurricanes during the
Hotels. Ray, self and 108 other men served the first 'permanent'
Hotels. Between OS Charlie and OWS Hotel, President Nixon recalled the
US from Viet Nam (we were steaming in from Charlie and nearing
Chesapeake Bay Bridge at that moment), and the Taney went to the Yard at
Curtiss Bay for some refitting. Including getting the US Weather
Services' Radome and Low Frequency Weather Radar.
Captain Paulsen was skipper then, and our Captain made Captain while I
was aboard.
Captain Paulsen also took one of the photos you have on this site. I
have two 8x10's of this picture and will gladly scan for you. Rather, I
have one and my Mother has the other stashed away for safekeeping.
There are bound to be many more former crewmates of mine still around.
I'd like to say 'Hello!' to them when possible.
It's odd seeming, that of the thousands of former crew this ship has had
from comissioning to decomissioning, so few are seen here.
Thanks for all the work, you have by far the most information on TANEY
than any of the other sites I've visited!
Michael S. McCollum
McGrandpa [AGQx]



Subject: [Taney] duty aboard TANEY
Date: Sat, 8 Jun 2002 11:09:22 -0700
From: "ed and rae nash" <ramblersoup@bigvalley.net>
I enlisted on Nov. 27, 1941, just in time for Pearl Harbor, and served aboard TANEY for several months in 1942, and would
like to contact others who were aboard during that time. We visited several islands (paradise!) in the so. Pacific, then were
diverted back to Hawaii for refueling and running to Midway Island under forced draft to search of survivors of "Torpedo 8".
Midway was still smoking. I have written a book: "THE COURT-MARTIAL OF ENSIGN MASON" that is based on my experiences after TANEYduty, as Gunnery Officer aboard a Coast Guard manned destroyer escort (DE 320, USS
MENGES) in the Med and UK, and of course would like to make it known to as many CG people as possible. A one-page
description of the book is attached to this e-mail.
Ed Nash
Author: Edgar M. Nash
2800 Braden Ave., #35,
Modesto, Ca. 95356
ramblersoup@bigvalley.net
NEWS RELEASE
A GREAT NEW WORLD WAR TWO COAST GUARD BOOK
TITLE: "THE COURT-MARTIAL OF ENSIGN MASON".
Author: Edgar M. Nash
ISBN: 0-7596-8235-6, 5 X 8 PAPERBACK, 254 PAGES
Can be ordered at any book store.
Published via PRINT-ON-DEMAND. $15.95 Ships in 5 - 7 working days
This excellent semi-biographical novel is based on author Edgar M. Nash's personal World War Two experiences as Gunnery Officer aboard a destroyer escort in the Atlantic, Mediterranean and UK. Several outstanding photos included in the book were taken by the Flag photographer aboard Nash's ship.
The story tells how the badly wounded central character, Edward Mason, Ensign USCGR, discovers personal resourcefulness, courage and character when he is confronted with the responsibility of making the right decisions for himself, his surviving shipmates and his torpedo-damaged destroyer escort after the ship was ordered abandoned by her captain in the Mediterranean. The decisions he made resulted in his preventing capture of his crippled ship by Germans, his saving the life of a shipmate and in the destruction of four German U-boats. Mason's accomplishments became critical to the success of the Allied Forces strategic planning. The reasons for this will surprise you.
Ensign Mason is wrongly charged of willful failure to obey the order to abandon ship by his ex-skipper, and he becomes the accused in a general court-martial. The narration of the court-martial portion of the book is an education in itself, for it is authentic and follows exactly the procedures set forth in the U.S. Navy courts-martial manual. Mason is acquitted amid praise from the Members, but due to the unforeseen significance of his actions, he then must provide to a panel of admirals and generals a complete account of events leading up to and following his sinking the German U-boats.
Nash was born and raised in Hawaii, and was drafted while attending the University of Southern California. He returned home and enlisted in the Coast Guard as an apprentice seaman on November 27, 1941, eleven days before the Japanese attack on Pearl Harbor. He served several months aboard the heavily-armed TANEY in the South Pacific before being sent to the Coast Guard Academy in New London, Connecticut. He was commissioned an ensign in 1943, then attended training schools before becoming Gunnery Officer on a new destroyer escort. He is a graduate of Yale University Class of '48, is married with one daughter and makes his home in California. Nash also is an inventor and author of a non-fiction book entitled: "PATENT YOUR IDEA YOURSELF .. WITHOUT AN ATTORNEY".
###



Date: Wed, 14 Aug 2002 17:19:15 -0500
From: Joseph A Kuti <Joseph.A.Kuti@parsons.com>
Every once and a while I search the net for items on the Taney...today I saw your site.
My Dad, John Richard Kuti - USCG - No. 225-007, served on the Taney during WWII. He told me
many stories about his service in the Pacific and Hawaii - I sometimes think those were the
fondest years of his life. He was born, 9-18-1918 in Omaha, Nebraska, where he enlisted and did
his basic at Pudget Sound in 1938. He was at Pearl on Harbor Patrol Duty during the attack on
Dec. 7th....Naturally - I asked him - "Dad - what did you do during the attack" - His answer
was his position was a "compartment cleaner, so I did not have a combat position". He went to
his locker, got his folding Kodak Camera ( I have it now) and took pictures during the attack.
Of course I asked him what happened to the pictures. Days later he took them to the PX for
developing and when he went to pick them up - they were confiscated - and that kind of luck
followed him the rest of his life. The reason he was at Pearl - was the Taney was there and had
refractory brick replaced - he and others carried the old brick up to the main deck in buckets.
Dad suffered a Hernia during the work and was put in the hospital at Pearl...The ship sailed
with out him and after he was released he was on local duties until he could be reattached.
After the attack he worked on Liberty ships in the south seas and at the end of the war was
released at the rating of Chief Machinist Mate.
When the Revell Model came out - I made it and gave it to him for Christmas - I was twelve
years old - He kept it until he died.
He passed away in 1985 of Pancreas Cancer - 6 months after he retired. He moved to Houston,
Texas after the war and that is where I was born and still live.
I have all his mementos including a beautiful photo album of his voyages and adventures - The
Album is made of leather with an image of the USCG Taney hand tooled on the cover and colored
in with some type of stains.
I miss him every day- it would be nice if you could include him in your site roster.
Joseph Alexander Kuti
Spring, Texas 77380






pictures taken by George Blessing of the TANEY move to drydock, Presented by Sony - hope it works s/vern
http://www.imagestation.com/album/?id=4290496371&code=4842437&mode=invite




Back to the top.