This page is for the crew of the USCGC Taney
---


It is currently 15:57, December the 4th, 2023 , 70562 People have
viewed my pages - Last changed on January 2003





Click to listen to USCG Band playing Semper Partus (background music)
USCG Band Directed by Commander Lewis J. Buckley

---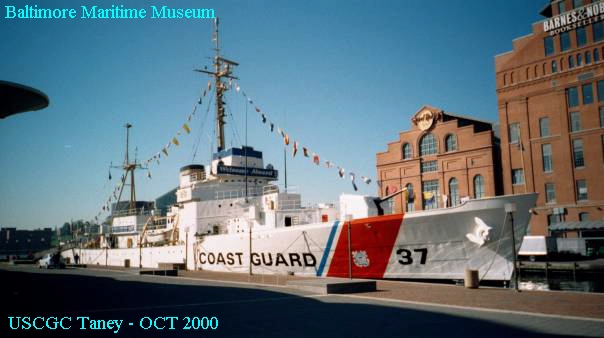 Photo by Vern Toler at Baltimore Maritime Museum 2000
TANEY MARUE SHIPMATES
The standard watch on board ship was 4 hours. Beginning at midnight the ship's bell was tolled each half hour up to eight bells, then the process repeated. s\vern toler CLICK ON THE CHAPETER BELOW THAT YOU WISH TO SEE; THE CHAPTER'S ARE CALLED "Bells"

USCGC TANEY W-37 Reunion Pending
PLEASE CONTACT WEB MASTER TO ADD TO THIS LIST.
Garret E. Conklin
2525 Crist St.
Alameda, CA 94501-4623
510-523-1878
garretc@earthlink.net
or vern@armory.com
or mail them to Vern Toler 12015 Marine Dr. PMB#99,
Marysville, WA 98271-9308
TANEY web page, Garret Conklin is the new Web Master, people who wish to contact Vern Toler about the TANEY Phone 360-652-3701 or e-mail me at vern@armory.com or <vern_toler@yahoo.com> (NOTE vern_toler is connected by an underline) don't panic if ISP "armory" is down, it is operated out of a young couples home and they have to work regular jobs, they do a great job with the armory ISP. E-mail received is copied and added to the web page.
Vern gets help from his grandson "Chris", <taz@armory.com> for this is update information on the Taney Reunion, from . Thanks to Chris for the latest improvements of the Taney web page and for setting up the format used for the Taney Web pages..
USCGC TANEY W-37 Reunion,
Next Reunion Pending watch this space for update, if you wish to suggest a time and place please contact Garret.
A special run of high quality "zippo" lighters with Taney Picture and name, created special for the last reunion, there are a few left and they can be purachaced from Garret.
contact Garret Conklin.
Garret Conklin garretc@earthlink.net
http://www.military.com/Resources/ReunionDisplay/0,11584,711-R,00.html
http://www.military.com/Groups/MemberProfileUnRegView/1,11217,134476,00.html
(please note if the below links don't work type in the URL remember that between taney and the numbers there is an underline example taney_006.htm)
REUNION 2001-2 INFORMATION
http://home.earthlink.net/~garretc/
Garret E. Conklin
2525 Crist St
Alameda, CA 94501-4623
510-523-1878



George R Blessing <grblessing@juno.com> Garret Conklin garretc@earathlink.net
IMPORTANT NOTICE: George Blessing, founder of the Taney Association and Garret Conklin, Host for the 2001 reunion have volunteered to take over the USCGC TANEY Web Page, with the help of my grandson, Chris Petrell. I will continue to work on the Taney Page until the transition is complete. They will be a great asset in keeping the Taney page alive, as I am getting too old to maintain it properly. Please keep sending information and check the page often for new information.
Note: Blessing lives on the East Coast and Garret lives on the West Coast, Regional lunches are in the planning stages for Taney shipmates and other Coast Guard friends and shipmates. Thanks s/your shipmate vern_toler.


Please feel free to copy any information on this web site and feel free to create your own web site for the USCGC Taney. Vern Toler is at the age that he could ship out on his final cruse. "8 Bells" Addition web masters for the USCGC Taney will keep the history of our ship alive. Please feel free to contact George Blessing, GarretConklin or Vern Toler at any time.
PLEASE SEND ANY INFORMATION ON TANEY SHIPMATES, LIVING OR DEAD TO garretc@earthlink,net or vern@armory.com


Below are be links to other sites of intrest to military and ex military.

http://www.baltomaritimemuseum.org/index.html Baltomair Mairtime Museum
http://www.militaryliving.com Military Living for active & retires, Maps and reports for military travlers.
http://www.military-network.com/new_site.html Military Network, general information for all services
http://www.indiana.edu/~r424park/327/pres.html Association of the 327 Fleet
http://www.uscg.mil/welcome.html U.S.C.G. Home Page
http://www.sos.net/~kenlong/links.html USCG Sea Veterans Links
http://www.nwlink.com/~kenlong/cgsva.html USCG Sea Veterans Home Page
http://www.state.sc.us/patpt/ingham1.htm USCGC INGHAM Sister Ship
http://www.state.sc.us/patpt/ Navy & Maritime Museum
http://www.jacksjoint.com/ A lot of good Coast Guard Stuff
http://www.jhu.edu/gifted/caa/d-site97.htm Living classroom aboard the USCGC Taney
http://www.destroyers.org/index.htm Tin Can Sailors
http://www.citytravelguide.com/baltimore/maritime-museum.htm Maritime Museum USCGC Taney
http://www.vets.org/homepage.htm National Vets Archives
http://www.dirauxannex.org/ Historic Cutters
http://www.jacksjoint.com/taney-40s.htm Pearl Harbor Survivors, Warren Hartman
http://www.military.com/ Resoarace information for the Military
http://www.gordon.army.mil/roa/aftb/soup.htm Military Terms
http://www.jacksjoint.com/ A collection of USCG stories--Jack's Joint
http://www.dreamweaverdesigns.com/thekytikat/military/coastguardlinks.htm A good Coast Guard information Link
http://www.texramp.net/~radiojerry/home.htm Jerry Lentz A good Coast Guard Vetrans home page
http://www.baltomaritimemuseum.org/taney/taneyphoto1.html USCGC TANEY photo archive
http://www.fredsplace.org/_______Reunion Hall--Fred's Place, good TANEY and USCG information



http://www.imagestation.com/album/?id=4293078477&code=1698852&mode=invite
Pictures by George Blessing of Baltimore 2000 reunion
Contact George Blessing











<