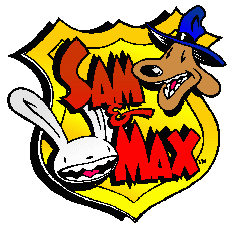 This is Sam. He's a dog, at least, he thinks he is. Bold and brave, and always hungry for the truth. He always wears a suit, and is the brains between him and his partner Max. His witty nature brings life to the duo's affairs. Coined the infamous phrase, "Holy jumpin mother o' God in a side-car with chocolate jimmies and a lobster bib."
This is Max. He's a bunny. Well, okay, a lagamorph. He may look like a plain simple bunny, but in reality is a dangerous lagamorph. What is a lagamorph, you may ask? Well, it's a cross between a wolverine and a rabbit. Still think he's a cute bunny?? Well, you don't want to meet up with him in a dark alley. He's buck naked, but seems to always want to wear something or drink something. Oh, he doesn't like women either.
Together, these two unstoppable creatures rule the comic world better known as: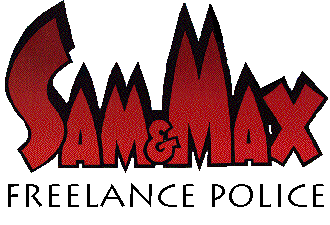 You may not have heard of these guys, and if you have, then you'll know the meaning to "Holy jumping mother o' god in a side-car with chocolate jimmies and a lobster bib!" Now, some may consider them brutal, sadistic, and maybe even a tad overzealous, but heck, it's even written in their contract with the commissioner. Created by Steve Purcell, Sam & Max are the kind of comic book characters that would drive parents mad, and kids to a life of crime, but hey, you can't have the zaniness of these two characters without a tad bit of violence now, can you? Anyways, a book of collected works is out, and has been for awhile. It's not on any best seller list, but I don't think Sam & Max would mind that. The Collected Sam & Max Surfin' The Highway, not only encompasses all of the comic stories of Sam & Max, but also the strips Steve Purcell did for Lucas Arts newsletters.
You'll also find out lovable friends in their own game from Lucas Arts, Sam & Max Hit The Road. This adventurous game takes you around the country to places only seen on lesser known roads. Okay, I'm lying you may never see any of these places, but don't blame me if you do.
Other places you might find Sam & Max include, Day of The Tentacle, and Rebel Assault II. Since Sam & Max Hit The Road is distributed by Lucas Arts, so are all the other games mentioned. Do you see a trend here? Oh, here's a good one. For all you Nintendo 64 freaks, be sure to pick up the newest game from LucasArts, Star Wars: Shadows of the Empire. Our loveable duo do make an appearance in the game. Two places that were brought to my attention was, in the speeder bike stage, if you look carefully, you'll find Max as a challenge point. Don't ask me where, I was just told this. Also, in the "real" credits. Check out The Quoted Sam & Max for that one.
Okay, so apparently Sam and Max dissapeared for awhile there. At least that's what we were made to believe. It has come to my attention that they're reappearing in a game that looks damn good. Steve Purcell has left LucasArts and started a new gaming company called Telltale Games. What's really cool is they picked up the comic Bone and made a game out of it. Bone fans rejoice!!! The new Sam & Max premiers November 1 on TellTale Games and Gametap.com. Gametap is a pay site, but should be worth it for Sam & Max. Can also play other retro games as well, so not a bad deal. Anyways, if you missed any episodes, or just finding out about Sam & Max, take a look at the Sam and Max Episode Guide for episode titles and their original air dates. Oh, in case you were wondering, there is also the voice actors list.
---
Other Sam And Max Links
The Quoted Sam & MaxQuotes from the Sam & Max comics and game.
Sam & Max Episode Guide The Sam & Max Episode Guide
The Unofficial Sam and Max Website
Telltale Games New makers of Sam & Max games
Lucas Arts Lucas Arts.Former home of Sam & Max. Current makers of Star Wars games, and Indiana Jones.
Marlowe and Company Publisher of Sam And Max books. Disguise-O-Rama.
Sam and Max, Freelance Police A Sam And Max Page
MIT Sam And Max Page at MIT
Tom Finch Tom Finch's Sam & Max Page.

Ate My Balls The Sam And Max Ate My Balls Page.
Images Sam And Max Images.

---
Chase me back to Grafter's Room.