HAMILTON HIGH CLASS OF 43,
West Los Angeles & Culver City, California
note; Culver City now has its own High School
this site is under construction it now has three pages it will take me about three weeks to move things around, page two will have pictures from our 60th reunion and page 3 will have the W43 and S43 yearbook
please send me pictures or stories via e-mail vern@armory.com or snail mail to:
Vern Toler 12015 Marine Dr. # 99 Marysville, WA 98271 Phone 1-360-652-3701



http://www.armory.com/~vern/personal/hami_43-2.htm Page 2 of 3
http://www.armory.com/~vern/personal/hami_43-3.htm Page 3 of 3


---

Hamilton High now has a web page;
Hamilton High School Home of the yankees
http://www.hamiltonhs.com/

---
It is currently 12:09, July the 7th, 2020 GMT
42270People have viewed my pages since October 2002
Last changed on October 2002
This is an open Web page for the Alumni and their friends and family. To add or comment please contact the webmaster Vern TOLER vern@armory.com Vern Toler can also be contacted about reunion.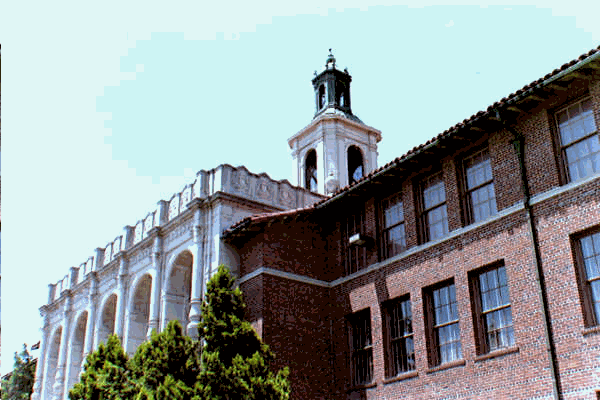 ALEXANDER HAMILTON HIGH SCHOOL ALUMNI ASSOCIATION Publishes the
"YANKEE BUGLE"
P.O. Box 64-308 Los Angeles, CA 90064 Phone (310) 474- 2368 or (310) 472-2171
Fax (310) 474-4678 or 440-0218 you can e-mail the editor Eddie PEEBLES S'48 at <Yankee-Bugle@attbi.com> you can become a member for $10.00 and receive three copies of YANKEE BUGLE a year. which contains names and stories of Hamilton alumni.


Subject: Web Page
Date: Thu, 17 Oct 2002 16:03:58 -0700
From: Eddie Peebles <Yankee-Bugle@attbi.com>
Organization: Yankee-Bugle
To: Vern Toler'43 <vern@armory.com>
Hello Vern
Minor corrections to your Web page notes
Lucy Kline's excellent work is all behind the scenes and transparent to
all members but me. E-mail address for updates to the e-mail pages is :
Yankee-Bugle@attbi.com
I am E-mail editor only with all other editorial contact to Brian
Bumpas. He is at the home office and does not have E-mail.
What I think we need is a web page with a secure connection so we could
recruit members and have them sign up by credit card.
Lucy sent out many invitations to the over 6000 Hamilton alumni on
Classmates but when they found it was necessary to go to snail mail to
enroll they lost interest. The secure web page would have to be tied
into the alumni associations bank account.
There are several types af alumni memberships. Suggest you talk it over
with Brian. God Luck
Eddie
In 1943 there were two graduating classes, the Modernaires for Winter 43 and the Argonauts for Summer of 43
55th Reunion - 1943 Classes Alexander Hamilton High School
Marina Beach Marriot Hotel. 4100 Admiralty Way, Maria del Rey, CA 90292 Phone 310-301-3000 it was October 17, 1998 Luncheon 11:30 to 4:00 PM
Contact----- Lois Bradeen Rogers27195 Paseo Lomita, San Juan Capistrano, CA 92675 (714) 240-9360
If you can't attend or know of a class of 43 member please contact ----Pat Major Doyle at -5665 Wilbur Ave, Tarzana, CA 91356 (818) 343-8295
We had a great reunion, and exchanged a lot of wonderful stories. check this site for more.
History is often rewritten or altered to fit the views of the author. But the only true history comes from the memories of those who lived it. We of the class of 43 have truly made history for we lived through the Depression, War, Recovery, and Space and it is only proper that we now record it before it is lost forever. Please, if you feel you have a story for this page please send it to me. vern@armory.com
Vern's Hami. story
This may be longer than necessary but since I am the webmaster I guess I should tell my story. I entered Hamilton in the ninth grade. Since I always wanted to be a Doctor I tried for an academic course for which I was not capable, I always thought I understood what was being taught even though the grades were bad. I became active with the Red Cross. The Red Cross obtained an old donated movie ambulance that I took to the auto shop to be retrofitted. I also obtained an instructors certificate for First Aid from the Red Cross. One day I set up a class and prepared a notice for the teachers bulletin board, I took the notice to Principal Mr. Brown for his signature and than posted it on the teachers Bulletin Board. Later I received a call to report to Mr. Brown immediately, there on his desk was all my school records along with my poster and a red face angry Principal, my poster contained several misspelled words with his signature. He said that the teachers had harassed him about it and he figured I must of done it to embarrass him, he could not understand how a student could be so active and yet so dumb. (gee if I only had a computer with spell-check) A couple years later he gave me school credit for my
War travels so I could receive my diploma. My lack of knowledge also meant I never had a girl friend, in fact once for the "ROTC Military Ball" my dad had to find a date for me from another father he worked with, honest it happened. The other times I took a cousin and once I took the sister, of my friend Cally Quartaro, (sister Grace Quataro) They moved to Romaland California. After the War I did get married so not all was lost.
The last year at Hami., there often was a girl who would always appear as I was walking to school, 50 years latter my friend Stanford Wilford said that a girl at the reunions would ask him about me, she informed him she would wait each day to walk to school with me. So I was dumb in other things too, especially since I had no girl to write to during the war years, sadly she passed away. I did correspond with Nicholas Villa until he was killed in action. Most of my friends were from the Boy Scouts or ROTC. ROTC was my main interest, my role model was Capt. Eaton, who taught us always to "SEEK AND ASSUME RESPONSABILTY" The most beneficial class in my career was my hobby class Photography. Knowledge on using the Speed Graphic (press camera at the time) opened many doors since most military stations had the camera but would not have anyone who knew how to operate it. Knowing how to operate movie projectors also provided many good assignments, but most of all knowing how to process film, including movie film' since in the medical field, early electrocardiographs, x-rays and many other procedures required processing skills. One year I was "DJ" for the classical music played at noon time, I always started with the "Piano Concerto", then went on the "Big Band" music of the time.. I would sometimes work on weekends with Skyler Hixson as ambulance attendants in Hawthorn, CA we were both afraid that the war was going to end before we could get overseas so we both skipped class and went to town to join the Army, while there I saw a poster showing a medical rescue team and promising "Quick Action" in the Coast Guard, so I signed up for the USCG and Skyler joined the Army, he made it overseas long before me. I tried for many years to find out if the class of '43 ever planed a reunion, and finally I was put in contact with Mr. Shoemaker who corenataed reunions. to him I offer a special thank you.

The below information is copied from the 50 year Reunion book, October 16, 1993 by Vern TOLER I wish to thank all those who worked hard on creating this book. The Memory Book was not copyrighted and individuals submit most stories taken from the book
The Memory Book can be purchased from WORTHINGTON reunion photographers P.O. BOX 26584 Santa Ana, California 92799 (714) 641-7544

LETTER FROM THE COMMITTEE\
The reunion of 270 of your classmates and friends was a "Time to Remember". The gathering of classmates in the hospitality room, at the banquet, the many letters with news, and the memorabilia from grammar school through high school all put together made for a joyful "Reunion Weekend". It is out hope that this Memory book will renew the great feeling from the weekend and give those that could not attend an opportunity to be part of our 50th Reunion.
Our 1943 Classes were comprised of young adults greatly impacted by World War 2. Many of them delayed graduation to serve our country. Some worked in defense plants while attending school. Over 15o returned "Questionnaires" about their 50 years since high school. They reflect a very successful class. Classmate Jim Becker made a humorous and insightful presentation at the Reunion Banquet. We believe quoting part of his talk really summarized "Our Classes". … "The high school experience came for us at a difficult time for us, for our nation and for our Hamilton High School. We were fighting the greatest war in our nation's life, war against the worst tyranny in human history. The draft board hovered around waiting to pounce. … There were shortages of everything. -- the times wee as out of joint as times can possibly be -- and yet the men and women of Hamilton High School struggled, and largely succeeded to give us a 'normal' high school experience in an abnormal time. Teachers, such as Mrs. Bogart introducing us savages to music, Bernie Donahue, football coach, moonlighting so he could continue to teach, and Mrs. Von Poderoyan encouraging budding writers. -0- and now they are all gone, and we cannot express our gratitude enough for all they did for us. This weekend, basking in the golden glow of gratitude.-- it is a pity that they cannot be here tonight to see the fruits of their devoted labor. -- I think they would be proud of us, members of the Classes of '43. In fact I am sure they would."
The Reunion gave all of us there a chance to see old friends, many of whom we hadn't seen in years. It was an opportunity to share the memories of our youth. Our committee did a fantastic job of locating the members of our class. Over 400 out of 520 were located -- from England to Peru to India to Hawaii and some RV Gypsies were located. They followed every lead from you, searched public records, checked tenants at former addresses, and made hundreds of phone calls. In this Memory Book is a lists of "Lost Classmates". If you have any information on anyone, or if you move, please let us know. In addition to locating classmates, the committee met monthly to plan the weekend. Everyone did their task 100% --- hotel reservations, memorabilia, music, programs, graphics, badges, the "Hospitality Room" with food and drink, the tile for the lobby and finally this Memory Book. We hope this book will make each of you a greater part of our "Event"
All of our efforts, your response to our questionnaires, and the attendance at the "50th Reunion Weekend" made it a great success. The many letters and phone calls with warm words of appreciation have made this a very rewarding experience for the committee.
We wish all of you good health, love and much happiness.
Your Reunion Committee:
Barbara Chatterton Cornuke, Lillian Pike Happy, Marilyn Moshr Huey, Betty Guenther Harmond, Jerry Harmon, June Bowman Short, Clare Short, Eloise Langley Mc Nerneyh, James Weinstock, Alice Slater Fergass, Wilma Rivenbugh Hussy, Betty Maraitzen Venclik, Pat Major Doyle, Lois Brandeen Rogers, and June Clipper Peraalta.
The reunion committee has received many written memories from your classmates. We hope the following helps update you a little on our classmates' lives, as well as bring back some memories of our friends.

50 YEARS ON REVIEW === MINI-BIOGRAPHIES
JOHN ALDERSON and LUCY (Bernnan) ALDERSON both in the class of '43 live in Newport Beach. John is a retired Aerospace Engineer with a Masters in Mechanical Engineering. Lucy is a Registered Nurse. They have 4 children, 1 girl, 3 boys. Now landlords, their interest include tennis, fishing, genealogy, and kids and travel - to most of Europe, the South Pacific, Mexico and much of the USA John was an Ensign in the Navy with a year at Subic Bay in the Philippines. From Hami days he remembers with humor Mel Patton from Uni Hi Passing Jim Sullivan in a relay race and John thought Jim was fast. Also, lawn "decorations" with Hami & Uni letters just before a football game between the schools.
BRUCE BOWERS and his wife RUTH live in El Cajon. Bruce, who worked as a teacher at all levels is now retired. College included a Masters in Business Administration. Bruce was a Naval Aviator in WW2. Says it's been a great life with the "best", his family. Interests included travel, racquet ball, Elks, ballroom and square dancing, Hami remembrances ROTC football Men's club, principal Dr. Brown, photography, and girls.
JACQUELLIN (Blau) TRACEY and husband DENNIS live in El Cerritos. She majored in psychology. Three children - all girls. Her hobbies are sewing and the collection of reaps. Her Hami memories focus on music with Sylvan Bernstine and Pauline Bogart. MARILYN (Mohr) HUEY majored in science, was a cadet nurse in WW2 . and is a registered nurse working in several hospitals and many departments including the emergency room. Marilyn's husband was from Alabama where she became familiar with beautiful country and hospitable people. It only took her 17 years to perfect a corn bread recipe. Marilyn and Lewis had 4 children, 4 grandchildren and 1 on the way. Her hobbies include gardening and traveling the USA and Canada. Hami memories - GAA, Alpha D actives, the Federalist and journalism class.
ZELMA "Ginger" (Taylor) BORKOWSKE and spouse CHUCKlive in Lake San Marcos. She works as District Manager for Jafra Cosmetics. They had 4 boys and now 7 grandchildren. Ginger majored in Business Administration at Woodbury. Interests include bridge, pool aerobics, gardening and travel. Travail took them to most of Europe, the Caribbean, Hawaii and Canada. Hami memories - with Joyce Ivory being the shortest girl in the class.
JOHN "Jack" CAMPBELL and wife BETTY live in San Diego. Their children were 3 girls and now 4 grandchildren. Jack attended Long Beach C.C. majoring in Personnel. He served in the Army Air Force. Hobbies are reading, exercise and travel. LOUCILE (Nigherbon) WINSTEAD lives in Garden Grove. She has two children. She attended Dallas Air College for aeronautical training and a pilots license. Hobbies include gardening, doing "her thing" and travel -- US AND Canada. CRESSA (Search) BAYUK and Spouse ROBERT live in Yreka. Cressa is an R.N. and Robert is Director of Public Health in Inyo County. Interest include dogs, family, lunch and friends, not necessarily in that order. Her memories are of good friends and good times. JIM ARDYand SANDY split time living in Phoenix and San Diego. Both are retired. Jim graduated from USC specializing in aeronautics. He served in WW2 in the Army Air Corps. His hobbies area fishing, target and trap shooting. Travels are in USA and Europe. Hami memories - "Great Time".
OLGA (Mehorter) KIMBERLINis still in Culver City. She has 3 children, 6 grandchildren and 1 great grandchild. Now retired, she worked as a Lab Technician at UCLA. Hobbies, interest - volunteer for Meals on Wheels, Also travel. FRED H. NELSON and MARY EVELYN Reside in Los Angeles. Fred attended UCLA with a major in Zoology and graduated from USC - MD 1954 with a General Practice in Inglewood. Mary Evelyn was a school teacher. Both are retired. They have 2 children and 2 grandchildren. Fred was in the Glider Infantry in WW2 Hobbies include music, sailing, backpacking, gardening, and flying. Hami memory - dreamy eyed, bored, lazy and indifferent student. Principal Brown refused letter of recommendation for Army Air Corps Cadet program. On leave in '45 in uniform he ran into Mr. Brown in the main hall - sweet revenge.
LILLIAN (Pike) HAPPY and WALTERare still in Culver City. She worked as a supervisor at Pacific Telephone for 20 years. WW2 she worked at El Segundo Douglas. Since retiring in 1982, she has volunteered at Brotman Hospital. Golf and their condo in Palm Desert occupy their spare time. Hami. Memories - having fun with Bessie Little, Violet Messing and the rest of the gang. BETTY JANE (Fellows) CREWS and JACKare now in Scottsdale, Arizona. Both are retired teachers. She taught mostly high school with some time at a county school with K-8. Betty Jane majored in Art and English with a MA in theater. She remembers the Misses Club, musical programs, friends, activities and faun from her days at Hami. MAVIS (Froats) RICHARDS lives in Pacific Palisades. Mavis and her husband operate a small grocery store in Mar Vista for 27 years and now works as a receptionist in a doctor's office. She has 3 boys and 9 grandchildren. Hobbies - tennis, walking and traveling the US Canada and Mexico. WW2 interrupted her schooling so she graduated from Venice. Memories from Hami - really missing her friends.
JIM BECKER and BETTY live in Honolulu, Jim reports that "My memories of four years at Hamilton are wrapped in a golden glow, a mixture of gratitude and gladness" In the 10th grade he wrote a little piece that was published in the Federalist that revealed his life's ambition- to be a sports writer, a foreign correspondent and a columnist. Recently, his mother reminded him that he had done all three in the prescribed order. Jim says his life has been smooth sailing - we have been almost everywhere and have done almost everything. Jim graduated from the British Open University with a major in performing arts. He worked briefly with the LA Times and Herald-Express - he covered the trials of Errol Flynn and Charles Chaplain, then into service working on the Stars and Stripes newspaper in Shanghai (where he met Betty). Back in civilian life, he worked as a sports writer for AP, a foreign correspondent covering the Korean War, Japan, the Philippines, Laos, Cambodia, Vietnam, India, Pakistan, Israel and Lebanon - if there was shooting, he was there, Jim worked several years as a columnist. Later, he covered the Royal wedding and Mrs. Thatcherin the Falklands. Met many famous people along the way -
Lyndon Johnson, the Dalai Lama, Nehru, Jean Simmons, Joe DiMaggio, Marilyn Monroe, Jackie Robinson's first game and acted as a ghost writer for Casey Sengle. (Ed note: We did our best to digest this from three pages).
ELOISE K (Langley) McNEREY still lives in Culver City, Eloise has 5 children and 9 grandchildren. Now retired, most of her life was in the arts with that major in college. She worked with the Army Special Services in Japan as an Arts & Crafts instructor. In addition to Japan, she has traveled most of the USA following her hobbies of art, dancing, travel and people. If you want to find out about her Hami memories, ask her about "Checkers" and
Wayne Bell. RUTH "Ruthie" (Woodward) DUGGAN is in Tucson, Arizona. A homemaker she has 5 children, 13 grandchildren and 3 great-grandchildren. Her hobbies are family, reading, travel and antiques. Travels include USA Mexico, England, France and Cyprus. JANK RINER (aka Wynne Williams) lives in Dallas, Texas. He presently works in investments and rentals. He served in US Navy 1942-1945 He has 3 girls and 2 grandchildren and one great-grandchildren. Travel is his hobby. DONALD R. SHANKS and GENEVIEVE are in Northern California in Dublin. They have 3 children and 1 grandchild. Don spent 21 years in the US Navy. Don's hobby is golf. Since retirement, lots of travel - Caribbean, Hawaii, Tahiti, China, etc. Hami memory centered on a broken knee in gym, a struggle to the next class and the teacher having to carry him back to the Gym to wait for a doctor.
HARLAN GEORGE McBRIDE andBETTY JOE married 46 years live in Greagle, California (50 miles north of Truckee). They have 3 children and 3 grandchildren.. Harlan worked as a printer for 42 years in the Los Angeles area. Harlan liked ROTC and print shop at Hamilton. He served with a Stevedore Battalion in the South Pacific and obviously he preferred printing to soldiering. Harlan says "Basically we have had a blessed life. I now fish, do yard work and enjoy".
ELAINE (Bueneman) PROVOST and '42 gradBOBlive in Encinitas. Both are retired and after operation a hardware business in Rialto for 28 years. They have 2 children, 2 grandchildren and 1 great grandchild. Hobbies - boating, gardening, knitting and bridge. Hami memories - after school GAA and all the good teachers.
JOSEPH C. "Cal" JONES Lives in Los Angeles. He has 4 children and 6 grandchildren WW2 US Navy with Bronze Star and Purple Heart. Retired after 45 years with Sony. Hobbies - cooking, banking, travel and photography. Hami memories - ROTC Spanish Club and Graphic Arts. RUTH (Stevenson) HOBBS is an Art Representative for Joe Garcia. Hobbies - needlework, and art. Hami memories - hit by Cleve Callson's'39 auto, but not hurt. Also Cotton Days GAA,
Mrs. Haines, Ceded Club, Stan Kentonat Balboa and wonderful classmates.
LOIS ODETTE (Child) GRILL and GILBERT are in Perris, California. Gilbert retired from Pacific Bell. Lois is a homemaker with 7 children and 7 grandchildren. Hobbies are Church. Choir, golf and travel. Memories -- the fun we had putting on the show for "Color Day". Football games and sock hops. FREDERICK C. JONES and KATHLEEN (Hilton) '45 Hami grad live in Northridge. The have 3 children and 3 grandchildren. Frederick graduated from USC with a MA from Cal State LA, and Ed from Bringham Young, Now retired, he worked as an Education Administrator. In WW2 he was a Navy Radioman. Hobbies - grandchildren, reading, travel and Trojan football. Memories - good friends, the beginning of a life long friendship with Jim White, the "awful band" Mrs. Luce and Ivanhoe, and as a senior noting a cute, freckled, redhead 10th grader who became Mrs. Jones 11 years later.
HELEN (Markarian) THOMSON is now in La Jolla. She received a "Commercial Award" when she graduated. Very useful in her work as a secretary for the Air Force and City schools. Also did modeling. Hobbies include dancing, bicycling, hiking and reading. Mainly she loves to travel. Divorced - enjoying single life immensely. RUDOLPH "Rudy" SMITH and wife VIRGINA Live in San Clemente. Both are retired Health Club administrators. Says "Incredibly wonderful wife + 4 kind equals an incredibly wonderful life. His education major was the "College of Hard Knocks" Hobbies are body building, skiing, body board surfing and some travel. Rudy served in the U.S. Army Reserves. NORMAN S. BAKER and PATRICA a '47 grad are in Apache Junction, Arizona. They have 3 children and 9 grandchildren. Norman is a retired police officer with college work in criminal justice. Hobbies - music, trombone and jazz bands. From Hami - just a lot of good friends and fun.
BARBARA CHATTERTON just moved to Palm Desert from Sherman Oaks. She has 3 children, 5 grandchildren and 3 great grandchildren. Barbara, now retired worked as Administrative Assistant for Thomas Temporaries. When not keeping busy as Chairman of our 50th Reunion, she enjoys going to sports activities with her boys, cooking, reading and traveling to Hawaii., Hami memories - penalty laps Mason - she was a great teacher. BETTY (Martizen) VENCLIK and FRANK W/44 Live in Newport Beach. Three children and 3 grandchildren added to the family. Betty graduated from Woodbury College of Business and worked as secretary to the Personal Managers of several stars, Frankie Laine, Lawrence Welk, Liberace, Tex Beneke, etc. Most important in her hobbies and interests were family and dancing. Hami memories - election as Student Body Secretary, tap dancing with Don Whitmanat assemblies and meeting future husband Frank, and several teachers - especially V.P.Mr. Joyner, her ride to school.
Maxine (Osborne) BLANCHARD and BILL have spent many years in Peru. After a year in Mexico (1952) , Bill and Maxine came to Peru where they carried out anthropologic investigations for Cornell University in the Calleguas de Huaydass and then the United Nations in Puno. Again in 1961 with the UN and Peruvian government until the Army cut all money for all such projects. For 20 years she worked with the head of the local staff of the Australian Embassy in Lima. When the Embassy was shut down she taught English and then her present position as head of the Language Division New Business Administration Institute. Bill is currently head of the Academics Sections of the US Binational Center in Lima. Main interest - music with over 200 operas and their extensive library with books on history, art, architecture and food. Every two years they manage to get to Europe. WILMA BETTE (Rivenburg) HUSSEY and TIM Live in Woodland Hills. They have 4 children and 5 grandchildren. Spent some time at USC, now retired, worked 23 years in banking. They enjoy boating, reading and have done extensive travelling in Asia, Europe, the Caribbean, Mexico, The US AND Canada.
WARREN PENLAND and ANNETTE (Lawton) PENLANDare both from S'43 Annett says they have been best of friends since Pasteur Jr. High, but it wasn't until long after graduation (7 years) that Warren seriously courted Annette. Warren served in the Navy in WW2 WHILE Annette worked at MGM cartooning. A divided household with his background at USC and hers UCLA. Waraen's carrier was in the American Maritime Industry, predominantly in the Far East Foreign Trade. They have 2 children and 3 grandchildren and share interest in golfing and fishing in their retirement area of Rancho Berardo. Annett also enjoys genealogical research and self-amusement at the organ. Many former classmates presently continue to be among their most enduring friends.
---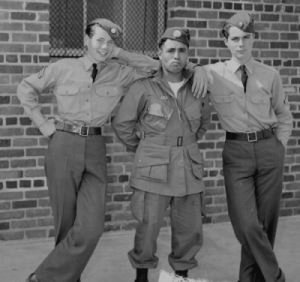 Center picture is of NICHOLAS VILLAvisiting Hamilton ROTC. He was a member of our class, under pressure to transfer He joined the Army Airborne. He corresponded via v-mail with Vern TOLER and his parents. He stated that as a younger child he would play with Shirley Temple as his father was the chief gardener for her. If anyone has commination with Shirley Temple Black it would be interesting to see if she remembers him. ROTC member on the right of Nick is
Robert (Bob) Schnieder.
Nicholas Villa was killed in action in Italy in 1944./
WW2 note The USS ALEXANDER HAMILTION, Coast Guard, was torpedoed and sunk in the Aleutians, February of 1942 while taking a stricken ship in tow.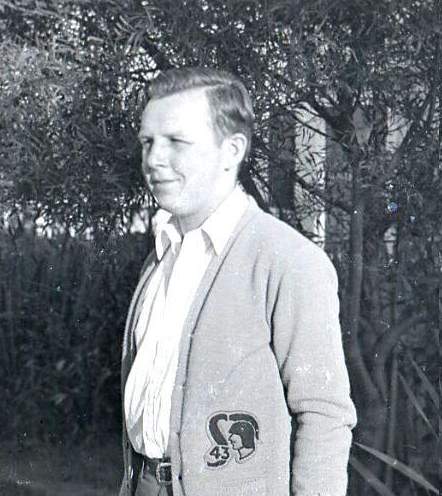 Vern Toler Just prior to skiping class to join the military, (maby I could impress the girls?)
Hamilton Photo by Bonds
At the 60th reunion Jack & Betty Stevenson informed of the names of the girls, they are Ann Yetter Welch and Betty Ahlman Tarvin, both are living and doing well. if someone can give me the full name of the Photographer I would like to credit the picture. and perhaps make contact.
The picture above is of Vern Toler S'43 (who left school early) when he visited his photo class, the picture was published and won several honors, .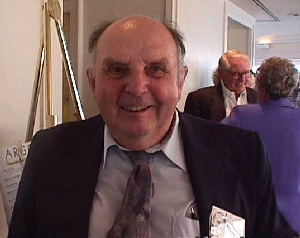 Vern Toler 55 years later still looking for those two girls. opps found them October 2002, now if we could only find the photographer,and thank her for such a great picture.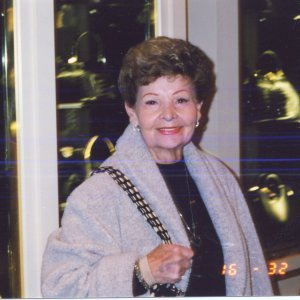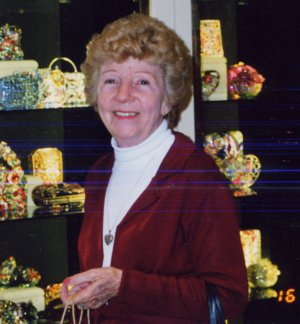 Ann Yetter Welch Class of 45 Betty Ahlman Tarvin, Class of 45





ALICE (Slater) FERGES and her 4 children joined the circus and traveled with the show playing the Western states and Hawaii. They also worked as stunt people in films. Alice lives in Playa del Ray. She now has 5 grandchildren and 4a great grandchildren. She is still very active athletically - biking several miles a day along the beach.VERN TOLER calls home base Marysville, WA However he and his wife DOTTIE are spending their retirement years living and traveling in a motor home. Vern and his firsts wife POLLY (deceased) reared 3 children-one adopted from Korea. Hami memories - Vern saysCapt. EATON, ROTC Instructor, was a role model for his life. Vern entered the military in 1943 and after a brief stay in college he then made a career of service. He worked as a medic and later a Biomedical Equipment Technician. Served in Germany, Korea and Vietnam. He was also a skydiver, returned to Vietnam in 1993 for a reunion with Project Concern, was California's first Certified Biomedical Equipment Technician and taught at several Community Colleges about Medical Equipment Technology.


WILLIAM AUTHUR SKOOG and ANNreside in Redlands with Bill's medical office in San Bernandio. They have 4 children. Bill, a Fellow ACP, professional career has been associated with specializing in oncology. He has done research at UCLA AND TAHE U OF California in San Francisco as part of an Atomic Energy project, has been a lecture and professor of medicine in addition to being on the staff at various hospitals and private practice. Bill served in the U.S. Naval Reserve and the Marine Corp. Hobbies and interest include photography, reading and boating. Hami memory - L.A. City finals 1sst Place Parallel Bars. PAT (MAJOR) DOYLE andBILLlive in Tarzana. Pat met Bill a month after graduation - two years and hundreds of letters latter they were married (Bill was in Italy- WW2) Pat retired from Elementary school teaching and Bill as a Director of Adult Education. They have 5 children and 7 grandchildren. Pat attended UCLA, UCB and received her teaching credential from CSUN - Going back to school after child number 5 was born. . Hobbies - gardening, genealogy, grandchildren and travel. Hami memories - stage fright she felt when at a Student Assembly announcing a large amount of money collected towards the purchase of a bomber through the sale of War Bonds and Stamps.
PAT (MAHONEY) IVERSON and ROYClass of '39 live in Boulder, Colorado. Their family counts 7 children and 6 grandchildren. Both are retired. Pat worked as an E/M designer in Aerospace and Roy was a HVAC and Aerospace Engineer. They worked on many of our NASA programs - COBE, APOLLO-SOYUZ, IRAS, CZCS and recently she designed the High Voltage Power Supply for the Hubbell Infra Red Spectrograph. Pat says the Viking Mission to Mars includes "our orbital cameras" Hami memories - AA guns, blackouts, ration stamps, gas and cigarette lines - missing the off campus sorority and the classy sweater. Also, baby sitting 3 hors - 50 cents, cleaning shrimp - 20 cents/hour. Walking home with friends they now travel the U.S. read and does lo-tech photography. JOYCE (IVORAY) MILESlives in India 50 miles north of Bombay in a Meditation Ashram (a peaceful, harmonious place). She and KENNETH have been there 2 1/2 years where they recently completed successful Eye Camp and over 1000 Indian villagers were given cataract operations. Kenneth's work is to manage the computers. Joyce works in the medical clinic as hostess and receptionist. Both assist with the patients.
LA VONNE (REYNOLDS) PROPOST and DON are in Sweet Home Oregon. They love Oregon, moving there from Woodland Hills. La Vonne has been an artist painting professionally for 30 years. Her style is impressionistic. She studied at Pierce College and Art League in the San Fernando Valley. She has numerous awards and "Best of Show" recognition's in Oregon, Washington, California and New York.
DOROTHY M (RAMALEY) RUSS and SHELTONare in Dominguez Hills. They have 4 children and 5 grandchildren. Dorothy works as a dressmaker and Shelton a carpenter. Their interest are gardening, short trips, eating, crafts and baseball. Hami memory - doing the flowers for an auditorium and get out of math class.
FRED BUSHNELL and GENEVIEVE live in Palmdale. Fred is a contractor, at present owns a pre-school. They have 2 children, 5 grandchildren and r great grandchildren. Fred served in the E.T.O. in WW2 and Korea. Hobbies include golf, shooting and local politics. Hami memory - working the graveyard shift at Douglas and then trying to keep awake in class.GLENN SHANTON and MILLIElive in Tehachapi. Glen is retired from the L.A.P.D. Millie handles hearing aid sales. They have 3 children, 13 grandchildren, and 3 great grandchildren. Glenn served in the U.S.M.C. in WW2. Hobbies and interests - camping, golf and fishing.
NORMA (PINKERTON) HOOD and WALTER are both retired living in Culver City. They have 3 children, 12 grandchildren and 4 great grandchildren. Gardening, reading and travel keep them busy.
JANICE (JOHNSEN) WALLINand JOHN are in Willows, California. She worked as a County Personnel Assistant and John a Radiological Technologist. They have 2 children and 2 grandchildren. Hobbies - cooking, gardening and travelROBERT P. STARR and HELEN are in Flagstaff, Arizona. Robert served in the Air Corps in WW2 and graduated from U.C.L.A. - BA in Geology, and worked as a machine company manager. They have 3 children and 4a grandchildren. Interest - golf, woodworking and lots of travel.WAYNE R. BELL and SYLVIA (MOOSBERG) Hami '45 lived in Auburn, California. They have 2 children and 6 grandchildren. Wayne served in WW2 in the Navy on an LST. He is retired from the L.A.P.D.Alstate Insurance. Hobbies - golf, gardening, camcorder, bridge and lots of travel. His Hami memory is still with him - crashing a party, meeting Sylvia, contacting her when out of service and now 47 years of marriage.
ROBERT FRANCES SCHNEIDEER,a widower is in Sweetzer, Indiana. A retired L.A.P.D. officer with 2 children and 5 grandchildren. College work included Police Administration and Electronics. In WW2 he served in the Infantry in ;the ETO. A full time trilerite for 20 years, he enjoys fishing, golf, camping traveling the U.S.A. and 'B.S.ing'.
NORMA JEAN (MYERS) MILLER and her husband BERNIElive in San Gabriel. They have 3 children and 9 grandchildren. They ran a market for 30 years and Bernie is now working in real estate. Their main interest are bowling and church. Hami memory - the "Big Band" music at lunch time. GEORGE. A. STRICKLAND and STELLA are now ranching - raising cattle in Bradley, California after 27 years with the Post Office Dept. George reports 1 child and 4 grandchildren. His hobby was aviation - now raising cattle. He served in the U.S.N.R. Hami memory riding to school withPrincipal Mr. Brown. JUNE M. (BOWMAN) SHORT and CLARE W'41 live in Tarzana. They have 4 children and 5 grandchildren. June was the homemaker while Clare worked as a Real Estate Developer. She attended Santa Monica College. Interest - bridge, gardening, reading and travel (Europe, China, India and North America). She worked in the Ambulance Corp. in WW2. Hami memories - Color day, Chorus and Mr. Kinkel's classes.
LAWARENCE A. WHILE and BLANCHE are in Bishop; He is an Auto Electrician. They have 2 children and 3 grandchildren. WW2 service was in the Navy. He attended Cal Poly, San Luis Obispo. His main interest is World Geography with lots of travel - India, Japan, U.K., Alaska, Philippines and New Guinea. Hami memory - R.O.T.C. and Mr. Plummer at the farm. FLORENCE (KNEPPER) MOHRLAND and DONALD live in Garden Grove. Now retired, both worked at Ralph's for over 25 years. They have 2 children, 5 grandchildren and l great grandchild. They enjoy cruises, traveling the U.S.A. and fishing. Hami memories - lots of good times, lots of friends, playing in the orchestra and working in the cafeteria. HOWARD W. ANDERSON and JUNE Class of '45 are in San Clemente. They have 1 child and 1 grandchild. After he served in the Merchant Marine in WW2, Harold's work has been as a swimming pool contractor. Interests - photography, fishing, square dancing and travel. Hami memory - "met my wife".
SHIRLEY (SHAPEERO) HOLZ and RICHARD S'41 live in Downey. Both worked in education as teachers, administrators and consolers. Shirley attended UCLA and Cal State LA for her degrees. They have 3 children and 4 grandchildren. Interest - gardening, crafts and extensive travel. (They took student groups to Europe for 11 years and now lead adult tours.) Hami memory - anxiety at giving a graduation speech, the wind, and successfully completing the speech.
BESSIE (LILLIE) WASHINGTON, now widowed was married to PHIL '44 grad. She lives in Claremont. They had 4 children and there are 8 grandchildren. She is retired and does a lot of traveling. PAUL V. LINDSTROM and MARIKAY are in Hunting Beach. They have 4 grandchildren and 5 grandchildren. Paul served in the Navy in WW2. He is now an Optometrist. Interest includes boating, flying, golf and travel. Hami memory - Couldn't wait to get out! Joined the Navy 11-3-42.PATRICIA (TILLMAN) COOPER now widowed married BILL w'43 - lives in West Los Angeles. She graduated from UCLA worked as an elementarily schoolteacher. She has 2 grandchildren and 6 grandchildren. Main interest is travel in Europe. U.S., and Canada. RUTH (BERRYHILL) GARBER graduated from UCLA, has worked as a chemist and a librarian, lives in Los Angeles. She has 2 children. Her hobbies are ethnic dance, costumes, travel and gardening.
WILLIAM EWERTZ and VELMA(from Oklahoma) live in Luther, Oklahoma. They have 9 children, 17 grandchildren and 5 great grandchildren. Both are involved in landscaping - Velma designing and Bill installation. He served in the Navy in WW2 as a Gunners Mate in the Amphibious Forces - after the Great Lakes and U.S. Rivers tour, he hit almost all of the islands in the South Pacific. Interest are now fishing, camping, gardening and reading.
MARGARET (Gano) REDPATH sent a lovely photo - no information. PATRICIA M. O'HANLON worked as an Elementary School teacher for 27 years. She resides in Riverside. She has 4 children and 6 grandchildren. Her BA in Education was from Northern Arizona University. Her interest center around the outdoors- raft and canoe water trips, back packing, day hiking, the Sierra Club and working in her half acre garden. ARCH FREEBAIRN -Arch's 90 year old mother wrote. Arch was a B17 pilot in WW2. He was a real estate developer in New Zealand doing subdivision and a motel in Christchurch. He played in the town band, was active in civic affairs and participated in nuclear protest. He married Beverly in New Zealand. They had 3 children. He died in 1986 of cancer.
LOIS (Bradeen) ROGERS and JOE reside in San Juan Capistrano. They have 3 children and 5 grandchildren. Joe owned a specialty steel sales firm. Lois left nursing school th mary. However, she served in the Army Nurse Corps in WW2. Hobbies - tennis, skiing, gardening, travel, and bridge. Hami. memories - Demoiselles, football games, school dances, GAA, and President Roosevelt declared war. FRED LUNDRIGANin Carson City, Nevada. He served in the Marine Corp. in WW2 and is retired from running a Services Co. He resided in the Middle East for 12 years and has done extensive traveling. Hobbies are reading and gardening. BARBARA (Hunstock) MAC MULLIN and RICHARDlive in Aracadia. They have 4 children and 1 grandchild. Barbara graduated from UCLA and worked as a teacher and Pre School Director. Hobbies/interest - tennis, art, painting and travel. WILLIAM C. OTT and DOLORES (Kragh)Hami. Class of '47. are retired in Penn Valley, California. They have 3 children and 7 grandchildren. He worked for a Mortgage Company and was on the USS Wasp in the USN in WW2. His hobbies are antique guns and golf and for travel, he says "you name it".
DALE IGO and MARGEare in Lake Forest in Orange County. They have 2 children, 3 grandchildren and 1 great grandchild. Dale worked as a Cooperate Executive - Hershey, ABC, Arrowhead. He served in the Air force in WW2. He now enjoys golf, fishing and oil painting.
ROBERT FEUCHER and VIRGINIA "ginny" live in Carmichael, California. They have 3 children and 2 grandchildren. Bob is Chairman of the Board - American Recreation Centers, Inc. He graduated from UCLA. He served in the Infantry in WW2. Hobbies = skiing, reading, home remodeling, travel and time at their condo on Maui. Hami memories = the old Pico bus, the track teams and second place. ROBERT G. STRONG and EADIE spent the winters in Hemet and the summers in Montana. They have one child and one grandchild. Bob graduated from USC and spent 26 years as an FBI Agent. Eadie does Arts, Crafts and bridge on cruises = so there is lots of travel. Bob served in the Marine Corp. in WW2. Hobbies are golf, fishing, boating and hiking. JAY L. PAPWORTH and NAOMI reside in Las Vegas, Nevada. They have 3 children + 3 stepchildren and 3 grandchildren. Both are retired and do lots of travel = China, Europe, Russia and Latin America. Jay served in the Navy in WW2. Hobbies and interest = railroads, computers and travel. ERMA LUCILLE (Reynolds) OWENS, Assistant Minister of the Church of Religious Science in Santa Barbara. College U.C. Santa Barbara, B.A. in Social Science. She lived in Bancouver, B.C. 9 years. Hobbies and Interest - travel, Sweet Adelines, reading and swimming. Travels include Hong Kong, Europe and Canada. Hami memories - loved basketball and baseball and inviation to be Alpha D member.
JAMES LIPSETT and JANNICE live in Thousand Oaks, James works as a Masonry Contractor. He reports 5 children and 7 grandchildren. In WW2 he served in the 127th e
Engineers. "Kenneth" RICHARD CHRYST and CAROL are in Western Washington. He has 6 children and 7 grandchildren. He is a retired Instructor. His hobby is Flight Instruction. He served in the Navy with travels in the Pacific, Mexico Canada and Alaska. JUNE ELLEN (Dingle) MEDAK and MARTIN reside in Midlothian, Virginia. They have 3 children and 6 grandchildren. She was a Hospital Administrator and Real Estate Broker. She attended American University with a B.A. in Political Science. hobbies include bridge, tennis, needlework, cooking, reading and travels to Europe, Canada and most of the U.S. Hami memories: Hamilton Band banging the flat cymbals and the terrible uniforms. Also, vividly December 8, 1941 declaration of war.
WILLIAM W. KING and KATHY are in Sequim, Washington, moving there last year. Bill worked with Trans American Insurance as V.P. in Marketing. He has 4 children and 6 grandchildren. His number one hobby is golf with sailing and travel also. Travels include Europe, Australia, Japan, Mexico, Canada and Jamaica. He served in the 40th Division in Korea. hami memories - Sr. Class Co-President, Grand Night, Knights, and lots of great friends.
NANCY ( Lawernce ) HOAG and PAUL are on Crane Island, Deer Harbor, Washington. She has 2 children and 3 grandchildren. She works in Public relations and Paul is an Architect. Nancy attended UCLA and the University of Washington with a B.A. in Education. Hobbies - badminton, news letter, boating and speech therapy. Travel: Europe and the Caribbean.
GEORGE W. ROBINSON and MARGIE live in Palm Dessert. They have 2 children and 3 grandchildren. George worked as a Fire Inspector and Arson Investigator. Hobby is golf, golf, golf. WW2 - U.S. Navy. Travels in Canada and U.S. - Hami memories - Coach Donahue, Mr. Silvers and Mrs. McQueen. The cafeteria hash.
SANDFORD "Sandy" WILFORD and BARBARA Live in Newport Beach. A retired lawyer, Sandy works in illumination fiber optic. He graduated from USC, lists no hobbies with lots of travels - but not enough. In WW2 he served in the Army Air Corps as a fighter pilot (P-38) in the South Pacific. Hami memory - how young we were.
ROSALINE (Kramer) BLUMENFIELD and TED reside in West Los Angeles. They worked together in the printing business. She got a Mrs. Degree at 18. They have 4 children and 5 grandchildren. Her daughter also graduated from Hami 20 years later. Hobbies - lots of traveling, bridge, swimming and walking. Hami memories - the Senior play, loved school. VIVIAN (Krueger) GOODWIN lives in Topanga. She has 2 children and 6 grandchildren. She worked at the DMV as a secretary. Interest - lots of travel, bridge, people, theater and movies. Hami Memories - teachers Cecil Jones and Alice Sevey. JACK H. STEVENSON and BETTY are in Vista, California. Now retired Jack was self employed. Interest are physical fitness and travel. WW2 service was in the U.S. Navy.
BILL A. JONES and DOROTHY are R.V. Gypsies. They live in Ramona, California. They have 7 children and 22 grandchildren. College major way Psychology. His love of photography was his life work and his Hami memory of always being late for class by taking pictures for the newspaper and annuals. Interest - Civic duties, politics and the Masonic Lodge. BETTY (Guenther) HARMON and JERRY started dating in the 11th grade. They now live in Woodland Hills. They have 3 children and 7 grandchildren. Betty went to the Los Angeles Art Center School. Marriage and children ended her dream as a commercial artist. Guenther-Langer Buick became Jerry Hamon Buick. They sold and retired in 1990. WW2 found Jerry in the Air Force. Interest - travels, boating, fishing, skiing and Golf. hami Memories -- both had a great time. Betty elected Girls League President, lunch privileges on the front lawn, tea on the Bunson burner in Mr. Gardner's room, and the clubs - Sub Debs, Demoiselles, Alpha D's, Knights , of the GAA and teachers. Mrs. Mason and Mrs. Cole. Hami created many long time friends and they still have today. JUNE (Clipper) PERALTA and WALTER ("41) reside in West Los Angeles. June is retired as a Director of Human Resources for an International Company. They have 2 children and 1 grandchild. Hobbies and interest -- they are world travelers. June models as a volunteer for Goodwill Industries - the clothes date back to the 1800's. The shows are for women's clubs around L.A. County.
MIRRLE (Abbott) SQUIRES and GAIL, Class of "39 live in Cucamonga. Both worked in education- Mirrle as a Jr. High Art Instructor and Gail as a coach and principal. Both are retired with doing Arts & Crafts shows. They have 2 children and 2 grandchildren. Lots of travel - all over the U.S., Europe, Mexico, Japan and the Caribbean. Hami memories - living with Aldine Smith and the wonderful times both had. Also the Demoiselles and Knights parties, sunning at P.E. and Journalism with Dick Kamins, Pat Mahony, Maxie Carpenter, and Jim Becker. ELLIOTT C. ELLENSON and HILDA live in San Gabrielle. He is a retired educator. They have 3 children and 5 grandchildren. WW2 service in the Army in the South Pacific - disabled, Bronze Star, Purple Heart., Interest - travel. RICHARD J. (Dick) KAMINS and GRACE reside in West Low Angeles., Dick has 3 children. He is a semi retired lawyer. He is a graduate from USC LAW LLB. His interest include sculpting, reading, hiking, swimming, travel and loafing. WW2 service was in the Third Army. Hami memories - Walker Brown's wrath for participating in "Jason and the Argonauts" which he had torpedoed, Color Day M.C. Federalist editor and Dandelion column, and not having a long winded Jim Becker as his biographer.
CLAIRE (Linkof) HOWARD and THOMAS have just moved to Lancaster, California. they have 2 children and 6 grandchildren. She worked as an automotive bookkeeper. hobbies - gardening with roses and vegetables and traveling. hami memory s- pitching softball in gym class and a wild pitch over back stop when fellows came out to watch.
GORDON R. STAYBOLT and JEAN reside in Los Angeles. They have 2 children and 2 grandchildren. His specialty is radio/electronics with antique radios, antiques, computers, and home projects as hobbies. WW2 - Army radar operation and repair. Both retired, Jean was a teacher. RUTH (Boone) AXELSON retired after 15 years with V.W. of America. She lives in Los Angeles and is a graduate of Otis Art Institute. Hobbies and Interests - dancing, racquetball, Jazz and travel. ALAN SNYDER and MARY CATHERIN live in La Canada. They have 3 children and 4 grandchildren. A graduate of Stanford Medical School, Alan is an eye surgeon. Military service - Navy "42-"46 and the Army "52-"54. Hobbies - camping, fishing, hiking and R.V. travel.
DONALD FRANKLIN DAWSON and ELEANOR ANN (Caress). Dawsaon's first date was at the Junior Prom. Married in '46, they live in Oceanside and have 2 children and 2 grandchildren. Now retired Donald graduated from USC in Mechanical Engineering. They have lived and worked in Australia, Europe, Kuwait. (rebuilding from the Gulf War), Korea, and Japan. WW2 service in the Navy. Hobbies and interests - Donald, tennis, barbershop singing, and tutoring children. - Elanor, reading, cooking, gardening and working as a hospital volunteer in an acute care unit. Hami memories - Hearing President Roosevelt declaring war at an Assembly. Geometry teacher's recommendation for Donald to avoid any profession involving math SHIRLEY (Roos ) PATTON and MEL are in Fallbrook. They have 2 children and 3 grandchildren. They have traveled Europe, Saudi, most of the U.S. and lived in Kansas, Virginia, and Colorado. Hobbies - golf, swimming and hand craft. Hami memory - great group of girls, in the Demoiselles.
MARY LINN (Brown) TLAPA retired secretary from Fox and MGM lives in West Los Angeles. He has 2 children and 2 grandchildren. Her hobby is writing screen plays. ALAN FORD is un the U.S. Foreign Service and his travels are everywhere except Latin America. he will be in Europe at the time of the Reunion. His address is in Berkeley. He has an alphabet of degrees including J.ScD. from the U.C. system. RAY EVARTS and RUTH reside in Phoenix, Ray is in Real Estate Development/Banking. He graduated from USC in Finance. He has 2 children and 3 grandchildren. WW2 service in the Navy. Hobbies - travel, fishing and golf. Hami memories - Great People! Fantastic Years! RAE (Reid) PETERSON and HERALD live in Cedar City, Utah. Celebrating their 50th Anniversary this year they have 7 children, 34 grandchildren and 15 great grandchildren. They are ranchers and she worked as a secretary and bookkeeper. Hobbies and interest - genealogy research, travel, bowling, computers , and church teacher. hami memories - noon dances, eating on the lawn and using summons to get out of English Literature. ROBERT "Bob" L. SCHULTZ and CLETA reside in Rolling Hills Estates. They have 3 children and 1 grandchild. Graduated from UCLA and worked as Chief Engineer at Garrett/Airseaarch. WW2 service in the Army Air Corp. Hobbies and interests - world travel, hunting, fishing, skiing and golf.
LE VONNE (Benjamin) COOKE and LAWSON now live in San Diego. They have 2 children and I grandchild. Lawson a retired Colonel worked at the Pentagon. Le Vonne worked at the CIA Headquarters and later for the Executive Office of the President for Emergency Preparedness during the Nixon administration. Her interest are church and youth activities with the San Diego Madres, Inc. Hami memories - interviewing Glenn Miller at the Palladium and the prom,
BARBARA "Bobbie" (Barnes) EHNERT is in Salinas, California. She has 4 children and 6 grandchildren. Interests - family, friends, gardening, bridge, golf and lots of traveling including all over the U.S., Europe, New Zealand, the Orient, Finland and Russia. She loved high school and had a great time as the Girl's League Secretary. "Esta" ELAINE (Sorenson) TUTTLE lives in St. George, Vermont. She has 3 children and 2 grandchildren. He is in garment manufacturing. WW2 service in the Army Air Force and Infantry. Hobbies and interest - sports and travel.
DAVE WENNSTROM and JOAN (Pflum) WENNSTROM both S'43 live in Antioch, Illinois. Dave worked as a Builder-Developer, V.P. Trinity College and Marketing Consultant. Joan with a B.S. in Psychology at 50 is a teacher. They have 4 children and 11 grandchildren. Dave served in the Air Force in WW2 and Korea. Interests - gardening, oil painting, and cello for Dave and the piano for Joan. Hami memory was the Hi Y hazing program.
RONALD SKINNER lives in Westlake Village. He has 2 children and 2 grandchildren. He works as an Electrical Contractor. WW2 service 3 years in the Navy. Hobbies – golf and travel. ALBERT H. RUSHALL and LENORE "Lee" reside in La Jolla. Al retired as President of Budget Rent A Car. They have 2 children and 2 grandchildren. Hobbies and interest – sports, films, television, travel, music an cars. Hami memory – football and winning Kick of the Week trophy. VIOLET (Messing) PETTRICKA and PAUL are in Arroyo Grande. They have 3 children and 6 grandchildren. Vilet was an art major at Santa Monica J.C. Hobbies and interests – ceramics, music and gardening. Hami memories – So Many! FRANCES (Hageman) BRYAN lives in San Marino and has 2 daughters. She attended Scripps Collage and is a graduate of UCLA as an Art Design major. She has worked at major department stores – design, interiors and as a buyer. Hami memories – photography buddies. LOIS (Crumley) MATHES is in Sedona, Arizona, has 3 children and 7 grandchildren. She attended UCLA Art and world travel are her main interests.
CURTIS HARRINGON resides in San Diego. A graduate of U.C. Berkeley he is an Electrical Engineer. He has 3 children and 4 grandchildren. He served in WW2 in the Navy. Hobbies and interest p walking, bicycling, historic auto racing, classic cars and R.V. travel. Hami memory – Helms bakery smells on the way home. BETTY JO NOBLE is a family and pediatrics physician. Her husband LEO is an engineer. She graduated from U.C. Berkeley, medicine – Univ. of Louvain (all exams oral in French), and post grad. At Mc Gill. Her practice was in Canada. Hami memories – Nellie D. Rogers, dear friend
Pat Major. and Chuck Wakefield and dancing at the Palladium. SHIRLEY FRANCES (Law) FOSTER and lee are in Eugene, Oregon. She has 2 children and 1 grandchild. Occupation – Ordained Minister and published author. She attended Woodury College. Interests include writing, gardening, languages, musicals, playing the organ, and Pacific travel.
RITA (Currier) HEATON and BOB of S/41 are in Montgomery Creek, California. Both are retired from operating a printing business. Rita was a professional dancer and cosmetologist prior to that. In 1988 Bob won the California Lottery – they now enjoy their ranch, houseboat, R. V. Living and traveling.
CHUCK SEXAUER lives in Camarillo. He has 5 children, 12 grandchildren and 1.5 grandchildren. Writing and traveling are his main interests – published books on health, nutrition and weight reduction, was a columnist, drama critic, free lance writer and boxing promoter. Also had an advertising agency and automobile business.
GEORGE W. HARRISON Jr. and CAROLE are in Upland. They have 2 children, 6 grandchildren, and 8 great grandchildren. WW2 in the Army Air Corp. George is a Portrait artist. Hami memory – failing grad in art. MERRILL BUTLER and BARBARA reside in Corona Del Mar. They have 3 children and 8 grandchildren. Merrill, a graduate of USC is a major real estate developer in Southern California. Hobbies – fishing, hunting, grandchildren, flying yachting, travel and WW2 military history. Military Service in WW2 76th Infantry and in Korea 412 Engineers.
DORIS (Anderson) CATES and ROBERT S/42 have 2 children and 2 grandchildren. She worked at MGM studios while Bob spent 6years in the Navy. Enjoys gardening, doll collecting, and taking care of grandchildren.

PATRICA (Jordan) MONTGOMERY lives in Flagstaff, Arizona, She has 3 children and 8 grandchildren. An Air Force family, she and Bill lived in 18 States, The Philippines, Germany and had the opportunity for travels all over the world – Europe, the Orient. Etc. She now keeps busy having houses built to sell. Hobbies – sewing, reading, golf and sports on T.V. Hami memory – loved the football games. WESLEY J. UNGER is in North Hills (San Fernando Valley). He has 2 children and 2 grandchildren WW2 in the Navy, 301st Seabees. He's a letter carrier and security guard.
JAMES M. "Jim" WIENSTOCK and DOROTY are both retired from the L.A. Unified School District. He graduated from UCLA as an English major. Now living in Chatsworth, they have 2 children and 2 grandchildren. WW2 in the Air Force. Hobbies and interests – fishing, fold dancing, music, gardening, plant hybridizing, cooking and Japanese flower arranging (Ikebana) Hami memory – getting kicked out of school for labor violations – 6 hours of classes + 4 hours of work at Douglas, track workouts, trouble in math + a Weinstock's dozen we don't have space for. MARY (Addison) SLINKARD is a widow with 4 children and 10 grandchildren, She is in Littleton, Colorado working part time in a Church Goods store.
VIRGINIA (Noack) MAIER and EDWARD both retired live in Jefferson, Oregon. Interest and Hobbies – reading, animals, T.V. and travel in North America, Russia and Europe.
ROBERT E. "Bob" HERMAN and PAT live in Princeville. Hawaii. He reports 4 children and 4 grandchildren. Retired from L.A. County Fire Dept. He is working as a P.E. Instructor and real estate manager. A graduate of Cal State Dominguez Hills in gerontology. He has extensive training in nutrition and fitness training. WW2 in the Navy. Hobby – Masters Running Competition all over the world. He recently finished first in his division (65-69) in the 10K at Lahaina.
MARTHA (Clemons) DANIELS is in Temecula. She has 2 children and 2 grandchildren. She has worked as a model, actress, artist and vineyard owner. Hobbies – travel, gardening and artwork. Hami memory – traveled with the Hollywood Victory Committee out of the Hollywood Canteen to entertain the WW2 troops.
AGNES D. (Jorgensen) LIESEL and LOWELL reside in Escondido. They had 5 sons and 8 grandchildren. They started manufacturing guitars in 1945. Son's area at the helm now. Lot of hobbies – music, guarding, handcrafts, sewing and knitting machines, sports and travel – says home is best.
STEVEN LAWRENCE WAHLSTROM and PATRICA (Hale) WAHLSTROM, both S/43 are in Sandy, Utah. They have 4 children, 9 grandchildren and 3 great grandchildren. He is a retired V.P. of Engineering. WW2 Army Air Corps. Hobbies – crafts and model airplanes. ELIZABETH ANN "Betty" (Perkins) GUMBINER has 2 children and 6 grandchildren. She lives in Citrus Heights, California. B.S. in Business Administration, she worked as an Office Manager. Hobbies – gardening, painting, needlework and antiquing. ROBERT C. ROMEYN and JANET live in La Habra. They run B & J. Medical Labs. Graduated from UCLA with post grad at USC They have 4 children and 5 grandchildren. WW2 service – Navy. Hobbies – cars and R.V. Travel. Hami memory – Major R.O.T.C., M.C. of Dance and Tuxedo.
ROBERT "Bob" ROUDEBUSH and DOROTY live in West Covina. They have 3 children and 7 grandchildren. Retired, their hobby is travel. Service – U.S. Navy WW2 and Korea. CHARLES SCHAFER and BARBARA reside in Whittier. They have 2 Children and 4 grandchildren. Retired, hobbies are gardening and travel. WW2 service – US NAVY.
GEORGE MASTERS and BARBARA live in Altadena. He received an AA in Chemistry and graduated from UCLA in mathematics. His main work was with JPL as a Software Engineer/Designer with work on the Voyager Project as a Mission Sequence Engineer.
HELEN ELAINE (Steinkamp) MARTSON and STANLEY live in Northridge. Helen worked in real estate sales. College – Chouinard Art School. Stan was a Marine and builder. She is active in forest Home (Christian Women's Auxiliary). Hobbies – quilting and stitchery. MAXINE (Wasden) HEUSER and STANLEY reside in Santa Rosa. Both retired. They have 2 children and 3 grandchildren. OLIVER R. HILL and ELIABETH live in Panorama City. They have 2 children and 4 grandchildren. Retired from the L.A. City Fire Dept., a Dr. of Chiropractic, his hobbies are woodcarving, wood shopping and china painting. WW2 U.S. Army. Hami memory – donating his 1928 Chevrolet to the scrap drive in WW2.
WILMA JEAN (Walsh) MOORE and JACK are in Colton, Oregon. They have 6 children, 11 grandchildren and 1 great grandchild. She worked as an advertising consultant and sales. Hobbies – dancing swimming, ice skating, crafts, writing and travel. Hami memory 0- together with Carlo Licta playing drums and clarinet to annoy Mr. Bernstein.
SHANNON HENDRICKS sent a short note from Lake Isabella. ROBERT M. BRAMSON, married with 6 kids. He is a consultant and author in the prevention and management of non-productive behavior. He is a graduate of UCLA with a Ph.D. from Berkeley. Also a member of the American Psychological Association with current work lecturing and teaching. BRIAN J. O'BRIEN and MARY JEAN live in Los Angeles. They have 9 children and 5 grandchildren. He works in Commercial Aircraft – Contracts Administration with a background of N:T:C:-Aeronautical Engineering. WW2 US Naval Aviation. Hobbies – sports cars, swimming, genealogy, aviation and travel. Hami memories – lots of fond memories with good teachers and great friends.
EDWI N L. CASEBIER and JEAN live in Altadena. They have 3 children and I grandchild. Retired, Eddie's hobbies are gold, swimming and running. College – USC Activities – WW2 the Navy, Kappa Sigma, Fine Arts, Y Men's Club and Rotary. ALICE (Browne) WAUGH lives in Santa Rosa. She has 4 children and 4 grandchildren. Retired from Hewlett Packard as an Administrative Assistant, Technician – Research. Hobbies – arts, crafts, gardening, travel, music, plays, golf and bicycling, tennis and skiing – anything that is fun. Active in all her children's activities. Hami memories – just how she enjoyed school – friends. ANNA MAY (Downing) RICHARDSON and NEAL resides in Palo Verdes. She loves flying. Building airplanes and flying has been an important part of her life. Neal and son are both pilots. She does a lot of community volunteer work and is a docent at the South Coast Botanical Garden and their official photographer. Hami memory – caring friends. ALBERT D. GIVENS and MADONNA live in New Meadows, Idaho. They have 2 children and 6 grand-children. He graduated from Caltech with a B.S. in Electrical Engineering. He is now a rancher. WW2 – Naval Air Corp. Hobbies – photography, saddle-maker and cabinetmaker. Hami memories – first period gym, cold weather, Ridle Myers and handball, ticket taker at noon Sock Hop and letting friends in.
LARRY LEWIS LOWTHORP lives in Palm Springs, retired from Motion Picture and TV Engineering Dept. He has 4 children and 4 grandchildren. WW2 – U, S.N. Air Corp. Hobbies – tennis, hiking and travel.
TERESA (Hennarty) DERRY and LLOYD are in Oxnard. They have 5 children and 8 grandchildren. Hami memory – only name not called out at graduation ceremonies. JACK DIXON McBRIDE and JUANITA live in Los Angeles. Graduate from USC, he is an auto dealer. WW2 US Navy. Hobbies – flying, swimming, jogging and travel. Hami memory – football, Service Club and VP Senior Class.
Coppied from by vern from "The Yankee Guide"
ALMA MATER by Mary Hull to the tune of "The Bells of St. Mary's
To thee we are singing
and pledges are brining
Of love and allegiance to Hamilton High.
This our Alma Mater
Calls each son and daughter
To rally round her colors and her standards high
Let this be her story
That in every glory
In every defeat we will yet be the same
And loyally ever
Make valiant endeavor
To spotless keep the splendor of her grand old name.
HAMILTON SWING SONG to the tune of "Anchors Away"
Come kids let's give a cheer for Hamilton
Long months we wait each year to see our Yankees
Fight! Fight! Fight!
Over the top in form we'll see you play
We love it here and so we"ll cheer for Hamilton
Hip, Hip, Hooray!
Hamilton "Fight On " song tune of S.C.'s Fight Song
Fight on for Hamilton
Our men fight on until we've won
Our alma marter dear
Looks up to you, so give a cheer for Hamilton
Fight on, until we've won, fight on.

I came across this song among some old papers: s/vern_toler
Summer Class of '43
(To the tune of Buckle Down Winsocki)
Summer class of '43, come along-----
Throw your cares away, come on and sing this song!
We will have some fun, have things on the run,
From the band that plays to us today.
We're the biggest "bestest" class today
We will fly our flag and where the crown always,
Come on and go to town,
Come on and "truck on down,"
Get into the swing before the time will pass away.
You are all together for this feat,
So its up to you not retreat. (we repeat)
Summer class of '43 come along-----
Throw your cares away, come on and sing this song!
We will have some fun, have things on the run,
From the band and we that play together all today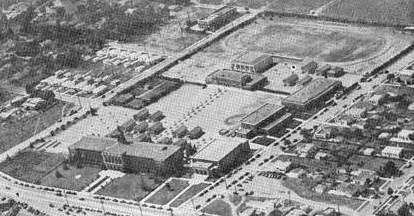 Copied from "the Yankee Guide" about 1940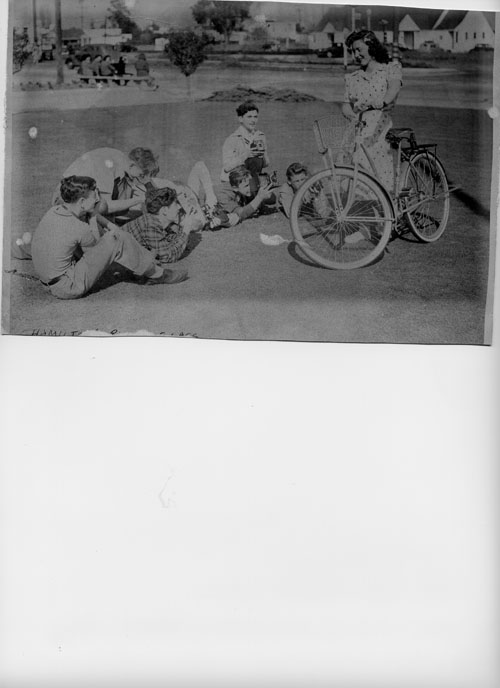 Photo Class @ 1940
Pat Paquet
H. R. 309
Subject:
HAMI CLASS INFO
Date:
Wed, 20 Mar 2002 10:11:13 -0800
From:
Patricia Williams <pwilliam@rand.org>
I was looking for Wayne & Sylvia Bell on the Hami Website and also stumbled
across my brother's name, James Lipsett. This was on the Class of '43
page, which, interestingly, carried a date of October 22nd, which is my
birthday and my brother, Jim's. I was born on his 9th birthday.
Just thought I'd let someone know that Jim passed away December 31, 1999
(didn't make the Millenium). He succumbed rather quickly to lymphoma at
age 75. At this time he had 10 grandchildren. By the way, he served in
WW2 in the 11th Airborne Division in the Pacific.
I was actually looking for Wayne or Sylvia Bell in an effort to locate her
brother, Martin Moosberg. He might be in the Class of '48. I'll keep
looking. This is just to pass on info about Jim to whomever is keeping the
class records now. Thanks
Pat (Lipsett) Williams

---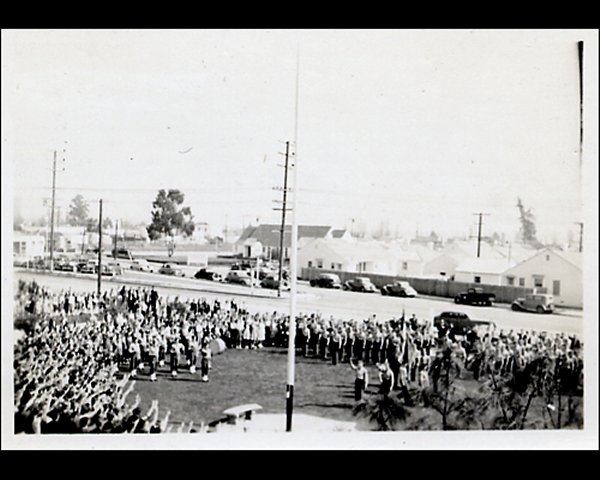 Flag ceremony (note during the pledge the hand was held out towards the flag as a civilian salute, after the war started it was changed to placing the hand over the heart, since the outward starched hand looked like the Nazi salute.)


In Memory Of
Mirrle Anne Abbott
Mary Patricia Addison
Ralph Amelino
Jean Hope Anderson
Sidney W. Anderson
Tracome Eliz Armbrusster
James Matthew Aseltine
Ray Aussstin
Russell Baingo
Angelo Battistoni
Stuart E. Bedwell
Alberta Jeane Beggs
Sara Bensussen
Jarl Albert Bergum
Peggy jean Beringheli
Leo Bornsstein
Robert Mark Bramson
Steno Brunicardi
George W. Brunch
Natalie Dean Bushnell
Carol Joy Butts
Don Chappell
Barbara Chatterton
Philip J. Cheney
Chris Christenson
Wm. Adams Jr. Colvin
Bill Cooper
Michael Dion
Mary Eliabeth Dobson
Gerald Dougherty
Gene Doughety
Evelyn H Dow
Dan Dugger
Rexford Eagan
Joyce Elliot
Peggy Elliot
Lillian Eliz Eynde
Dorlores Farmer
Billie Ann Felker
George Robert Feuchter
Jocefyn Fleming



Gertude Louise Fluhirer
Arch Freebairn
Ilene Dorothy Gaede
Evelyn Gallinger
James W. Gibson
Jack Goodman
Llila Mae Hamar
Lenore Hammond
George Hansen
Leon Eugene Hartwig
Shannon Hendricks
Henry Froid Hendrickson
Walter Henline
Danney hough
Dorothy Hughes
August Jekel
Bill A. Jones
Frederick C. "Neil" Jones
Joseph C. Jones
Richard Kamins
Gloria Kendall
Betty lee Kirwan
Jim Knowles
Winifred Doris Kudrna
Ed Lahey
Annette Lawton
Hans H., Jr. Leiss
Bette Jean Leseman
Carlo Licata
Carmen Virginia Linnes
James C. Lipsett
Nancy Jean Locke
Thomas D. Long
Betty MacAlexander
George M. Masters
Jenny Maria Matheson
Milton N. Matheson
Elaine Lila Mayers
Margie McBeth
Bill McElmurray
Marilyn McGuire
Beverly McMorrow
William R. Megowan
Violet Messing
James Mitchell
Kenneth A. Moe
Charles Monaghan
William Kent Mosher
Cornell Newman
Betty Jo Noble
Robert Noetzli
John Nooteboom
Gene O'Brien
Patricia O'Hanlon
Betty Ann Overall
Anthony W. Jr. Paonessa
Jay Lindsay Papworth
Marilyn Ruth Parker
Kirk Parker
Warren Pitman
Annette Pollack
Monroe Earle Prell
Jack "Wynne" Riner
George Robinson
Paula Sanderhoff
Catherine L. Shafer
Donald Ralf Schofield
Robert L. Schultz
Arthur Murray Segal
Martha Shetrone
Irvin Lee Siteman
Stan Smith
Pat Snyder
Shirley Andrea Stave
Charles Stein
Robert Waldo Stewart
Jeanette Stroud
James D. Sullivan
Allan Ross Tyson
Steven Lawrence Wahlstrom
William Walker
William A. Walmsley
William Thomas Warren Jr.
Shirley Fay Wartell
Robert Weatherly
Edward Weber
Jack Weinstock
Robert E. Whitcomb
Dick Wickern
Bill Williams
George Wesley Woodhull
e-mail from Patricia Williams pwilliam@rand.org Date 20 March 2002
" Just thought i'd let someone know that 'Patricia.s brother'James (Jim) Lipsett passed away December 31, 1999 (didn't make the Millennium). He succumbed rather quickly to lymphoma at age 75. At this time he had 10 grandchildren. By the way, he served in WW2 in the 11th Airborne Division in the Pacific."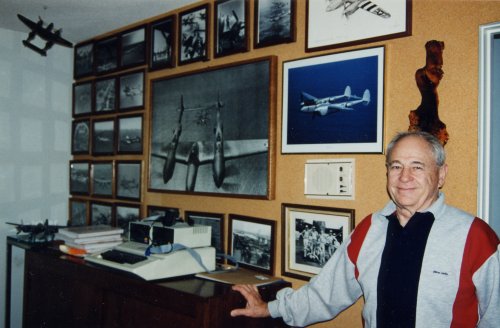 Stanford Wilford W43was a P38 pilot during WW2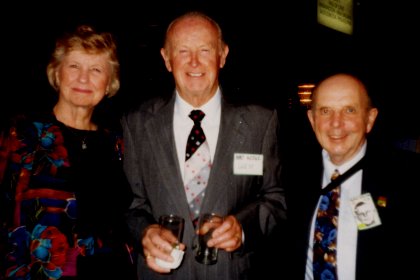 50th reunion ? ? vern

---

Between 15-23 September 2002 I was at a reunion in Ulm, Germany, I had to rush home to attend the Hamilton Class of 43 reunion, while watching the European edition of CNN a story came on about the Hamilton High Music Class on a tour of Japan? ( I think) it was quite a surprise. Hamilton has always had a great music and stage department. s/vern_toler



http://www.armory.com/~vern/personal/hami_43-2.htm Page 2 of 3
http://www.armory.com/~vern/personal/hami_43-3.htm Page 3 of 3