!#BODY BACKGROUND="iff.gif">
Genealogy:
Click here to access the Toler Forum Web page, where you will find many interesting stories, on the family name, and you can add your own stories as well.
Toler, Overton, Worchester, Sansom, Lusk, Short
I am using the computer program Family Tree Maker and World Family Tree (Banner Blue Software)
My main driving force in using the computer and traveling is researching the family tree and history. It has enabled me to study history with a special interest .by feeling that I am part of it in researching my family travels and when I find a family link I feel that I have solved a mystery and that I must look even father back. And by not only researching surnames, I also research the madden names so the branches are endless. Two Family books found of interest were

"The Boy Captives" (Geronimo) by Clint & Jeff Smith
Goyathlay (Apache for "One who yawns")
Tosacowadi (Comanche for "Leopard Cat")
"Capt. John" John Sansom a Texas Ranger: by Frankie Davis Glenn
"The Short Family" By John David (Jack) Short
Most Distant Tree contacts.:
Neil McKechnie: b. 1750 Scotland
Peto Gianocca: b. abt. 1880
John T. Toler b. 1819 Virginia
John Short b. 1783 Georgia
Dicet Stinson b. 1799
John Jesse Overton b. 1790 Virginia
Sophia Henry b. 1770 Alabama
Adelaide Jacob b 1872
Evaristo Gonzalez b. 1880 Spain
Mary Perez Rodrigues b. 15 Aug 1888 Spain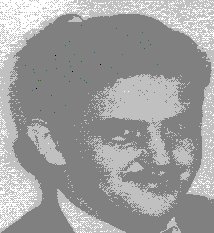 Henry Gonzalez ( 1925-1975) and Dottie Brown had a son about 1955 In California
Would like to contact the mother or son. Picture above about 1955.

---
It is currently 22:55, August the 8th, 1999 GMT
161People have viewed my pages since April 1998
Last changed on October 1998

---

I am always adding to my web page with information for all researchers, I also make several mastakes and it takes a lot of effert to find and correct them.
Please visit my main Web Page http://www.armory.com/~vern
Email

Comments?
If you have any information on any of these families or need information, please feel free to contact me via email. The response may be slow, but you should get a response. Thanks!
---