Marc and Laura's Wedding, June 25, 1995
---
After a courtship of considerable length (would you believe, 5 years?), Marc and Laura were married among much pomp and circumstance this past June. Of course, knowing these two, it couldn't *possibly* be expected that everything would go completely according to plan, could it? Read on...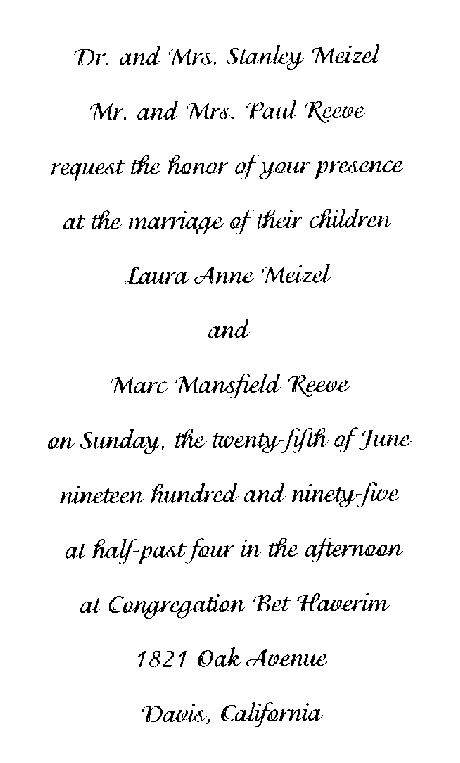 Whether or not you know much about Davis, you probably know one thing: it's bloody hot in the summertime. There was a certain method to our madness in scheduling the wedding for June 25th, though: we knew all of the immediate family would be away from school responsibilities, we knew everyone could be in Davis that weekend, and (since we'd planned to go to Monterey for a honeymoon) we knew the weather would be beautiful at the honeymoon site.
The first thing to go was the honeymoon... Laura finished her teaching credential at San Francisco State in May, and had been casting about for a bit trying to find a job. (Such is often the new teacher's lot.) She was hired (huzzah!) to teach a summer program at Newark Memorial High School, with the understanding that it could lead to a full-time position in the fall. Only one problem...

it began the week the wedding.
---
cmraman@deeptht.armory.com