!#BODY BACKGROUND="iff.gif">
Monorail Computer: A user review. New Update November 2002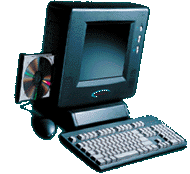 I purchased my Monorail? Model 133 Computer from Egghead for $999.00 in Oregon so no tax.
I intended to use it while traveling in our Motor Home because of its size, and the price helped my decision for buying a second computer. My Monorail 133 is more powerful than my main computer a "Gateway P5-60"? My main concern for a portable computer is that I needed a 2 gigabyte hard drive.`
I also purchased the three-year warranty for $99.00, which should keep it going till it becomes obsolete. Their training video was produced by someone else and was a disappointment. Monorail should make their own training video.
Monorail states that their unit is assembled in the United States although the Keyboard states Thailand, so I guess when you plug it in it becomes assembled in the USA
So far I have only seen it in CompUSA and Egghead?. CompUSA? had one with a larger screen, which I wanted but it was displayed out of reach and their sales person would not talk to a little old man in baggy pants. Egghead has always been my favorite store and I would look them up in every town I went to, but they are having money problems and cutting back on their stores.
The Monorail internet has some contacts listed, Monorail http://www.monorail.com or phone 1-888-880-7245 CompUSA 1-800-251-2665 Micro warehouse 1-800-367-7080 Egghead 1-800-EGGHEAD Insight Direct 1-800-4448 and Hand Technologies 1-800-390-4263
Monorail does offer upgrades if you send the unit in, but it makes more economical sense to buy a unit that has the speed and storage you need since they require you to use their shipping container when you return your unit which is unpractical when you purchased the unit because of limited space.
Monorail is a desk type unit with flat screen (LCD), slightly larger than a laptop at one-third the price of a laptop with the same features. Monorail does not run on batteries but I purchased a 300-Watt converter, which works fine off my car or motor home battery. The batteries were my biggest expense and problem with my Gateway Nomad.
My Monorail computer is easy to use and move about. The "plug-in.'s" are all in a row on the top back, the keyboard and mouse plugs are color-coded. It also has a game port but when I tried it with the flight simulator it convinced me that I should forget about flying airplanes. It has a port that lets you connect to a regular monitor, and audio ports, which I haven't used yet. Since the two built in speakers work fine. There is also a port that permits you to use a regular monitor.
I have a DeLorme? GPS receiver and map program which is a lot of fun. While traveling it will produce a map with the exact location where I am and even what direction we are going, at what speed and how high we are. I was worried about my hard drive since the Motor Home bounces a lot, but so far no problems. http://www.delorme.com With my printer I can also print the map.
Traveling with a desktop computer is quite a challenge, Last year I took my Gateway P5-60. I had to build a special reinforced shelf over my bed and I could only use it on the bed, for my Monorail computer I have a small TV type shelf over my bed so I can play cards at night or do small jobs but I must move it to the dining room table for larger jobs. My Monorail is about 18 pounds and easily moved to the Motor Home dinning table. It would be better if the unit had a handle and if the base-plate was easy to remove. When taking the Monorail from the Motor Home I put padding on a thin board and then strapped it around the unit. I carry the accessories in a cloth shopping bag. I also have a small well padded foot locker which holds the Monorail and HP printer along with accessories, although I have not used it yet I think it would work well if I have to take a bus or airplane trip.
On one side of the Monorail Computer is a CD-ROM port and on the other side there is a 3" disk port, Modem, and an indentation or knock out for some unknown reason.
The modem works well with a land line or cell phone. Because of My Motor Home lifestyle I seldom have access to a land line, I purchased a $200.00 Motorola? adapter for my Gateway computer and three watt cell phone. Because of poor advice it cost me well over $1000.00 but that is another story which I will be glad to tell anyone interested, especially if you plan to use a cell phone with a computer. The same adapter works well with my Monorail but I use it only to check e-mail because of the roaming phone charges.
My main use of my computers is for Word Processing and Family Tree /history research, Also I use it to maintain Mortgage records which is a ten year old spreadsheet from Microsoft "Works"? The Monorail because of it size is handy to take to family visits and to the many computer workshops which some RV campgrounds now have, since the Monorail has a full size keyboard and mouse along with a good eye level mount, it creates quite an interest where everyone else has small laptops.
Software: The Monorail came with Microsoft "Windows 95"? and their own operating and instruction program. I added Microsoft "Office 97"?, and Broderbund? "Family Tree Maker"? http://www.familytreemaker.com along with several other general programs, My data and programs already use over one gigabyte. I use Microsoft Office because it came with my first Gateway desktop and I liked their "Word" program and I keep buying upgrades although I have little knowledge on how to use the rest of Microsoft Office. My main drive on using the computer is for family tree and history research. My Gateway, with upgrades is still my main computer, which I like but it is over four years old so my Monorail is being used more often. For my travel printing I am using a HP Deskjet 400? for printing
Monorail update: August 29, 2000
This is an update on my Monorail "All-in-one" computer: I use it for my motor home travels which last 6 months each year.
The A drive and CD started having problems and since I still had time on my 3 year extended warranty I called Monorail and is seems the company had been sold or moved to 100 Ford Rd. Denville, NJ 07834 and is now called Panurqy-Formerly CNS phone 973-625-4056.
To my surprise the new company honored the Monorail contract. They picked up my unit at the campground I was in by FedEx at their expense, replaced the A Drive and CD-ROM and shipped it to the next campground I was registered at their expense. This is one time a $99.00 extended warranty was sure worth its price.
When I returned to my trailer in Marysville, Washington the Hard drive would some times refuse to come on, I could hear it had a ruff spin, and the screen sometimes had yellow strips which later turned to pock marks. I still had a few weeks on my 3-year warranty. I decided to leave in on to let any other problems develop before calling the service department, to my surprise it slowly cured itself after about 12 hours of running, and so far it has been running well and I have not lost any information.
Of interest my TV screen was white with no picture but it had sound so I left it on and after about 8 hours the picture slowly returned.
While discussing the problems with friends we feel that electronics don't like cold and dampness, which is part of life in this part of the country.
The hard drive of my Gateway, which I left in the trailer for the winter crashed and could not be recovered. My grandson built me a generic unit, which I am using now.
It is a shame that the "all-in-one" Monorail was not successful, but the rapid drop in computer prices seemed to doom it. I may take it with me again this year when we head south but I would really like to replace it with a portable. Hope someone finds this story of interest, in the meantime please visit my web page http://www.armory.com/~vern I put a lot of work in it with the help of my grandson Chris Petrel. Thanks vern@toler.ORG
17 March 2002 UPDATE
I gave my Monorail to my Daughter, It worked for a while for her but the screen would sometimes turn to bright yellow lines, after the computer was turned off for a few hours it would come on normally again. I bought a new Compaq 5000 for myself, and gave the Computer my grandson made for me to my daughter. The Compaq 500 was on a Close Out sail for around $400.00 and it had 20 GB hard drive and a CD burner, so I couldn't pass it up. I received an e-mail inquire for a Monorail Recovery Disk, I hope my daughter can find it so I could help the person out.
At a friends house I saw a new type of "All in One " which looked great, it cost around $1,500.00 I don't remember the name but he found it searching the wed, He thought he was buying a portable for his motor home, and was surprised to find it was a desk top, but he is happy with it since it is powerful and small enough to fit well in a motor home, it was slightly bigger than the Monorail. < http://www.c-source.com/csource/newsite/technotes/integra.asp > this is a web site for one simular to what I saw. when I used the search question "all in one computer" several different ones came up.


3 June 2002 Letter
Subject: Re: Monorail System
Date: Mon, 03 Jun 2002 14:35:10 -0400
From: "Chris LaPoma" <chris@cuteguys.org>
To: vern@armory.com
Subject: Monorail System
Date: Sun, 02 Jun 2002 16:53:59 -0400
From: "Chris LaPoma" <chris@cuteguys.org>
To: vern@armory.com
Vern,
Hi. My name is Chris, and i purchased a Monorail Computer
in Dec 96. I am currently trying to convert my monorail
computer to a Linux Operating System instead of Windows. I
have had problems while doing this due to the fact that i
cannot find my monorail user book information. i was
wondering: What type of LCD screen is it? (company and
"version"), How many megabits are saved for video?. If you
know these please write back a.s.a.p. My computer is not
very happy with me b/c it's been running for 3 days now,
and the monorail customer support and tech specification
pages are gone. I hope to hear from you soon and thank you
for your time.
- C -
Dallas, TX
Vern,
Thank you for replying to my E-MAIL. Well, after hours
of looking around on my system and messing with stuff i'm
not even sure of what it is, i got X Windows to run a
successful test by 5am. :) In case anyone does go to your
site looking for information about running linux on a
Monorail computer, if you could please give them my E-MAIL
addy and maybe we can help each other on the system. Thank
you again for replying to my E-MAIL and i'll be sure to
check out the links.
- Chris -

On Sun, 02 Jun 2002 21:09:55 -0700
Vern Toler <vern@armory.com> wrote:
> Hi Chris, Thank you for contacting me, I am happy to hear
> that others > read my web page, I am sorry that I am unable to help
> you, Several years > ago I gave my Monorail to my daughter, and since then i
> have given her a > newer "Fry's "home built computer, One other person has
> asked for > information about the Monorail, but when I contacted my
> daughter she has > lost most of the stuff i gave her. when i had my
> Monorail computer > repaired 3 years ago under an extended warranty it was
> sent to a > different company, so I figured Monorail has sold out. it
> was a great > computer at the time. my step-son uses the LENUX system,
> but i don't > think he would be able to answer your questions. I am not
> very bright > about computers and it is difficult for my grandchildren
> to explain > things to me, but without the computer my life would be
> empty. I know > the memory in the Monorail was small and it could not
> handle new > programs. I have used the LENUX system at my step sons
> house when the > my computer was tryed to his through a network system, it
> was good but I > am too old to try to learn a new system, If you want I
> can attach your > letter to the Monorail "Toys" page in case someone else
> logs on to it > and can help you. please visit my other web pages at
> http://www.armory.com/~vern then click on the green bars
> below my > picture. thanks s/vern_toler
>
> Chris LaPoma wrote:
help from Larry Colen
Have you looked on any of the linux laptops pages? There are quite a
few good resources for it. I've got a page for running Linux on a
Sony Vaio: http://www.red4est.com/vaiodiva
I did some guesswork and got X working on my old gateway liberty,
which had a 800x600 screen.
Have you run any of the X configuration software that probes the
system to find out what graphics chip you are running? Have you looked
at any of the info in /proc? If you boot in Windows, does it tell you
anything about the resolution and bit depth of the screen? larry
---

Subject: Monorail all-in-one computer
Date: Thu, 1 Aug 2002 21:31:39 -0400
From: "Joe Baude" <mbaude@msn.com>
To: <info@dynamic-tech-llc.com>
CC: <vern@armory.com>

Need lead to current service and or supplier group handling Monorail computer internal modems (standard and
data FAX) or documentation. MS Dialer, Internet explorer and Outlook fail to connect to phone line. Dial tone is
verified up to modem board. Modem, port and interrupt software configuration settings have been checked. No
port/interrupt conflicts. Further hardware testing and trouble shooting service or instructions needed. Unit with
MS Windows 95 and Office 97 continues to be a very well designed, packaged resource of hardware and
software that is very user friendly, reliable, useful and valued.


From: Mklgvl@aol.com
Date: Fri, 1 Nov 2002 22:39:42 EST
Dear Vern,

I have looked at your site several times over the last few years. I purchased my monorail from a
pawnshop and it works fine. I did upgrade the cpu which was originally an AMD k-5 100.

I purchased a recovery cd from panurgy. They have parts available and will repair the system. At least
until they run out of parts.

As for the fellow installing Linux. I put it on my system back in 2000 when I changed the hard drive to
an 8 gig.

If he follows the initial settings he should be fine.

What part of the country do most of your traveling. My wife and I drive for a living. Currently the
company that we work for has us going from NJ to Ca though we live in Fl.

By the way I remember you writing about using your cell phone to access the internet. We do the
same thing occasionally. We have a nationwide plan with no roaming or long distance charges. We
have 2000 minutes that cost us about $260 a month with the taxes added to the bill.

Don't know if you use truck stops very much but if you are using a laptop you can take it into the
restaurant and plug the machine into the data port on the phones. The downside is that you would
need to use the 800 number of your internet provider.

MK Lewis
---

Subject: Monorail
Date: Sat, 23 Nov 2002 22:01:33 -0500
From: bob bowen <bbowen1919@comcast.net>
Vern:
I have a monorail 133. I purchased it on eBay about five years ago. It has a 1 GB HD and I upgraded the RAM to 80 MB. I am in the process of selling it but in trying to research my Monorail on the internet, I can only find it listed with a 2.5 GB HD. Have you any thoughts on this? (I saw you name listed as a former Monorail user)
Semper Fi -Bob Bowen in Virginia
________________________
Genealogy Can Be Uprooting
---

Date: Sun, 1 Dec 2002 20:08:19 -0700 (MST)
From: catciao@webtv.net
I have a Monorail Model #7245 that my brother gave me years ago and I
don't have a manual for it or anything. I just bought a digital camera
and it requires a USB port and SVGA video card. I'm pretty sure I don't
have either one of those so do you know if they are available or how I
can tell if I can modify this somehow externally?
---

TIA,
Ed Slicer Vern,

My name is Ed Slicer and I acquired a Monorail Computer - Model 7245 this past summer. I live in a small town, Blowing Rock, which is nested in the N.C. Appalachian Mountains. The town is located about half-a-mile off of the Blue Ridge Parkway. Anyway, the Monorail has become my winter project. I'm sure you're probably already aware of the fact that there is no technical information on the Monorail Computer anywhere on the net. At least I can't find it. I'd like to try and rectify that situation. However, before I go on let me say that I really enjoyed your review of All-In-One PC, and that I'm also interested in genealogy and a user of Family Tree Maker.

I see from your web site's updates that owners of the Monorail are contacting you in hope of finding technical information. I feel their frustration; I've spent many hours searching for details. I've even tried manuals for different motherboards with the same chipsets in hope of being able to deduce the correct jumper settings for my CPU upgrade. It didn't work, but I tried. You seem to have the only "User" site for the Monorail on the Internet. Furthermore, your site commands a high ranking in search engine queries on the subject. So I was wondering if you wouldn't mind linking to my Monorail page.

It's: http://personalpages.bellsouth.net/e/s/eslicer/monorail.html; or go to www.eslicer.com, click on the "Old PC" button, then click on the Monorail link or picture.

I just happen to be a PC technician, so I have a very good understanding of PC hardware. I believe that with the help of other owners, we could compare our systems and experiences and put together a useful resource. For example, we could deduce jumper settings by comparing different configurations (different CPUs) without risking our hardware through trial and error. Moreover, someone out there probably already has this information, and possibly doesn't have the time or place to share it. I'm more than willing to take on this effort. So I'm hoping that your site's popularity could direct them my way.

Thanks for sharing your experiences and best wishes to you and your family. By the way, do you ever make it out to this part of the country? It's really beautiful.

TIA,
Ed Slicer eslicer@bellsouth.net

---
Back to my homepage