The Way it Was
It is currently 10:19, July the 16th, 2019 , 14227 People have viewed
this page since November 1998 - Last changed on September 2002
---
---

Email vern@armory.com

This page is a part of history with unclassified bits of history and pictures that affected our lives. Vern Toler web master.
---

I ran across your reunion page while doing a search on my
father's commanding officer, Siegfried Koitschka. My father, Franz
Zaepfel, died 13 years ago, but my mother has numerous photos of the U-616
and its men. Do you know of anyone from that crew with internet access who
might be willing to identify some of these men? I can scan the photos.

Sincerely,
Klaus P. Zaepfel
447 Martha Lee Drive Hampton, VA 23666
(757)826-9286

---

Subject: U 616
Date: Mon, 24 Jun 2002 23:03:25 +0200
From: Ing.Buero.Doering@t-online.de (Peter Döring)


Hello,
I just answered Mr. Zaepfel.
The widow of Mr. Wolfgang Seiler told me, that her husband was 1.st WO
on U 616 till 1944 and then commander at famous U 37.
The prinout from armory.com I´ll send her tomorrow.
Perhaps she is able to see him at the pictures.
Sincerely - Peter Döring, Berlin, Germany.

http://www.uboat.net/boats/u616.htm

http://uboat.net/boats/u37.htm

http://uboat.net/men/schnee.htm

http://www.geocities.com/bensonclass/macu616.html

Subject: Re: U-616 & TANEY
Date: Sun, 13 May 2001 11:23:25 -0400

I have scanned several photos of many showing U-616 crew members, including one which I presume shows Capt. Koitschka on the bridge. I have no single picture which shows all of the crew, but maybe these will generate some interest. I could send others if you like. If you get any responses, please forward them to me.

Yours truly, Klaus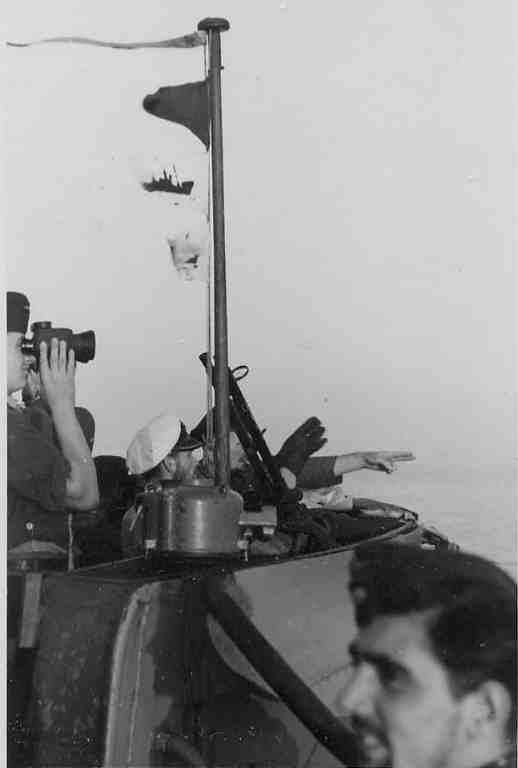 Siegfried Koitschka ---Center White hat- --Captian of U-616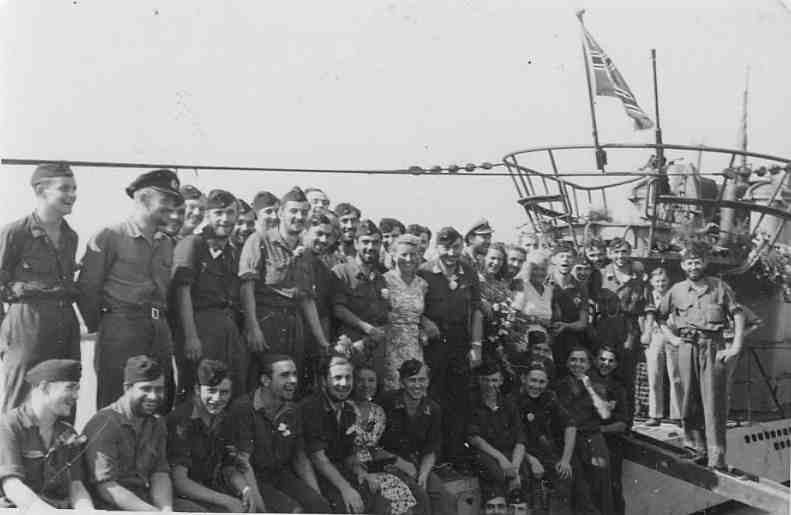 In Port: Some of the crew of the German U-616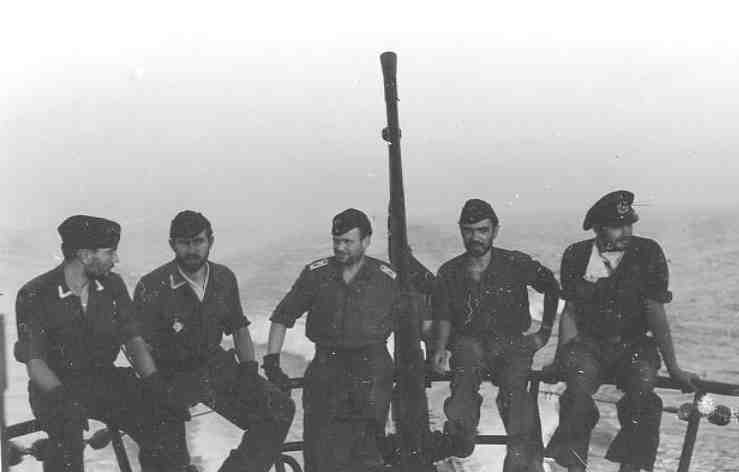 Klaus P. Zaepfel provided the above photos
Capt. Koitschka U-616 http://www.classicwest.com/homesig.html
http://uboat.net/gallery/officers1.htm

http://www.geocities.com/Pentagon/Base/1250/macu616.html



Assigned to coastal escort and patrol duties on her arrival at Oran, 2 May, Nields was soon drawn into a submarine chase lasting four days. On 14 May, U-616 was detected in the southwestern Mediterranean by British observation aircraft. Nields, temporarily with DesDiv 21, was one of the ships to answer the call. Soon afterward Ellyson (DD-454) dropped the first depth charge pattern. On the morning of the 15th, oil slicks were spotted, but sound contact was lost. Another search plane sighted the submarine, now surfaced, ten miles away and running north toward southern France. The destroyers followed. At 1900 on the 16th, Nields, in a scouting line with Gleaves (DD-423) and Macomb (DD-458), left the formation to investigate a sound contact; negative. At 2157, all three destroyers made contact. Macomb illuminated the elusive quarry and opened fire. U-616 returned the fire and started diving. At 2214, and again at 2231, Macomb attacked with depth charges. At 2335 and at 2342 sound contacts were regained, but lost at 800 yards. U-616 was deep and maneuvering radically. At 2346, Nields set off
an 11 charge pattern; and at 2350 began "creeping attacks". At 0043, 17 May, Gleaves, with Nields directing, fired an 18 charge pattern, with deep settings, which surrounded the U-boat. Contact was lost at 0044. Soon after 0100, the three destroyers, having been joined by Hambleton (DD-455), Ellyson, Rodman (DD-456) and Emmons (DD-457), commenced a box patrol, with Nields taking position third from the right end of the scouting line. At 0449, Hambleton reported a sound contact, and, at 0515 commenced firing depth charges. At 0525, she made a second attack. Finally, at 0608, U-616 surfaced and was taken under fire by the surrounding destroyers. Nields, unable to fire without endangering others in the destroyer group, watched the hunted U-boat sink at 0612 and then screened the vessels detailed to pick up survivors (51). http://www.geocities.com/Pentagon/Base/1250/nields.html
The below copied from web site about German Submarineshttp://uboat.net/boats/u616.htm
Type VIIC
Laid down 20 May, 1941 Blohm & Voss, Hamburg
Commissioned 2 Apr, 1942 Oblt. Johann Spindlegger
Commanders 2 Apr, 1942 -
7 Oct, 1942 Johann Spindlegger
8 Oct, 1942 -
17 May,1944 Oblt. Siegfried Koitschka
(Knights Cross)
Career 9 patrols
2 Apr, 1942 - 31 Dec, 1942 8.
Flottille (training)
1 Jan, 1943 - 31 May, 1943 6.
Flottille (front boat)
1 Jun, 1943 - 17 May, 1944 29.
Flottille (front boat)
Successes Sank the US destroyer USS Buck (1,570 tons)
2 merchant ships sunk for a total of 1.839 tons 2 ships damaged for a total of 17.754 tons
Fate
Scuttled on 17 May, 1944 in the Mediterranean east of
Cartagena, in position 36.46N, 00.52E, after fatal
damages from depth charges from the US destroyers
USS Nields, Gleaves, Ellyson, Macomb, Hambleton,
Rodman and Emmons, and by depth charges from a
British Wellington aircraft (Sqdn. 36/K), in a 3 day-long
action. 53 survivors (No casualties).

On 13 May, 1943 U-616 was attacked by escorts in the Mediterranean with
64 depth charges. The boat suffered severe damages and had to return to
base.
U-616 attacked the convoy GUS-39 and damaged two Allied merchants (G.S.
Walden and Fort Fidler) on 14 May, 1944 and immediately the Allies began to swamp the area (see page on U-371 for details). Aircraft from five squadrons
and eight American destroyers hunted the boat until it was defeated on
17 May.
Only 5 hours later U-960 attacked the US destroyer USS Ellyson off Oran.
The destroyer then had survivors from U-616 on board. U-960's attack
missed the destroyer (luckily for the German POW's on board) and another Swamp
operation began which eventually caught and sank U-960 on 19 May.

Men lost from U-boats
Unlike many other U-boats, which during their service lost men due to
accidents and various other causes, U-616 did not suffer any casualties (we
know of) until the time of her loss.

---

Subject: newspaper article of 1987 reunion
Date: Thu, 15 Aug 2002 09:49:44 -0400
From: "Pete & Cathy" <kpzaepfel@erols.com>

To: <vern@armory.com>
Hello, Vern,

I converted a newspaper article, which appeared in the Virginian Pilot and Ledger Star on October 10, 1987, into a Word document using OCR. It describes a reunion held in Virginia Beach among sailors of the USS Ellyson, USS Rodman, and U-616, my father's U-boat. The irony is that, at the time of the reunion, no one responsible for its organization knew my father lived within 20 miles of where it was held. Only at the end of the Germans' visit did word get around and contact was able to be made when Commander Koitschka phoned my father from the Norfolk Airport before his departure, less than three straight-line miles away. The attached article adds some eye-witness accounts about the sinking of the U-616 to the information already found on one of your fine web pages, "The Way It Was."

Best regards,
Klaus P. Zaepfel
1987 10 10 The Virginian Pilot.rtf
Name: 1987 10 10 The Virginian Pilot.rtf
Type: WINWORD File (application/msword)
Encoding: quoted-printable

Copied from The Virginian-Pilot and The Ledger-Star, Oct. 10, 1987
Germans, American hosts recall
deadly cat-and-mouse war game

By MICHAEL DeSISTI
Staff writer


VIRGINIA BEACH — Forty-
three years ago, they were the
hunters and the hunted in one of
the longest cat-and-mouse war
games on water. This weekend
they are together to shake hands,
introduce families and share
champagne.
"I guess this has only been
done once or twice before," said
Pearl Russell, a 71-year-old Vir-
ginia Beach resident and former
electrician's mate on the destroy-
er Ellyson. "It's good that we
could get together.
"We're not enemies anymore.
Why not be friendly?"
The Ellyson has added a twist
to its fourth reunion by inviting
the survivors of a German U-boat,
a vanquished underwater adver-
sary from World War II. After
three days of dodging eight U.S.
destroyers and several British
anti-submarine planes, the U-616
was sunk early on the morning of
May 16, 1944, in the Mediterra-
nean Sea.
On Thursday, Dr. Sigfried
Koitschka, the 70 year-old former
captain of the German untersee-
boot, arrived at the Plaza Hotel
with his wife Waltreaud [sic], who wore a navy blue scarf with white stars and anchors, and his son Wolfram, who sported a baseball cap with the Ellyson's name in gold across the front.
Six of the U-616's other crew
members, three of whom brought
wives, had arrived a few hours
earlier. All were honored guests.
At a banquet Friday night at
the Plaza Hotel, after a daylong
tour of Colonial Williamsburg,
Koitschka and his countrymen
dined American-style on prime rib, double-baked potatoes and tossed salad. Dessert? German chocolate cake, of course.
The bipartisan theme of the reunion, which concludes today with a tour of the Norfolk Naval Base and a buffet dinner and dance on the New Spirit tour boat, was the brainchild of James Galbreth. The 68-year-old former radioman on the Ellyson was "obsessed" with discovering what became of the Germans whom crew members of his ship and the destroyer Rodman helped pull from the Mediterranean more than four decades ago.
"We saved their lives," said Galbreth, a salesman from Indianapolis. "They had children and grandchildren just like we did. I always wondered what happened to them."
With the help of a U.S. Air Force colonel in Berlin, Galbreth last fall obtained a list of addresses for the sunken U-616's crew members, all 53 of whom were rescued. Some men had since died; others moved away. Twenty-nine addresses were current and legible, however, and Galbreth sent letters to all of them in November. Replies came from nine crew members, as well as one from a widowed wife and another from a son. Among those responding was Koitschka, a retired veterinarian, who said he would gladly attend and invited Galbreth to U-616's reunion last June. "He's got a great sense of humor," said Galbreth, who along with his wife, Betty, and two other Ellyson crew members flew to West Germany for the U-6l6's eighth annual affair. "I remember his reply. He said, 'It will be nice to see you face to face instead of through a periscope.' "
On landing in Frankfurt, the Ellyson contingent was whisked away from the airport in Koitschka's Mercedes. Zipping along the Autobahn expressway to the former U-boat skipper's house in nearby Marbourg, Galbreth came to a realization. "When he put his foot on the accelerator and started driving 125 miles an hour down that road, I knew why it took us so long to catch (U-616)," Galbreth said. "His wife said, 'Now Sigfried, they might not want to go this fast.'" Back in May 1944, Koitschka couldn't make his U-boat go fast or far enough to elude the determined pack of destroyers and anti-submarine aircraft in pursuit. "Operation Monstrous" began within a day after the U-616 sank two Allied ships off the coast of North Africa. The sole purpose: to seek and destroy every U-boat within sonar's ping. Koitschka's was the first. According to retired Adm. John Foley, a 79 year-old Norfolk resident and former captain of the Rodman whose presence at the reunion was specifically requested by Koitschka, the chase began off the coast of Algiers shortly after noon on a Sunday and ended near southern Spain at dawn on a Wednesday -- 67-plus hours later. Gus Britton, the assistant director of the British Royal Navy Submarine Museum, said never before had a submarine played hide-and-seek that long without escaping.
By the second day, depth charges had rendered the U-616's five torpedo tubes useless, upset its electric circuitry and ruptured two external diesel fuel tanks. The submarine's sonar no longer worked, and its battery — used to power an electric motor when under water — desperately needed recharging.
But recharging required surfacing so the submarine's diesel-powered generator could inhale oxygen and exhale exhaust. Surfacing meant being seen and shot at. Even at night, with anti-submarine aircraft scanning the seas with searchlights, coming up for fresh air was risky - but essential.
"You've got about 800 feet of water above you, and another 1,000 feet below you," Koitschka said. "If you go any lower, the pressure will squash you. If you go upstairs, there are planes and destroyers. If you stay where you are, the depth charges might get you. "It's a bad feeling."
After nearly three days on the run, however, the U-616 had little choice. Chief engineer Karl-Friedrich Nieka, who also is at this weekend's reunion, told the captain he had less than an hour of battery power to play with. "We couldn't defend ourselves anymore," Koitschka said, noting that U-616's only protection was two 6cm guns on deck that could be fired only above water. "It was up or down. There was no other choice." Koitschka chose up. While the crew was outfitted with life jackets and assembled in the compartment closest to the conning tower, the captain and chief engineer turned the U-boat's sea valves until they were almost opened, at which point the ballast tanks would fill with water and send the sub to the ocean floor.
The U-616 surfaced for the last time shortly after 7 a.m. May 16, 1944, and Koitschka's was the first head out of the hatch.
"There was no time for the periscope," said Koitschka, at the time unsure how many ships and planes had been pursuing him. "I opened up the hatch, and what I discovered were eight grown-up destroyers and aircraft."
Unaware of the U-boat's intentions, some of the destroyers, which were circling at a distance of about 1,500 yards, opened fire with 6-inch deck guns. While U-616's crew jumped into the water, Koitschka and Nieka twisted the sea valves that final half turn to scuttle the sub and keep any secrets from entering enemy hands. They were the last to abandon the sub, which sank as quickly as it had surfaced, leaving 53 men at the mercy of two enemies: the Allies and the sea.
Once the submarine went under, leaving a trail of Germans in the water for a quarter mile, the shooting ceased, Galbreth said. "Everybody was manning a gun, but nobody fired into 'em," he said. "They were people, just like us. We had a common enemy, and that was the sea. If you've ever been on the water for a while, you'll know what I'm talking about."
The Ellyson picked up 30 survivors and the Rodman 23, including Koitschka and Nieke. Upon boarding, the Germans were given hot showers, dry clothes and a bed in a closely guarded section of the ship.
Koitschka, however, showered and slept in Foley's quarters. Nieke was the guest of the Rodman's doctor, who served up makeshift cocktails by mixing lemon juice with alcohol he had on hand "for medicinal purposes only."
"Four hours after his ship dropped a depth charge on us, we said 'Cheers,'" said Nieke, 67.
Brought to Norfolk via Algiers, the Germans spent one week in a Newport News detention center before leaving for Fort Meade, Md., where they were asked to tell U.S. intelligence officers "everything they already knew," Koitschka said. From there it was on to prison camps in the southwestern United States, where they remained for two years before returning home in the spring of 1946.
On Friday, returning from Williamsburg, the Germans stopped in Hampton to honor countrymen who had not been as fortunate in abandoning ship. In April of 1942, the U-85 became the first submarine sunk by a U.S. ship when the destroyer Roper laid it to rest off Oregon Inlet on the North Carolina Outer Banks. All 45 men on board were killed, including the 29 whose remains are buried in the Hampton National Cemetery. Koitschka and his crew brought flowers, a wreath and a German Submariner's Union banner to their dead countrymen's graves.
To a man, the Germans commended the mercy — albeit delayed — of the aggressors in "Operation Monstrous" and said any good seaman would have done the same had the tables been turned.
"They were sailors, and we were sailors, too," Koitschka said. "The behavior is the same. When anybody is swimming in the water, there is no harm. That is the law."













can you identify anyone? contact vern@armory.com