STUFFED VINELEAVES WITH EGG SAUCE
Prepare vineleaves stuffed with meat filling as described in STUFFED VINELEAVES WITH MEAT.

For the egg sauce: Juice of two lemons, 1 tablespoon flour, 1 tablespoon yogurt, 1 egg yolk.

Beat the egg yolk in a bowl with a fork, and while beating add the lemon juice, flour and yogurd. When the dolma are cooked take two spoonfuls of the juice in which they cooked and beat into the egg sauce. Pour over the top and simmer for a few more minutes before serving.
---
Source: Meral Demirel, Photos: Suha Kendiroglu,
Turkish Airlines Skylife, May 1994, pp.50-54
---
Send your comments to: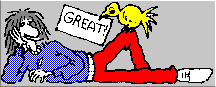 Melih Özbek
melih@knidos.cc.metu.edu.tr