This page will be like a baby book for my friends to look at and for me to use as an archive. (I've also found it much easier to type things in than to write them down in a real baby book.) There's not much here yet because I've just started it.
5/16/96

Arthur's first trip to the dentist.

5/9/96

Arthur's first time fingerpainting (he didn't much care for it -- he doesn't like to have messy hands).

5/7/96

Arthur's first time doing "wheelbarrow" walking.

5/6/96

Arthur got his first computer (or more accurately, Sam got a new computer and Arthur inherited Sam's old one).

4/7/96

Arthur figured out how to drink from a straw.

3/8/96

Arthur's first time feeding himself (noodles) with a fork.

2/4/96

Arthur's first time going out in raincoat and rainboots.

1/15/96

Arthur's first time wearing shoes (sandals).

12/29/95

Arthur's first movie (Toy Story). He was actually very content throughout.

12/24/95

No doubt it wasn't the first day Arthur did this, just the first time I saw him, but I just saw him carefully put a bunch of magnets on the refrigerator instead of sweeping them all off the refrigerator.

12/21/95

Today Arthur did his first somersault. He was standing on his bed and just kept leaning over until, fwoop, there he went!

12/15/95

Today Arthur was walking around the house eating an ice cream cone. What a mess! He's also getting good at putting Duplo blocks together.

11/26/95

Arthur went to the Pickle Circus and happily watched (and bounced to the music) for over two hours. He also had his first popcorn. His first molars (all four) are also coming in nicely.

11/13/95

Today Arthur suddenly changed from only being able to take a few hesitant steps to being able to freely walk all around the house.

10/27/95

Arthur first took a bath with his brother Sam.

10/11/95

Arthur took his first steps!

10/6/95

Arthur climbed up and slid down his slide all by himself.

10/5/95

Arthur stood up unsupported for quite a while.

9/20/95

Arthur's first birthday!!!

9/15/95

Arthur started using his index finger to point at things. Another very new thing is liking "put the round peg into the round hole"-type toys/activities.

9/3/95

Arthur's first time playing in a kiddie pool in the backyard.

8/31/95

Arthur "walked" by holding and pushing/sliding a little chair in front of him.

8/26/95

Arthur learned to "wave bye-bye."

8/25/95

Two similar firsts today: Arthur climbed both onto his own bed and up the deck steps for the first time (and afterwards did these things again and again like they were nothing new). Unfortunately, though, when he tries to get down again he wants to do it face-first instead of backing down, so he's going to need some very careful spotting for a while.

8/7/95

Arthur's first time eating Thai food (or some of my tofu, rice and baby corn, anyway). He thought it was great, but I'm not sure whether any actually ended up in his stomach or not, considering the state of the floor afterwards.

8/1/95

Arthur's first time in a playground swing. He had a blast.

7/31/95

We first saw Arthur (repeatedly, at that) push himself to a "look, no hands!" standing position. (And repeatedly had to catch him immediately afterward, but still, hurray Arthur!)

7/30/95

We first saw Arthur "furniture-cruising", i.e. "walking" along the side of his bed while steadying himself on the bed with his hands.

7/28/95

Arthur climbed up the step into his own room from the deck.

7/19/95

Arthur had his first bath in a normal bathtub instead of a baby bathtub. He enjoyed it (he would giggle when I would pour a cup of water onto his back) for a few minutes, but then suddenly became frightened for some unknown reason (he just howled and howled) so I had to take him out. (But he's enjoyed subsequent baths in the normal bathtub.)

7/5/95

Arthur had a fever -- 104.5, scary!

7/4/95

Arthur first pulled himself up to a standing position, and also did his first really-good crawling.

6/18/95

Arthur went for his first trip (just to the grocery store) in a baby backpack.

6/13/95

Arthur pushed himself up to a sitting position for the first time.

6/4/95

Arthur first heard some live music (Bucktooth Varmints and others at SC Pride) -- boy was he bouncing around with excitement.

5/20/95

Arthur first started rocking back and forth on his hands and knees.

4/14/95

Arthur got his first tooth.

4/12/95

Arthur's first airplane trip (he was fine).

2/20/95

Arthur's first cousin, Roger Shemitz Winters, was born. As you can see he is exactly five months younger than Arthur.

9/20/94

Arthur Benjamin Shemitz was born at home on September 20, 1994, at 5:18 p.m. He weighed 7.25 pounds and was 22 inches long
Arthur and Sam have always gotten "wow, what a big baby!" reactions from most everyone who asks their ages. However, while they are both long/tall, Sam as a baby was much fatter, for instance Sam weighed 19 pounds at 4.5 months, whereas Arthur was less than that at 6.5 months. Which is not to say that Arthur doesn't have his fair share of chins -- it's just that Sam was much fatter.


A 10/23/95 update -- but the funny thing is that even though Arthur has always been very long/tall for his age, these days people always guess that he's much younger than he actually is, because he has so little hair (and what hair he has so fine and pale that he gets called bald).
| | | | | |
| --- | --- | --- | --- | --- |
| Date | Age | Height | Weight | Head |
| 10/3/95 | 1 year | 31.5" | 22 lbs 8 oz | 19.25" |
| 7/6/95 | 9.5 months | 30.5" | 20 lbs | 18.5" |
| 4/6/95 | 6.5 months | * | * | * |
| 2/7/95 | 4.5 months | 27.25" | 16 lbs 4 oz | 17.5" |
| 11/22/94 | 2 months | 24" | 11 lbs 9.5 oz | 16" |
| 10/20/94 | 1 month | 23" | 8 lbs 12 oz | 15" |
| 9/20/94 | newborn | 22" | 7 lbs 4 oz | * |
(If your browser can't do tables, the above will look like a mess -- sorry!)
* = arrgh, I need to finish getting my records sorted out! We moved to a new house and a lot of things are, well, all mixed up or in unknown locations.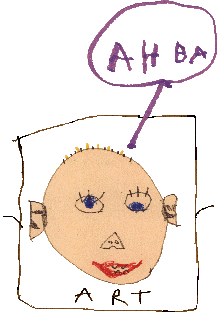 Arthur types his own message, 7/23/95
0.
    BJHU   Y
 /0 
/                                                    

U                  HH YI
   DSCGBHY U, M                                   
        llkjz4zdi.d'.vlx" "



\m -\.5t
mj ]


vb
.
Want to see more baby pages? These pages belong to babies of some people I know on the Parent-l mailing list.

Return to the Tachyon Labs home page