Iced Mocha Latte
From
John's Recipe Collection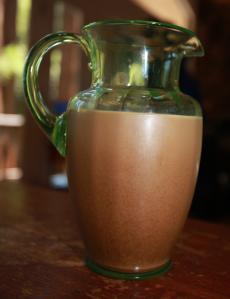 This recipe originated with someone's attempt at reproducing the Cinnabon MochaLatta. It doesn't succeed in that, but it is similarly indulgent.
900 mL of brewed coffee, made with 240 mL of ground coffee
240 mL sugar
60 mL cocoa, preferably dark
500 mL half & half
30 mL vanilla
Dissolve the sugar and cocoa in the (hot!) brewed coffee.
Mix in the half & half, and then the vanilla.
Cool to refrigerator temperature.
Shake to re-dissolve the cocoa and serve over ice.