Dog Friends
Our Dogs
Arti is a Shepherd/Lab mix. Roo is an Aus-weiler, (Australian/Rottweiler).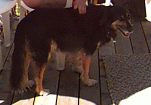 Arti on the deck

Roo as puppy

Roo relaxing on a Lola rug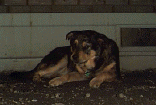 Roo chilling under the deck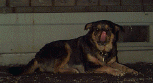 Roo chilling & clowning
Other Dog Friends
We also have two good friends, Lola, a golden retriever mix, and Charlie, a Calico Aussie mix.
Here they are....

Arti, Roo, & Lola at the beach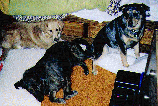 Roo, Lola, and Charlie relaxing
---
My Home Page

Last Updated: November 3, 1997

Pam Slusher Lamar slusher@armory.com