There must be a reason for you to come here...
Friend or foe? or strange circumstance? luck of a link?
Whichever purpose brought you here, you are here to find out about me...

Where to start??? How about my names:
Heh, heh...While you are in my clutches, I may as well subject you to my obsessions
Writing (particularly gloom and doom poetry...read some!).
Traveling (when the Fates allow... Europe yesterday, Tomorrow the World!!!).
Reading (good books are always appreciated!).
Art (perhaps I should say, "attempts" at creating art).
Music (the songs playing in my soul).
Learning (yeah, I know, strange one, but I love Academics!).
Old Dead Things (my version of heaven... the deader the better!).
Job Hunting (the face of harsh reality snarls at me, and my resume!).
Finally, see my friends (those few who broke down the walls).
Ok, so you've come this far...
You may as well see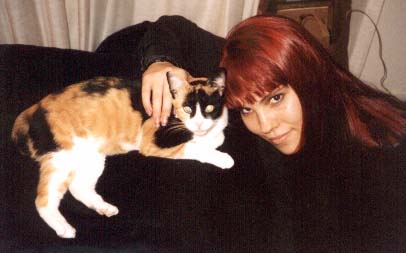 me and the creature most dear to me...