MEET KATIE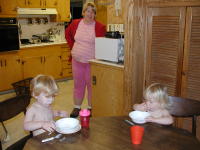 Best friends Ben and Nadya share a bath - I mean a snack - of yogurt in the weeks leading up to the birth.
Click here to read how Katie was born in front of the hospital
The hospital personnel's response was amazing - just as if it had been scripted for TV. Afterwards Katie spent 40 minutes being monitored in the NICU. Sandy and Katie revisit the birth site. "For under us a child is born"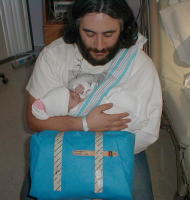 Bela holds Katie and the unused Emergency Delivery kit. (Photo courtesy of godfather Evan Hunt)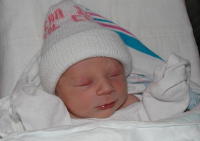 Katrina Noelle Lubkin only a few hours old
Some of our visitors at the hospital. Ben was unimpressed. Evan was delighted. Nadya was worried, although less worried when Katie gave her a present (doll bottles).
Grandma Thelma had a blast playing with both granddaughters.
Relaxing at home with some of our cats.
(Most Recent Update 29 February 2004)
Please report any and all anomolies to Sandy (alexia@armory.com) Please include the name/release number of your web browser and as detailed a description as possible of the problem.